Crafts from cotton and CD-ROM
Large-scale crafts from CDs. Things of everyday life from the SD. Crafts for children. By the New Year holidays. Interesting things with your own hands from cotton pads
To make a funny or practical thing,It is not necessary to buy any materials, because you can use improvised tools, for example, already served by CD discs. Now almost every house has a computer, respectively, and these products. Of these, you can make a lot of useful and original things, you just have to show a little imagination, a little patience and find free time.
It should be noted, handicraft can be engaged not only in one, but also with children, which will be very useful for them.
Global Crafts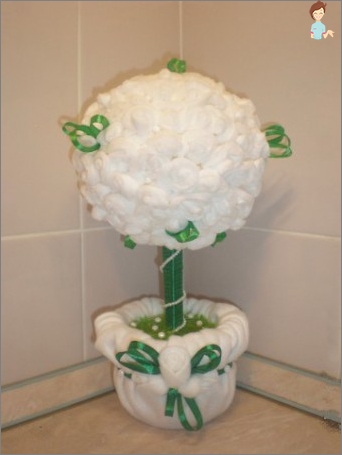 In this case, the product will have largeSize and will require a significant amount of material. There are many interesting options, you can even meet the facade cladding with such things. Agree, quite creative, beautiful and economical.
If such an event is not under force, then you canTake this option for a note and decorate them with only half the wall inside or outside the house. This decoration will be a highlight of the interior and, perhaps, will help to divide the room into zones. This method is suitable for dachas. You can decorate the ceiling or create a curtain, replacing it with a conventional door, for example, in the kitchen.
Useful articles for everyday use from CDs
Getting to know the possibilities of applicationUsed compacts, you can not fail to mention the necessary things in everyday life. For example, an unnecessary material can serve for a long time as a stand for mugs with hot drinks, for example, tea or coffee. It is left in its original form or in an interesting manner is finished. Some needlewomen make napkin stands, bending the product and fixing it.
Those who sit at the computer for a long time will be able toTo estimate a lamp made of compacts, wires and light-emitting diodes. You can even make sure that such a lighting device will be connected directly to the laptop or PC. The brightness of the glow depends on the number of LEDs.
Some craftsmen make even lamp-nightlights,The basis of which is a whole stack of such products, as well as lampshades for ceiling lighting. An interesting and, you can say, festive lamp is obtained if you turn off an ordinary electric garland and put compacts on it. Reflections will scatter throughout the room, which will certainly create a cozy and festive atmosphere.
Crafts from old CDs are very commonAre used not only for decoration, but also for creating new things, for example, the same lamps or curtains. But they can be used as a basis for the clock, that is, instead of the dial.
Of course, it can be difficult for a woman to make such aConstruction, but the man will do the job exactly. At the same time, you can decorate them as you like, based on the style of the interior of your apartment or not at all on it.
Crafts for children
From this material you get wonderful little animals, fish, snowmen, snowflakes and other funny and cute little things. Here is an example of the manufacture of pendants.
You will need:
Scissors;
Tangle of thread;
Self-adhesive colored paper;
Clay "Second" or "Moment";
Cotton buds;
CD-ROMs;
Ruler;
Pen, pencil or felt-tip pen.
First we will make ladybirds for a summer cottage orat home. Using templates or directly from the hand, draw on the paper two circles (black and red), a triangle for the trunk, a semicircle for the head and a point for the wings. Cut out the figurines. It will take two old disks. On one glue the red circle, on the second - black.
In the middle of the red a black triangle is glued -This is the back of a bug. A semicircle follows, followed by a head. And after them points on the wings. Now it is necessary to paint one end of the cotton buds with a black felt-tip pen (7 pieces are needed). The last stick is painted on both sides, since it will be instead of the antennae, and those that are half-painted - the legs.
Now the sticks-legs bend in half. We take the black disk and turn it with the back side. It is on it we will glue the paws. Drips a bit of glue and fixes the latter. On the upper part we attach the antennae in the same way.
From a bundle of threads we cut a piece of the necessaryLength, fold it in half and glue between the antennae. Finally, we connect the disks with each other with the help of glue, so that they touch the untreated sides. Now the ladybug is ready.
In the same way you can make other animals, insects, fish. Such crafts from disks are suitable for a summer residence, a court yard and even a children's room.
Crafts for the New Year holidays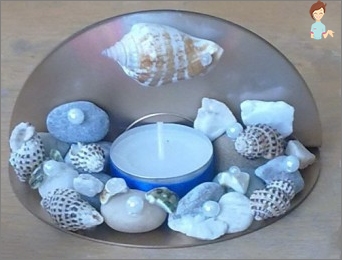 In this situation, the sparkling surface of CDs, reflecting the rays of light, will do just fine. Such material will reflect the flickering light of garlands and festive tinsel.
If you show a little ingenuity and agility, thenSuch things can be useful in creating a tree in the style of high-tech. Many saw similar coffee crafts, but our version is more creative and original. It has simplicity and minimalism, but at the same time it looks very festive because of its ability to reflect the rays of light.
Crafts from cotton wool
Not only SD, but cotton pads can be used for needlework, but in the first case you can take used, but in the second - it is desirable to new ones.
Own-made cotton things are notThey are very practical, but they look very nice, if they are properly processed. In addition, you can do this with your children, because cotton wool is less dangerous than CDs, and is easier to process.
Crafts from disks can have a kind of peculiarApplications. To do this, you will need cardboard, ribbons, strings, beads, etc. A disc is laid out on the figures and fixed on thick paper. At the same time, other materials are used. For example, you can make Santa Claus by sticking pieces of red cloth in the form of clothes on the cardboard, and cotton wool - like a beard, etc.
But in the majority for children's handicrafts is usedOrdinary cotton wool, but the wheels of it fit older needlewomen. On the example of making a flower, you can talk about the features of using cotton wool.
For work you will need:
The discs themselves;
Gouache;
Water;
Starch;
PVA glue;
Brush;
Wire;
Tape tape.
First we will prepare the necessary things. Then you need to cook the paste: a tablespoon of starch is diluted in a small amount of water (cold). Now it is necessary to pour 150-200 ml of boiling water into the mixture. We infuse it with a thin stream, stirring constantly. Wadded disks should be very well moistened in the resulting substance.
After that, they are removed and sent to dry. For these purposes, they can be decomposed into a battery. Wait until it dries completely.
When the material becomes completely dry (it does not take long), we color it with gouache in the chosen color. Again, waiting for the gouache to dry.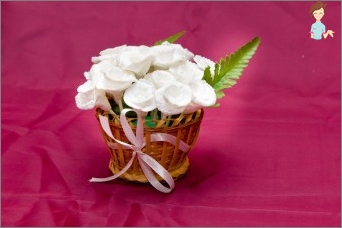 After the work done, the cotton wool discs completelyReady for future use. They can be bent and unbent, giving any shape depending on the product that is being prepared. In order to make a flower, you need to cut out the petals prepared in this way and glue them together. The middle turns yellow or white.
The core is made from a small piece of cotton woolOr napkins. The wire, which will play the role of the stem, is wrapped with a tape tape, leaves are made from it. Then the wire is fixed with glue or neatly inserted into the flower itself.
From these flowers you can make whole bouquets of different colors and sizes. At the same time, flowers can also be different, like roses or bells.