Cape on shoulders arrange wedding warming "with a twist"
Wedding in the cold - not a cause for concern about the vagaries of weather. It's time to choose a cape on the shoulders, which will warm the bride in bad weather!
Wedding day - the most solemn and excitingAn event in the life of every girl. The desire to make this date perfectly thought out is due not to the desire to please all guests. The day of painting should be remembered easy and joyful, first of all to you and your beloved. But the vicissitudes of the weather often dictate to each of us our own conditions.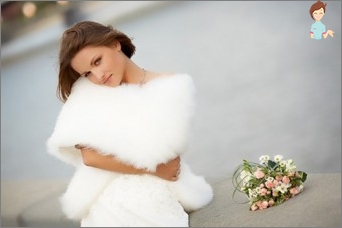 Rain, drizzle, snow and cold wind are capable ofPersonify the main date with real anguish. After all, the delicate brittle shoulders of the bride, clad in the weightless fabrics of a white dress, just do not stand such a nasty cunning.
Cape on the shoulders For a charming bride - this is not just an accessory that can emphasize the elegance of the attire. This is a real salvation for those who happened to be married in the cold season.
How to choose a wedding dress
A wedding dressy cape on the shoulders should beIs selected based on the style and style of the dress. A universal option is a fur cloak: it is in harmony with any image and creates additional comfort. Some brides prefer lace knitwear, others choose satin boleros and jackets.
A quality thing will provide your image with moreMore luxury, and even pomposity. In it, you will perfectly go out in all the photographs, do not freeze on a traditional walk and profitably emphasize the dignity of your figure. Wedding wrap for the bride - not only "Heating element", But also an additional touch in the refined image.
We have already spoken about what "Bonuses"Provides a wedding cape, put on the shoulders of the bride. But the approach to her choice is also necessary with the mind. This is not a simple attribute of a wedding, but a detail that should provide comfort and practicality.
The wedding dress of the bride is chosen according to the following principle:
Make sure that the thing reliably protects you from cold, drizzle, rain and wind;
The styles are varied: they can be short and elongated, consist of organza, guipure, tulle or fur;
If your dress looks strict and consistent, you can buy a cape with an abundance of decorative elements;
The dress, which is generously strewn with beads, rhinestones and ribbons, is better to decorate with a simple vest;
If you are planning to get married in church, the best choice for you will be a wedding cape with a hood;
The color remains at your discretion. But we recommend you to choose an accessory of exclusively white color - he will emphasize the magnificence of hair and make-up, and create a certain contrast on wedding photos;
Is your painting scheduled for winter time? Then pay attention to the warm fur coats.
Artificial and natural fur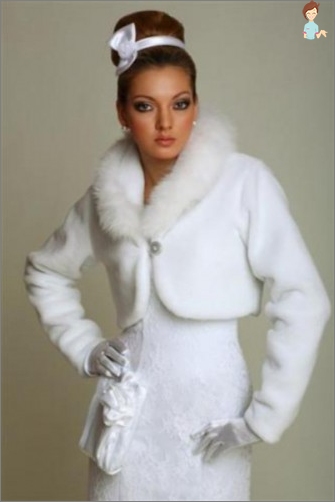 If you look closely at the fur coats on your shoulders, you will certainly have a choice of fur. As in any other "Fluffy"Products, here you can find natural and artificial fur.
Some women prefer the second optionBecause of ethical motives and belonging to a strict vegetarian worldview. Others value their own comfort more, and love natural products.
Regardless of which fur trim you choose, the cape on the shoulders for the most beautiful bride will warm you in any weather:
Natural fur. For production, fox, nutria, rabbit or mink fur is usually used. There are even coats of swan's down! If you decide to buy a product made from natural fur, you probably know that it will last you longer than an artificial counterpart. In addition, you can not ignore the heat-resistant qualities of fur: it will warm you even in a fierce winter without extra pads;
Artificial fur today is not inferior in qualityAnd practicality of natural products. Such things are no less warm than natural, because the thermosaving qualities are promoted by the presence of a sintepon. Artificial capes are usually decorated with beads, pearl beads, lace, bows of satin ribbons and feathers.
You also need to determine the length of the product. Long cloaks are quite practical for winter: they are able to warm you up even in a very cold season. A short bolero does not overshadow the beauty and luxury of your wedding dress. When choosing an accessory, consider the estimated time of walks and photo sessions on the street.
Pay attention to weather conditions: Even if your fur coat is warm, rain can completely ruin your hair or makeup, which means that you should take care of the presence of an umbrella that is in harmony with the bride's attire.
Bolero
Future happy wives prefer to wearBolero even in warm weather. This attribute gives a special charm to the general image, makes it refined and attractive. What is noteworthy, the bolero allows us to emphasize all the merits of the figure, and at the same time neutralizes its shortcomings.
For example, the use of this decorativeElement will allow you to highlight your graceful shoulders and clavicles or hide the fullness of your hands if the latter brings you psychological discomfort. Newlyweds can choose for themselves knitted bolero, products from openwork patterns, satin, silk and fur.
Bolero is useful to you if:
You want to give your image a special raisin and charm;
You sign or get married in a moderately cold, but windy weather;
You need to cover your shoulders at the wedding in the church;
You have picked yourself an open dress with a deep neckline, to which the accessory "literally" asks;
You want to replace the massive jewelry on the neck with elegant details.
If you decide to choose the bolero,Try to combine it with the material and style of the dress. Is it made of light, airy, flowing fabric? To him suit bolero of lace or tracery patterns! Is your dress strict and elegant? Get yourself a bolero out of cashmere or fur.
Stoles and boas
These elegant accessories are especially in demand in modern wedding ceremonies. They are incredibly practical: just "pull"For the tape-fastening, and you effortlessly take off the fur coat in the palace of marriages. Equally easily you will dress in it before going out to the guests, or for a walk.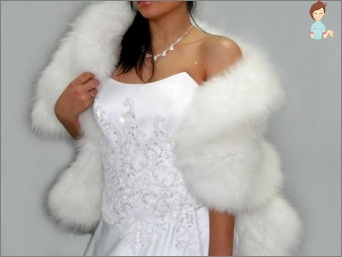 In fact, these products areLong and wide scarves at the outfits. They can be made of natural fur, plush, satin, velvet, velor, organza, satin or satin. This detail can be complemented by a wedding attire at any time of the year.
Whichever cape your choice is,Remember - this accessory is able to give tenderness, grace and grace to any wedding image. We recommend that you select the right product so that it not only serves as a decorative element, but it is also capable of warming in the cold.
Consider the details of your image, think over the attire to the smallest detail, and be sure - you will become the most beautiful bride on your most important and most magical day!