Candles for the transfer of the home, are an indispensable attribute of any wedding. It is a tradition that is passed from generation to generation
Candles for the transmission of the hearth areindispensable attribute of any wedding. It is a tradition that is passed from generation to generation. Our grandmothers passed a piece of home in the form of candles, our mothers, and mothers to us.
Your Ideas
To make this beautiful ritual, elements of wedding paraphernalia must also fit into the overall style of the wedding.
We need:
2 candles diameter 5.6 cm, height 10 cm and 15
ribbon width of 2 cm, pink and coral color
tulle
glue gun
Wax products does not necessarily take toolarge, up to 15 cm in height will be sufficient. Cut the ribbon length is equal to the diameter of the candle can be a little longer. With the help of glue-gun fix it around our products. It should be located just below its middle.
Now we do "skirts"Made of tulle for ribbons. Cut ribbons 20-30 cm long and 2 cm wide. Vdev white thread a needle, pick a tape on a thread before the end of the tape. Then, tighten and fasten. Making bows. Cut the 12 cm pink - coral ribbons and tying a bow.
Singeing lighter or matches the tips to the ribbon was not disbanded. Now with the help of glue-gun sits on the bow "skirt"And presses. The final step, using a glue-gun sits bows on tape. This must be done where the ends closed. Thus, the joint will not be visible. Well, Wedding candles with their hands ready for a home.
decorating ideas
To give a solemn wedding ceremony,during which the couple lit family home, try to decorate the bride and groom candles. That fire coming from them, is a symbol of warmth, love and comfort in the house of the newlyweds.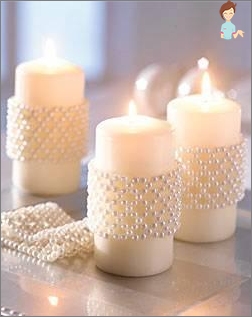 Traditionally, the groom's mother and the bride or justin-law from a large candle lights two thin, which keeps the girl. At this point, mothers turn to his daughter and daughter with warm words of congratulations and blessings.
Make the wedding attributes of their own handsThere are two ways. First - just a simple, implies the acquisition of prefabricated wax products and decorative elements - ribbons, flowers, beads.
The second option is more complicated, there will need to have an independent manufacturer of candles with your own hands.
If you try and approach this processcreative, you can decorate the wedding attributes of coffee beans, cereals, glitter, paper, cloth, glass beads, polymer clay, and many other elements.
We make candle
To make your own wedding attributeeffort, you can use a special candle wax or mass. If you buy ready-made wax product, but you are not satisfied with the form, it must be melted. To speed the process pre-grind it, you can use a grater or a knife.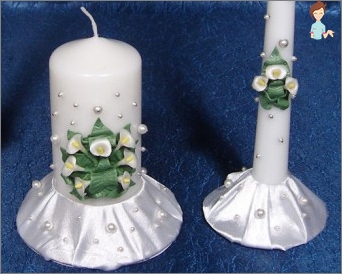 Make more original attribute can be, givings of any color. For these purposes, you can use any food coloring or a crumb of colored wax crayons. Fantastic, will, if the candle you get not only beautiful but also fragrant. For this purpose, the wax during the manufacture of mass wedding attribute bit add aromatic oil.
Inside the wax product, be sure to insert a cotton thread, well soaked in wax. Now there are various forms of candles, but for wedding best to use cylindrical.
To ready the wax product can be easilyremove from the mold, it must be well oiled. If you want to decorate a candle beads or pebbles, they need to pre-attached to the inner walls of the mold.
Before pouring the wax form to be heated. Wax product must solidify in the form of a certain time, it is necessary for it to just keep at room temperature. To extract the finished product from the mold the wax, it is sufficient to heat - dipped in hot water, and it is very easy to come out.
Ribbons and beads
This attribute ceremony daywedding can be decorated with satin ribbons and beads. Thin candles should just gently wrap twin ribbons of satin - one white width of 1 cm, and on top of it entwine lilac - 0, 75 cm for a holiday on the articles of wax is appropriate to tie a beautiful bow of ribbons..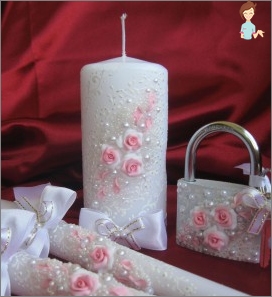 It should look beautiful and thick candle,which hold honeymooners mother. It's simple: it is possible to sew from the wide ribbon belt and sew him in a tone or, conversely, contrasting satin rose. At the same candle knife to gently make a small hole to insert beads, cut in half - quickly and beautifully!
Gently and original products made of wax look, decorated with lace and straznymi brooches, flowers of translucent fabric and airy feathers.
Looks best products, decorated in the same colors, but also should not be afraid of unusual and bright ideas, as long as they fit into the festive interior.
Decoupage, sculpture and painting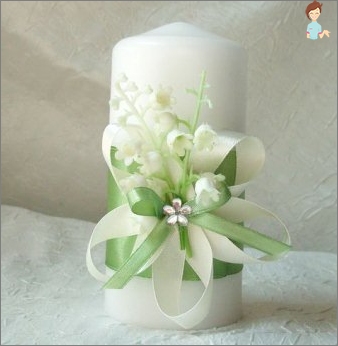 These are the most common methods of decorating the wedding attributes for honeymooners.
Decorate these attributes can be hearts, wedding rings and pigeons. To attach the decorative elements are commonly used glue and thin needles.
Experts recommend that all pre-wax product is coated with a polymer paint tion because all the decorations will be much faster, easier and more reliable to attach to the wax.
To the work carried out has been successful, do not spontaneously applied decorative elements, this important task, so it is best to work on a previously created sketch.
According to tradition, the home will be guarded the candle flame, burning at your wedding.