Adorable wedding bouquet with their hands to themselves, loved
Wedding bouquet - a lovely accessory that complements the image of the bride. The original bridal bouquet with their hands is fairly easy, if you make the effort and imagination
Submit a bride without flowers today justimpossible. Even in the most "hard" themed weddings - gothic, biker, urban - still the bride's bouquet there. Typically, in such cases it is stylized, unusual, matching design with the selected outfit. Often a bridal bouquet created with their own hands, because florists are rarely taken for the creation of such wonders.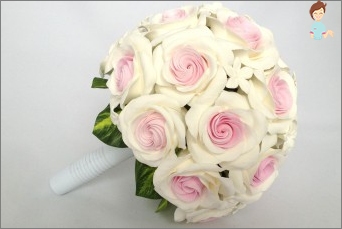 Most newlyweds prefer classical or romantic style wedding ceremony, in which flowers play an important role.
They complement the elaborate appearancebride, are elegant accessory that emphasizes its tenderness, elegance and beauty. Cheerful tradition of throwing the bouquet in the crowd girlfriends gives celebration charm, wedding photos and video.
Beautiful wedding bouquet of fresh flowers
Floristic salons offer servicescreate bouquets for the bride. Before you place your order, you need to choose the dress, hairstyle, shoes and accessories. Ordered without considering all of this can destroy the harmony of colors, so choose them after the groom decided exactly how it will look on your wedding day.
Not all brides like bouquets collectedstrangers. Even a good master floristry not be able to fully experience the state of mind of a girl who is getting married. Although copyrights bouquets look great!
They bought in advance stipulate the composition and colorcomposition. Trim parts to the purchase date of the wedding dates flowers and gather fresh bouquet for the bride. However, they do not compare with the bouquet that the bride will gather herself.
In ancient times, among the Slavic peoples of the bridealways pick the wedding bouquets, putting them in their dreams of a happy marriage. Their creation - like a prayer to heaven, the happiness in marriage, a large and happy family, healthy kiddies, respect, love, and prosperity in the house.
Bouquet on portbuketnitse
Classics wedding floristry bouquets are on portbuketnitse. It is a special support in the form of a vase with a narrow base and wide neck. The base is placed "oasis"- Spongy base, impregnated with a special solution.
From cut flowers to make wedding bouquet with their hands the easiest way to portbuketnitse. Oasis can be bought at a flower shop, for 20-30 minutes before the start of it should be a good soak in the water. After that, you can start drawing composition. On "oasis"Flowers safely saved the day.
They will look great, delighting you with freshness and beauty. If the bride's bouquet without "oasis"Then recommend florists even order it in two copies. As soon as one of them will lose freshen, it is replaced by another, who was waiting for his turn in a vase with water.
What kind of flowers to choose for the production of a wedding bouquet with their hands?
In floristry every color and shade of the petals has a symbolic meaning:
Red roses - a sign of love and passion;
Roses white, cream and pink tones signify admiration elegance and sympathy;
White and pink lilies symbolize innocence, purity and youth;
Bright orchids, like peonies, embody the beauty, femininity and well-being;
Rosemary is considered a symbol of naivete, grace, youth.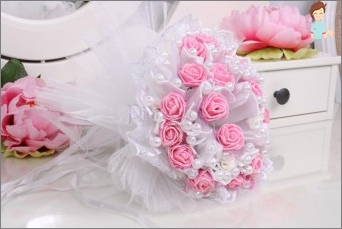 When choosing flowers for the wedding bouquet, think,what you want to tell them what idea put into his creation. Putting a bridal bouquet with their hands, alternating colors in different shades, creating a soft play of colors.
Florists recommend starting the production of elegant wedding bouquet, made with his own hands, with the largest flower, gradually adding to its greenery and smaller flowers.
Another piece of advice - do not take for weddingcomposition too fragrant kinds of colors. This is especially important for women who are prone to allergies to scents. After all, the flowers will be in your hands all day, and can cause discomfort. Bouquet should be small and light, so you are not tired to wear it.
The stems of flowers should be very hard to pull off the tape. This is very important, otherwise the whole day is messed bouquet that will give him a sloppy appearance. But you want to make it look perfectly! Decorate with flowers can be pearls, rhinestones, ribbon, long, flowing silk ribbons.
Artificial wedding bouquets own hands: original ideas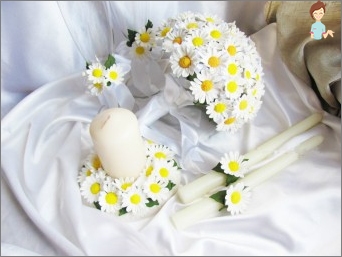 Fashion is constantly changing for the newlyweds. You can make a bridal bouquet with their hands in cotton and Christmas tree decorations, from brooches, vintage style, silk flowers, hand-made, beautifully decorated with pearls and rhinestones. Such bouquets look wonderfully, fresh and impressive.
And do artificial wedding bouquetswith their hands even easier. Cut flowers are fragile and quickly fade, and a bunch of brooches, buttons or taffeta can be done in advance, without fear that his appearance will deteriorate.
On the topic Wedding floristry, you can talk endlessly, and design options there is great variety.
The main thing that girls started manufacturingtheir wedding bouquets have been in a good mood, and their thoughts were only of happiness, love and joy. Then the flowers will bring happiness in marriage for many, many years!