Facing a way to create paper figures
Trimming - technique of handicrafts made of corrugated paper. With it you can create a volume, contour and planar images, and shapes of different sizes
Facing - is a technique of creating originalhandicrafts, souvenirs, postcards, paintings and other items. This kind of applied art as if created for general creativity of parents and children, because it provides the opportunity to spend their free time together and realize original ideas. For this technique you will need a simple or corrugated paper for the manufacture of all kinds of crafts.
Master-class on the creation of a flat drawing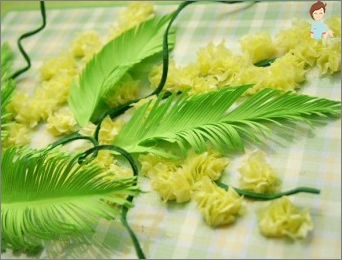 Facing corrugated paper suggeststhe creation of numerous tubules-tortsovochek, which confer flat volume image. For their manufacturing technique is used bumagokrucheniya, in which a small square of paper is wound on a stick.
Facing Technology allows you to create contour,volume, multi-layer or planar image. To create a planar image will need scissors, glue, toothpick or matchstick and corrugated material in various colors.
After printing via the Internet any favorite black-and-white drawing, you are ready to go.
Master class includes the following steps:
it is first necessary to prepare the entirematerial to work with, as well as small pieces of paper are needed for this, it needs to be cut. To do this, from the undeployed coil is required to cut a strip thickness of approximately equal to one half of 1 cm;
received stripes should be cut into small squares;
workshop at the patterned adhesive contemplates treating all the black lines on the image;
placing the end of a toothpick in the middle of the square, it is necessary to firmly tighten;
trimming at this stage is carried out as follows: without removing the piece with a toothpick, it should be attached to the figure of the adhesive on a greased so that he stayed on it;
Further actions are similar to the previous one. And Facing technique requires positioning the individual tubes as tightly as possible to each other. This ensures that drawing more expressive, so-called terry.
In operation, with the elements of nature to givedrawing more natural look, you can use different shades of the same color. For example, highlighting a red flowers, use paper orange and pink hues. Green leaves, respectively, may include tube marsh and emerald colors.
Facing total composition background vypolnyaetsyawhite squares. If you are interested in this workshop, and the opportunity to buy a special material is not present, you can try to make the parting of the colored napkins.
Engineering work on the plasticine
No less colorful and spectacular artefacts obtained, which was used for the manufacture of trimming on the plasticine.
Workshop production of cactus:
sculpt from clay pot for an impromptu cactus;
buying the tape, which is used for the decoration of bouquets, wrap her future pot of cactus;
subsequent trimming to occur plasticineas follows: corrugated paper green should be cut into squares wide side about 1.5 cm Then they need to be cut diagonally to get the triangles,.
further calls upon the master class made of plasticine the very foundation of the future of the flower, which must be set up on the pot;
Now a master class Facing technique involves tortsovochek manufacturing method described above, and attach them to the cactus at the junction of the future of the flower and pot;
thus trimming is performed across the surface of a cactus. Too tightly fastened tortsovochki is not necessary, but the gaps should not be;
but before the cover material all white space, you need to roll out the red clay and a small ball attached to the surface of a cactus future - it will be his blossoming;
petals of this flower cut out of yellow paper or a matching color napkins. These dimensions are no special requirements, but will be an ideal option 3 cm long and 1 cm wide;
placing the blunt end of a toothpick at the bottomPetal, twist it and secure on plasticine. In the same way to deal with the rest of the petals, attaching them as they are located on the colors in nature;
trimming on plasticine is nearing completion: left to fill the core of the resulting flower. For this corrugated paper or red napkins must cut squares having a side length of 1.5 cm and filled into the remaining space.
Master class does not prohibit to go further and attachresulting cactus improvised mouth, eyes and eyebrows. The role of the mouth can carry one or more tortsovochek red nose as you can use an ordinary piece of yellow material, and rolled-up pieces will go well for the eyebrows. But eyes can search for any shop office.
Master-class on making snowflakes
On the eve of the new year will be especially important trimming of corrugated paper. With it you can make a few fascinating volume snowflakes and decorate their Christmas tree.
Stages of work:
cut out of cardboard snowflake any form. It is desirable that the thickness of its individual components is not less than 0.5 cm;
further trimming involves the preparation of small squares of white paper napkins or a thickness of about 0.7 cm;
habitual movement to make the end of the wand to the center of the square and wrap it around her;
Facing technique involves coating paperboard adhesive. After that it can be spread tortsovochki obtained;
Facing the end of the procedure of paper products should be given time to dry.
Master-class on making a tree in the shape of heart
base of the tree will be the heart of the foam. Its dimensions can be arbitrary, but it is better not to make it too big;
Now it was the turn of blanks. It is necessary to do as many as possible of the red cloths with a size of 2 cm;
as this hack is much more cactus made to work better to use a pencil instead of a toothpick. Next steps are the same as in the previous cases;
to attach pieces to the surface of the heart, you can smear it with glue or dip into it every single twisted square;
We need to move from the outer edge to the inner;
prepare a pot decorated paper on the same technology;
threaded through the base of the heart thick wire and insert into the finished pot;
Now it remains only to decorate all the visible parts gofrobumagoy;
add any decorations - ribbons, flowers, etc.
Master-class on making "fairy garden"
To create a topiary of a variety of gofrobumagiFlowers need basis for the stand, crown and trunk. As a crown can be used New Year's toy made of plastic or a small ball of foam. Everything will depend on what size you want to get the crown.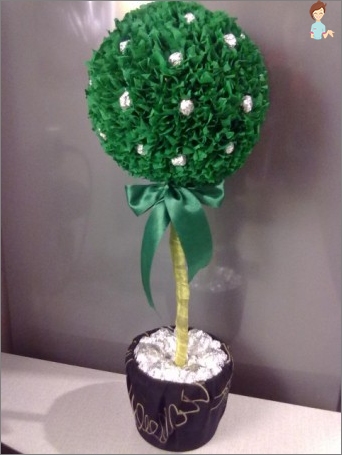 trunk function can perform a pen orpencil, and for making the stand suitable plastic cup or a small flower pot from the same material. To stem stick standing in the pot tightly, its cavity can be filled with plaster or wax. If neither one nor the other, fit a normal clay.
To no one had thought of that made yourfairy tree, its crown is pre-painted in green and brown trunk. Start working from the bottom, covering the first surface of the blanks "earth"Gradually rising to the top.
For it is better to use landscaping gofrobumagutwo or three colors, such as lilac with burgundy, emerald green with light green or blue with white. Complete the impression of a small bird or a butterfly, which can be purchased in specialized shops of handicrafts.
Facing technique will allow you to uncover potential slumbering in you. After all this activity can bring job satisfaction, as well as to change the world and make it more colorful.
Due to the minute proximity with their children, who will give you a technique miter, you will better understand each other and will remember these happy moments to the end of life.