Magic handicraft: handmade dolls for children and for the soul
Hand-made toys carry more positive energy than factory toys. Our wise ancestors knew how to make a doll with their own hands from improvised materials
Toys help children communicate withEnvironment, learn and study it. Psychologists have proved that the lack of toys in children negatively affects their psycho-emotional development. Imagine how a toy made by your hands can affect a baby's baby!
A bit of prehistory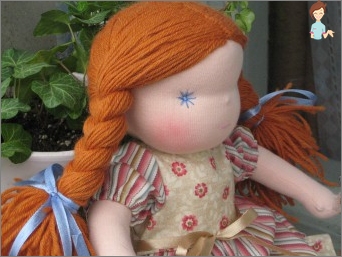 Thousands of years ago, parents, wanting to take and please their children, they made toys from materials found in nature.
So, there were:
Ratchets, rattles and balls;
Dolls and the first soft toys;
Puffs, flute and whistles;
Wooden horses.
Love moved adults, directing their creativityAnd a fantasy of making toys for kids. Gradually formed the art of creating dolls - it is almost every ethnic group, and is popular until now. How to make a doll with their own hands, knew the Slavic, Celtic and Gallic grandmothers and mothers, lovingly looked at their grandchildren and children.
The first toys of mankind
Dolls have become one of the very first children'sToys. For a long time in many cultures, miniature images of people have been used in shamanic and religious rituals. Gradually, this function lost its importance, and the miniatures of the thing went to children's hands. For example, already in Ancient Greece for babies they made such toys.
Mostly miniature copies of people were fromWood - the most malleable and positive from the energy point of view material. Our ancestors did not really think how to make doll shoes, from which to make hair.
In the course were branches and pieces of wood, of whichCut out the first dolls. Charcoal and juice of berries on wooden faces painted eyes and mouth, wrapped figurines in cloth scraps or large leaves.
The role of dolls in Slavic culture
With the development of human civilization,Dolls made by hand. Each nation has its own image, reflecting the basic values ​​of the ethnos and mentality. Remember the matryoshka doll! The spherical magic form of the toy-amulet embodies both the structure of the universe, and relations in the family, and the role of the woman-bereguini in the birth of children and the preservation of the home.
The charm of nesting dolls is also in the fact that the master does notIt was necessary to be distracted by worries about how to make suitable things for dolls. The toy is self-sufficient, interesting and informative. The same role in the Slavic lands was played by rag dolls. They were made of cloth, inside put aromatic herbs. With such a toy, children slept more easily, slept longer and were healthier.
In general, we should sincerely thank ourLoving and wise great-grandmothers for the fact that they created and preserved the art of making toys. Video master classes available on the Internet will teach you how to make a doll made of cloth, paper or ceramics.
Now things are hand-made in favor with the interior andGift fashion. It is no accident that hand-made toys are among the presents that can be given to people with diplomatic status at the highest level. After all, they reflect the culture of the country in which they are made. In addition, handwork in this business is as highly valued as things from haute couture in high fashion.
How to make a doll made of thread, paper, straw, clay
Not being able to buy children and grandchildren LegoAnd Barbie, our ancestors improved in the craftsmanship of making toys. This is how many folk crafts originated, which today are the glory of different peoples. Remember the famous Dymkovo toys - they are positive, elegant and have long been a pleasant souvenir from Russia and a brand that is known all over the world.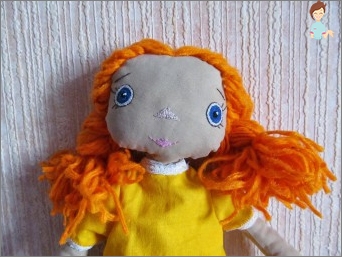 The secrets of making dolls were preserved, handed down by inheritance. Thanks to this, modern needlework lovers can create toys in different techniques and know how to make a doll made of paper or fabric.
It's hard to make true masterpieces at once. Nevertheless, in any occupation, including puppetry, the experience, own experience in technology, the secrets of mastery are important. But the fact that you will feel the joy of creativity, touch the sacred corners of your soul - this we guarantee to you. Manual creativity reveals the talents that are hidden in each of us.
How do women become more beautiful and younger, who haveSuch a beautiful hobby! You will always have the opportunity to share your creativity and joy with your loved ones, because handmade toys carry a sea of ​​positive and love, invested in them by the authors.
Choosing a technology for making handmade dolls
In the work on toys, it is important to feel the material and have the skills to work with it.
So there are masters who have their dolls:
Molded from clay and soft plastic;
Crochet;
Weave from straws, grass and vines;
Sew out of cloth;
Make paper and papier-mache.
Gradually complicating your work, you will no longerThink about how to make your doll's hair, since all you need is already at hand. And each of your next work will be better and more interesting than the previous one.
The choice of technology affects the shape of the toy that you want to make by hand. You need to be prepared to buy everything you need to realize the idea.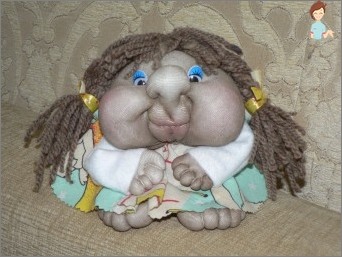 You can start with the manufacture of a paper doll. Especially since with this fun, many girls are familiar from childhood.
Need to draw on paper or a thick cardboardSilhouette, cut it, color it - and the doll is ready. Then you can come up with a wardrobe for a paper beauty, so you can change her clothes. By the way, creating things for a paper girlfriend - a good workout for my mother, in terms of creating your ideal wardrobe.
Gradually the skilled workers enter into the taste and pass toThe creation of three-dimensional toys. Still work in 2D quickly bored. Starts to find their own technique for making hand-made articles. In the course are old pantyhose for stuffing dolls, beads and beads, buttons and scraps ...
And finally: Working on toys hand-made, we seem to return to a carefree childhood. In fact - this is creative meditation, when, completely dissolving in the process of needlework, we again become ourselves, return to the national sources, manifest our individuality and talents given to us by God.