What svitshot and what to wear
You want to stand out from the crowd? Then svitshoty - is exactly what is missing in your wardrobe variety of bright colors and fun prints definitely make your life bright and colorful
Today, many women are not interested in fashionseen at fashion shows various models svitshota. But for the uninitiated, it's a strange word, whose meaning is not familiar to the general public. So let's understand what svitshot.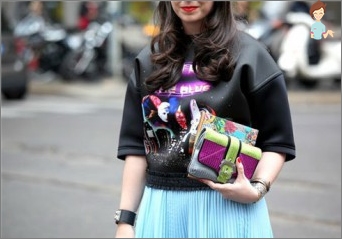 In fact, this article of clothingI borrowed some details from the jumpers, pullovers, sweaters and sweatshirts. Universal blouse that looks great with almost any kind of pants, jeans or skirts.
Interesting is also the history of thisthe details of the wardrobe. Once upon a time, back in the twenties, the son of the owner of a small textile factory complained to his father that he was uncomfortable to train in a woolen sweater, because it is very warm and does not absorb moisture.
A caring father, who, incidentally, was called Benjamin Russell, I decided to help my son and sewed him unitard made of cotton fabric. And so came the first svitshot.
By the way, the name "svitshot"Appeared much later. Dubbed it so workers who mass produced in a factory svitshoty. Because such clothes looked like a sweater, but it was so, as easy as the T-shirt, then these two words included a new name: "sweater"And"shirt".
Distinguishing features svitshota
How to distinguish the item of clothing from the rest. It turns out that there are five signs by which you can always find svitshot on the shelves in the boutique. Here they are:
completely lacking any fasteners, even decorative;
triangular insert, which is underneckline. Tellingly, the recess should always be round. This variation of the cut was originally invented for the convenience, and then such a seizure has become a distinctive feature of this type of clothing;
loose sleeves in raglan style. And here, too, had an original purpose. After all, sports uniforms should not hamper the movements, including movements of the hands. A Raglan - this is exactly what is needed in this case;
cuffs and bottom edges of jackets should be bordered by a rubber band, or even corrugated cloth;
svitshoty today are made of denseknitted fabric. It is also possible to use a fabric with fleece, but this is a purely personal choice of each person according to where he wants to put on a sweater.
Women svitshoty
Do not think that svitshot - is exclusivelyMenswear. After all, if you look closely, you can see that combined with certain elements of women's wardrobe, svitshot looks very elegant and beautiful.
You can, for example, to remember a very populartoday svitshot with painted donuts. It seemed that so special is to draw on the multi-colored blouse, a few donuts. But if you put together this "blouse" black pants or a skirt, then this print will add elegance to you, and you will be beneficial to stand out among their peers.
From what to wear svitshot? Well, on this occasion, we can say only one thing: the fact that you like and fits your figure. But some general guidelines yet exist. First of all, the narrow black pants fit perfectly.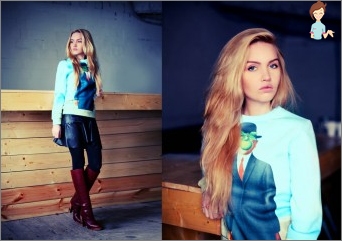 Due to loose fitting sweater and narrowpants, you will look very subtly. You do not have to invent 1000 and 1 way to look thinner - this option will hide all of your great disadvantages in the right places.
Do you want to look original? Then wear svitshotom with a long skirt, you can even to the floor. You can also create an image of light fairies who slowly flying through the city, making everyone around stopping in admiration.
To do this you just need something to go slowly and to wear an easy rather short skirt, preferably of chiffon. It will give your image an amazing lightness and airiness.
It should also pay attention to the most fashionable svitshoty this year. So, judging by the huge number of models on the catwalks of the world-famous model, today the most popular are those svitshotami kato:
print with fawn - from Givenchy;
print "all-seeing eye" - from Kenzo;
painted ornaments - by PeterPilotto.
As you can see, the options are many, the main thing - to determine what kind of print will emphasize all the advantages and hide flaws. So, good luck to you in your search for a name svitshota boutiques.
Can you sew svitshot?
Before you start sewing, you need to decidewith fabric. It is best suited for svitshota tissues such as the footer, cotton or jersey. The main thing that you have selected the fabric was very pleasant to the body, not hovering and not frowned.
In general, you need to choose a fabric that would look great on your figure.
In order to make a sweater you will need about half a meter of fabric. Basically, there are three ways to make enough light svitshot.
The first option - with raglan sleeves:
The second option - single cut sleeve: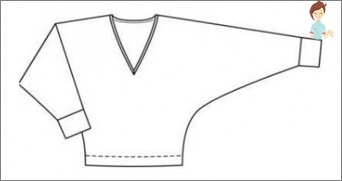 And the third option - a set-in sleeve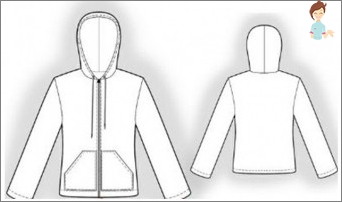 The original decision will also usetwo or more colors. You because no one bothers to create something of their own, individual. Something that will help the people around you see your true mood.
So, it is not necessary to restrict their own imagination, use it at full strength, and then you will be obtained only exclusive things.
The first step in creating svitshota will pattern. You can download an example from the Internet and make it fit your figure.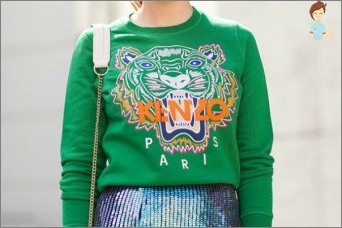 Finish the pattern, you need to cut the components of our future sweater. Starting to sew stands with side seams. Behind them treat the edges of the sleeves and sew them to svitshotu.
Attention! Before to close up all the threads and seweverything completely, just better to baste all the elements and measure their thing. It is best at the beginning to eliminate the possibility of error in the pattern, than to remodel already completely finished thing.
The last step is to treat the neck and cuts on his shoulders. And now, a brand new svitshot pleases you with its elegance and originality!
We all understood that it is necessary tochoose a beautiful svitshot. Do not forget, either bought or sewed thing you should be comfortable and well seated. No need to buy things with the idea that one day they will have to look good.
Unfortunately, this "someday"May never come. So live today raduyte yourself and others with bright original images. And do not forget that you are beautiful and unique!