Among a variety of items designed to improve our recreation, it is worth highlighting a mask for sleep. Wearing it, you, regardless of the time of day, get a healthy sleep
Often it is very hard for many people to fall asleep in the daytimeTime of day or under conditions where there is simply no way to turn off the light. With this common problem will help to cope with the mask for sleep. Such a thing will be useful on trips or in cases when you go to bed earlier than other members of your family.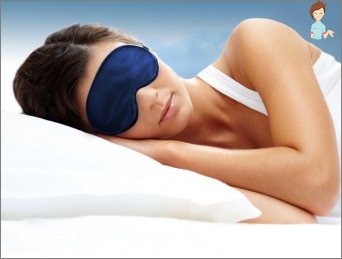 Especially such products are relevant for people who work at night, and sleep in the day.
Why do I need a sleeping mask?
The need for such devices forFull rest has long been proven: scientific research shows that the dream of a man in absolute darkness is deeper, calm and lasting. Light has a pronounced negative effect on sleep cycles.
The fact is that in our eyes there areSpecial cells that react to light. These cells send an impulse to the brain that it is time to wake up. This process is associated with the work of biological clocks, because many years ago, before technological progress, people woke up independently with the sunrise.
It is for this reason that your bedroom should beIs isolated from direct and indirect light sources. If you follow this recommendation, sleep will bring maximum benefit to your body, because, first of all, immunity will be strengthened.
Varieties of products
The mask for sleep on the eyes is aBandage, in its form reminiscent of glasses, made of a dense lightproof fabric. Currently, there are many products: from simple masks to the eyes, which look like an ordinary piece of cloth, to models that have a cooling effect.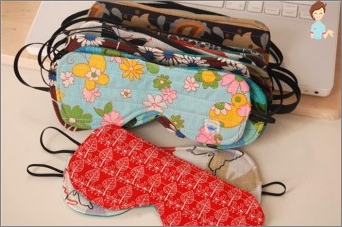 The simplest products are made from ordinaryNylon or other synthetic fabrics. On the back of this device is a special elastic strap, with which a bandage is fixed on the face. Such devices for sleep usually have low cost, but they do not perform their basic function - blocking light.
Another drawback of these masks is that the elastic strap in almost all models can not be adjusted, so the mask either presses on the eyes, or does not hold on to the face.
There is also a variety of masks for sleep, whichHas special bulges in the eye area. Such models are made of foam rubber and elastic fabric. These are good masks that completely block the light and at the same time allow a person to open their eyes. Light weight is another advantage of this type of rest device.
You can buy products that are made from "Breathing"Fabric, for example, with an atlas. They can also be with velcro or clasps, which makes it easy to adjust the device on the face.
They will provide you with comfort during sleep, because theyBlock light and are most convenient to use. The lining gives the product extra softness, and some models still protect against extraneous sounds, often violating our sleep.
We make a mask with our own hands
Many needlewomen want to learn how to makeMask for sleep with their own hands, because now there are many original and at the same time simple ideas. The product itself can be a wonderful gift for family or friends.
For its manufacture you will need two kindsFabric and pattern. It is important to choose the right fabric, because it is known that the skin around the eyes is the most tender and sensitive, so the material should be hypoallergenic and soft. It is better to give preference to such natural materials as flannel, cotton or chintz.
Especially carefully choose the fabric forOn the inside, because your health and beauty depend on it. For the exterior design of the device, you can choose almost any fabric - bright, colorful, dark, the main thing is that it fulfills its purpose. Often the outside of the product is decorated with embroidery, lace, beads and other decorative elements.
In addition to fabric and pattern, you will need:
sewing machine;
paper;
thread;
scissors;
pins;
Oblique bake;
elastic.
So that we get a smooth and symmetrical mask for sleeping with our own hands, first we need to draw a pattern on paper.
If you want to make a mask with your own hands, follow this step-by-step instruction:
Cut out a pattern drawn on paper;
Paper pattern, attach to the fabric, circle and also cut out;
Cut out patterns from the fabric secure with pins. When the fabric is fixed, sew the mask over the pattern;
Cut off excess fabric, along the edges of the product, sew the oblique bake;
We make an elastic band: we cut off 80 cm of beiki, fold it in half and sew it together. Then we put in the elastic band, we need about 30 cm, and sew it to the mask.
If desired, you can decorate the finished product with ribbons or beads.
Sometimes in such useful devices for sleepingFill various fillers. For example, such herbs as lavender or cotton seeds have a calming effect. Putting them in a small amount inside the mask, you will ensure a full and healthy rest.
Using a mask to sleep will improve, rejuvenate and strengthen your body!