Crepe paper: the best ideas for creativity
Crepe paper is popular among lovers of home creativity. With its help create a variety of shapes, and the material features allow you to experiment
Such material as crepe paperIs found in almost every shop in the office. Many saw the original crafts from it. You too can do something like this with your own hands. And it's so simple that you can even make them with your child. How to make roses and other interesting things - read below!
Material Features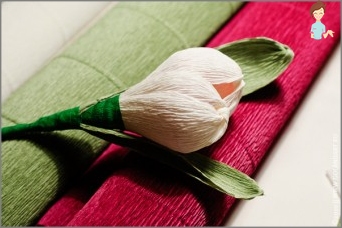 First you need to clarify the question, what exactlyCalled crepe or crepe paper. In its essence, it is a fine-meshed and thin, but rather durable material. However, in inaccurate handling, it can easily tear in the longitudinal direction. The paper is covered with small folds and looks like a melkokladnuyu accordion.
Usually it is called corrugated, but it isError, since the difference from creped paper is in smaller folds. Crafts from it turn out neat and elegant. The real corrugated paper has clearly defined folds, and it is coarser.
You do not need much effort toMake something interesting with your own hands from this material. It is perfectly moldable and can take almost any position. In this case, you have the opportunity to create concave and convex forms, since having stretched a sheet of corrugated paper in a certain place, you can increase its width.
Due to such properties, as well as in connection with the variety of colors, it is possible to create a variety of handicrafts from serf material.
The most popular products are:
Flowers - tulips and roses;
Pompons;
Topiary;
Hearts;
Three-dimensional decorations for postcards and paintings.
What is useful for work
In order to make your own hands from crepe paper any interesting thing, you need a minimum set of tools and auxiliary materials.
You may find it useful:
PVA glue;
Scotch;
Cotton buds;
Bamboo skewers;
Scissors;
Pencil;
Plasticine;
Wire;
Threads.
For convenience, you can find ready-madeSchemes for the craft you are interested in. If you plan to make something not very difficult, you can create a new scheme yourself or work intuitively, so to speak "approximately".
Decorative pom-poms
The simplest type of fortification material- decorative pom-poms. This is an excellent decoration for any holiday, from birthdays to weddings. To make them with your own hands you will need a large roll of material, scissors and threads. A large pompom will take a lot of material, but you can practice on small items.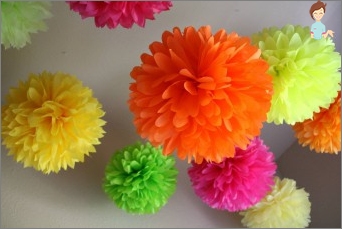 First, take a roll of corrugated paper andCut 8-9 sheets of the same size. For convenience, you can fold it several times, and then just cut it around the edges. After that, fold them so that the edges are clearly aligned. Next, fold the sheets folded together with an accordion, as if you are making a fan.
To make a pompom out of this craft, you needDetermine the approximate center of the folded product. In this place, wind the accordion several times with a thread and, slightly pulling it off, tie it. After that, around the edges, cut off the corners to get a neat rounding. Begin to detach one layer by layer, straightening the paper and bending it in different directions until you have a ball.
In addition to such useful things to create a festive atmosphere gizmos, you can also make flowers: tulips, roses, chamomiles, etc.
Flowers made from crepe paper
If you want to do something more elegant andComplicated, then try to make flowers from crepe paper. There are a lot of modeling options. One of the easiest is making tulips by hand. To do this, you will need a sheet of corrugated paper, for example, pink and green for stems and leaves. For the leg, take the bamboo skewer and glue it with a thin strip of material. It is best to do this not with the help of adhesive tape, but with glue.
In order to form a flower, cut fromPink sheets small rectangles. Cut the edges in such a way that a natural rounding is obtained. Then fix with glue or thread three petals on a skewer. Slightly spread out so that the edges look outward. Fix them together with glue.
Then, on the joints, glue three more petals. Give the appropriate shape to the petals. They need to be bent below the middle. Form a flower and glue to the leg oblong leaf.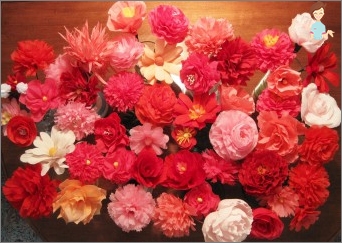 You can use a different approach. In this case, the petals turn out to be two-layered and formed by bending a rectangle in half, twisted in the middle. Step-by-step schemes can be found on the Internet.
You can also make your own gentle roses fromCrepe paper. To do this, you can use a similar technique. Then the material is cut into wide strips, and then slightly twists with an increasing step. Obtained petals, which need to be properly placed, twisting the strip from the smaller element to the larger.
You can make your own hands more simple roses. To do this, corrugated paper should be cut into round petals, oval and cordate. On the cotton swab, wind the round element. Then form the center of crafts from oval details. Wrap them inwards and glue round, slightly straightened and concave petals with the next layer. The latter are attached to the heart-shaped elements and bend from below and from above in such a way that the edges look outward.
If you make a bouquet for a gift, inside the tulipOr roses can put candy. So, it may even be easier for you to form a flower of the right shape. Try to find other schemes for making flowers from crepe paper.
How to make topiary
More complex in appearance, but in fact veryThe simplest in manufacturing is the so-called topiary. This is how miniature compositions are called, imitating a blossoming tree or something like that. You can make it practically from improvised materials.
First, prepare the foundation. To do this, you can take, for example, a tangle of unwanted threads or wind a ball of napkins or toilet paper. The latter option is even preferable, since this will greatly facilitate the entire design. Another good option is the use of plasticine. From it you need to roll a not too large ball and fasten it on the skewer.
For a half-time, take a flower pot, a jar from under the cream or something else. Disguise the base and start preparing the parts.
For your craft, you will needCorrugated paper of different diameters. Use several colors, for example, red, white and green. When you cut a sufficient number of blanks, you can start work. Take a large diameter round red and use a pencil to press it into the plasticine exactly in the center.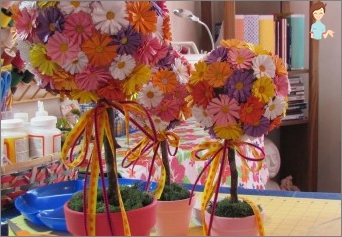 Then drip some PVA glue into the recess andFix in this way two smaller elements. You will get something like a flower. So you need to make a small circle on top of the plasticine ball. Place the paper close to each other.
The next circle will be white elements. Alternate rings of red flowers and white, until you fill a little more than half of the craft. Then start working with green paper. In the end, you can wrap your topiary with leaves cut from the same material. Fasten the ball with the foot on the stand, and on the leg, tie the ribbon with a bow. In exactly the same way, you can fix on the ball daisies, roses, chrysanthemums, etc.
So how to just make flowers from a crepedPaper may seem not too interesting occupation, complement the idea with other objects and make an original thing for the interior decor. For example, using a vinyl plate you can create a stylish decoration. All you need is to glue it with crepe-colored flowers and place it on the foot.
In order to fasten the serpentine roses onBasis use glue. It is not necessary to cover the entire surface with a decor. You can create an interesting composition and add it with beads on the wire, butterflies from kapron fabric and other details that you can also make yourself.
Crepe paper is unlimitedA source for creativity for both adults and children. It allows you to demonstrate your talent, and helps kids develop an aesthetic sense and motor skills of the fingers. Create with pleasure!