Shelf for shoes - do it yourself
You need a shelf for shoes, but none of the options offered by the trade is satisfactory? Then the shelf for shoes with your own hands is your way out. We offer you the instructions for self-assembly of the shelf
As you know, the first impression of the apartment orPrivate house, as well as its owners is created at the sight of the entrance door and the hallway itself. But even if you have provided the hallway with the most expensive interior and used beautiful and expensive building materials for decoration, carelessly standing pairs of shoes near the doors or under the wall immediately spoil the whole impression.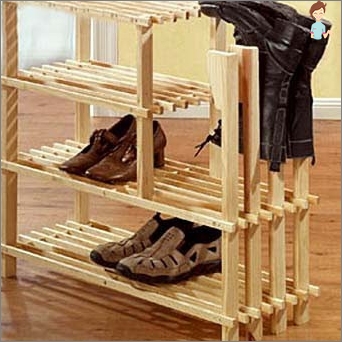 Even if the shoes will stand neatly folded in the little corner, it still takes up a lot of space and certainly does not adorn the overall appearance of the room.
In order not to spoil the appearance, shoesUsually either hide in separate lockers near the front door, or use decorative open shelves, which in many cases serve not only as a storage place, but also equipped with a small seat for convenience. Buy these elements of the interior is not always obtained because of financial difficulties or lack of a suitable model.
Therefore, many craftsmen prefer to makeSuch products independently, using improvised materials. If you make the design of a shelf for shoes yourself, buy stuff and order it cut in size, then you can collect a beautiful shelf at home and it will cost much less than buying a ready-made version.
Materials used
As a material for manufacturing shelves orLockers you can use almost anything, from ordinary cardboard from packing boxes and finishing with metal or any kind of fabric. Here everything depends only on your imagination and stylistic requirements of the entire interior.
In most cases, such items are made fromDifferent types of wood or its derivatives in the form of fiberboard, chipboard or plywood. Shelves for shoes, made with their own hands from various types of wood, fits perfectly into almost any interior and fits any style of decoration. This material is distinguished by its availability, relatively low cost, convenient in operation and practical.
Manufacture of a shoe shelf from a tree
Before you start creating a shelf yourselfAt home, you need to accurately determine its position in the room, because from this will create a drawing and select the option of design. The product should not be too cumbersome and its location should provide easy access to it.
Also, it is necessary to provide a sufficient volume, because there will be not only room slippers and summer shoes, but winter boots and boots that take up a lot of space.
The height of the product and each individual spaceShould have enough space for high winter boots, which are not desirable to bend during storage. Also, in advance, consider all other special requirements based on the type of footwear you use.
A regular shelf for shoes can be manufactured in two main ways:
Assembly of pre-fabricated elements;
Independent manufacture.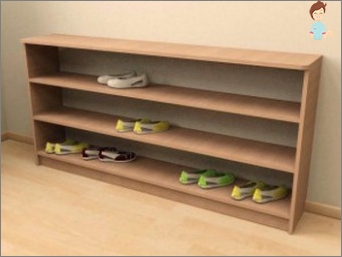 Assembly of the finished elements is possible in the case ofPurchase of the product in disassembled condition or in the construction of a modular design. Today, there are many models on sale, which are made in the form of a set of various modular elements.
This allows you to assemble the shelf as a designer in various design variations. Such products are mainly made of plastic or metal.
Self-manufacturing is much more complicated and includes the preparation of the necessary tools, the purchase of supplies and the creation of a shelf according to your sketch.
Tools and materials
The standard shelf for shoes with their own hands open type is easy enough to manufacture and does not require any special skills.
To work you will need a tool like:
plane;
sandpaper;
Glue for wood;
Paint the right color or varnish;
Metal corners for giving strength;
Screwdriver or screwdriver;
Self-tapping screws for wood;
saw;
Roulette and pencil.
From consumables for work we take a regular board, about 25-35 cm wide and 1.5 or 2 cm thick.
Manufacturing process
The procedure for manufacturing a shelf for shoes in the hallway will look like this:
From a solid board, saw off two pieces of 80-90 cm, which will serve as lateral vertical posts;
Making a shelf with three tiers, it is necessary to prepare in advance 6 support bars with a width of 5 cm and a length of 3 cm, which I will serve as a support for transverse bars;
Cut off 4 pieces of 60-70 cm, which will serve as horizontal shelves for shoes;
Each of the cut pieces must be treated with sandpaper before reaching a smooth surface without burrs;
On the side shelves we fasten the prepared bars with the help of screws, the crossbeams with shoes will rest on them;
From the back side of the product we install metal corners to ensure strength;
We put the shelves on the fixed boards.
Such a shelf for shoes can be made inSeveral variants. Usually the bottom shelf is fixed at a distance of 3-5 cm from the floor, and the top one is 3-5 cm below the top of the vertical post. The other two are fixed at an equal distance between them. Thus, we will have four complete shelves for placing shoes.
You can top the shelf under the shoes to makeSeat. To do this, the topmost crossbeam is cut beforehand 4 cm longer than the rest (if the thickness of the board is 2 cm), is fixed horizontally over the posts, a thick foam is fixed on it and covered with a beautiful cloth.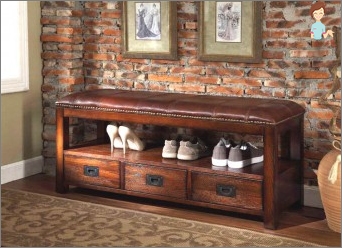 You will get 3 shelving for shoes and a seat from above, which will not only look beautiful, but also have increased functionality.
The horizontal parts that lie on the barsThe middle between the vertical racks can not be fixed, in which case they will be removable, which is also convenient. Next, you need to decorate our product at your own discretion.
You can cover it with varnish to preserve the texture of the tree and give it a deeper natural color. You can paint with any color that fits the color of your interior.
We have considered the simplest version of the product, which can vary in height, width and depth of the working space at your discretion.