Many are scratching their heads over how to save on bedding. The answer is simple - the ideal choice is a sewing bed linen with their own hands
Everyone knows that the third part of his lifeThe person takes to sleep. It is he who is able to restore all our strengths, he rejuvenates, refreshes, is the best medicine for a disease. Its quality is affected by many factors, even external ones.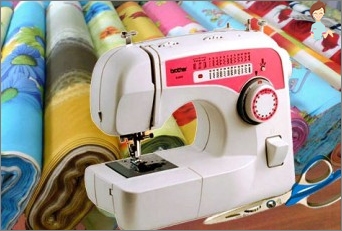 Therefore, during sleep it is necessary to apply bed linen only from natural linen, cotton and silk fabrics.
But with the increase in prices, bed linen also rises in price, and it is so tangible that it's time to think about how to sew it yourself.
Of course, the baby kit for the crib will haveBuy in the store so that it is free of synthetic additives and with quality certificates. But for us - adults, you can save money, sew bed linen with your own hands, the main thing is to choose the right material and correctly calculate its consumption.
What kind of fabric to choose?
Some manufacturers of bedding canTo offer inexpensive fabrics. But unfortunately, the best materials for bed linen - calico or coarse calico - can not be bought inexpensively, and besides, to keep the fabric still containing 100% cotton fiber - it's impossible at all.
Judge for yourself, if the cost of one meter of calicoOr chintz is equal to the cost of one kilogram of cotton, and it costs above 100 rubles per kilogram, then the price for these natural fabrics can not be low.
Finding cheap fabrics can only be of low quality, with reduced density or with a considerable addition of synthetic fibers, that is - polycotton.
Such fabrics are slightly shiny and smoothSurface, and they are not too strong and do not have the feature of sitting down after washing. But to create real comfort and comfort during a dream only cotton fibers are capable.
Although, probably, it will be much better to buy a polycotton and sew a bed linen from it than buy it "Cheap" in all senses. The question is why? To understand this, you first need to understand what it is - the density of calico or calico.
The density of coarse calico or cotton is the amount of cotton used to produce a meter of fabric.
Any factory in its range has fabricsDifferent densities, which are used for sewing bed linen and are worn out not in one year, the main thing - do not get to the obvious fake, similar in its properties to gauze with short-lived colors.
The label of a coil of coarse calico must have a tag,With the specified tissue density. Here, for example, the Shuisky coarse calico density from 128 to 142 grams / meter. Such a fabric is durable, durable and of high quality, bed linens from it serve for many years, without shedding or sitting down after washing.
However, we can trust other domestic producers of calico and coarse calico, they are worthy of fair praise.
But it must be taken into account that counterfeits are possible,So you need to pay special attention to the label, with the requisites of the company and the quality characteristics of the fabrics, as well as the company's existing logo and certification of the factory's products.
How much tissue do you need for a set of bed linen?
Sewing bed linen, in the first place,Includes the measurement of the right parts of the kit, such as pillows, mattress, blanket. But in order to facilitate this task, you can simply take measurements from your old set, adding to them allowances for shrinkage, seams and inaccuracy cut (about 7 cm).
The twist of the pillowcase is about 25 centimeters. It is possible and less, but if you do not want your pillow to look in the morning from a pillowcase, it is better to sew it just this size.
Sheets never need to be cut "Butt". It is better to add another centimeter of 20 width from its former width, and it is not necessary to cut the length, the excess part can always be refilled.
The blanket cover is also wider than the previous one at 7Centimeters. You can always remove the superfluous, but it's impossible to add anything. While at the first wash any fabric of natural fibers sits. Only after washing and you can see what size you need to adhere to.
And only after this, and you can already correctlyCalculate the required material consumption for sewing. The diagram shows the optimal variant of cutting a standard 2-bedroom set: three pillowcases, a sheet and a duvet cover.
Fabric buy for sewing a bed set is better than a width of 220 cm, this option is the most optimal.
Firstly, because it will not be necessary to make docking joints, to increase the width of the duvet cover or the sheets. And secondly, this width of fabric will be cheaper.
Before you start sewing bed linens,You need to take care that the tailoring is completely waste-free. To do this, you need to buy a calico width of more than 220 cm by 25 and then cut three pillow cases instead of two, without pruning.
And if you bought a cloth for a set of two pillowcases, then you just need to deploy them on the diagram across. As a result - lunge 45 by 155 cm, from which you get a children's pillowcase.
On the diagram, everything is rather graphically depicted and does not require any comments.
It turns out four pillowcases in the size 50 on 70 sm, therefore it is more favorable to find out at once two complete sets, having added still a duvet cover and a sheet to this calculation.
For any bed, it is better to make a width of more than two meters, even if the sofa or bed is smaller than the width.
Pillowcases that are cut along the pattern can always be unfolded so that they are in harmony with the overall pattern of the sheet and duvet cover, but sometimes this "disharmony"Only decorates the bed linen.
How to make lingerie at home
When sewing bed linen at home, the seams are processed by an overlock, if it is, of course, there, but not by a zigzag. Also it is possible to sew by a special underwear seam, which does not stain during washing.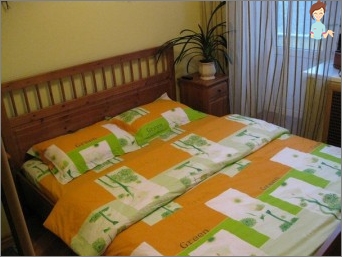 It is a bit coarser than the overlock, because the double fabric is tucked up two more times, as a result of which the seam consists of six layers of matter. On the pillowcase, such seams of dense coarse calico will be visible.
In addition, this treatment of bed linen is a very time consuming process, requiring a certain technique. Experienced seamstress sews without sweeping, with a single single seam, strictly along the edge.
Also, when sewing, the choice of thread matters. They should be strong, but not too thick, so that they do not fall apart from moisture and washing.
On the sewing machine, the step of the stitch is set to medium size, because the small one is unable to make a sturdy stitch, but on the contrary, by frequent piercing the needle, it can destroy the fibers of the fabric.
The reasons why it is beneficial to sew clothes:
The sizes of ready linen very seldom coincide with the sizes of available bedding, and to find the ready complete set for a non-standard bed (a pillow, a blanket) at times happens extremely difficultly;
Completeness of bed linen can be any, at your discretion;
Correctly selected material will allow and will help to adhere to a certain style;
Technological tricks facilitate tailoring and the upcoming operation of sewn bedding.
Designer search is such a pleasant and fascinating occupation, which can be the main reason for independent tailoring.
How pleasantly spreading the beautiful, and most importantly - high-quality bed linen made by oneself, to spark sincere delight and interest, to hear the question - "Where you can buy such beauty? "Enjoy your sewing and sweet dreams!