Warm and cozy scarf tube: knit their own hands
In autumn wet time we just want warmth and comfort. Save warm and protect you from colds help scarf - a pipe associated with their own hands. Make it in several ways
Such a practical, stylish and very comfortable thingAs a scarf the pipe must necessarily be present in the wardrobe of any woman. You can wear such a scarf as an ordinary accessory of this type, wrapping it one or several times around your neck, or you can throw it on your head like a hood.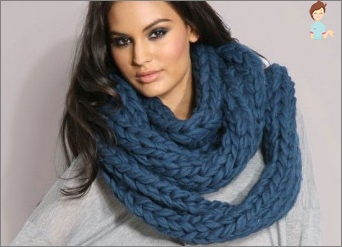 It is simply irreplaceable in the period of autumn dampness andTemperature drops, when the morning is cool, overcast and damp, and you want to wrap yourself up warmer, and the sun warms the day and you can take advantage of the moment and even walk around a little bit without a hat.
If you do not already have such a warm and comfortable wardrobe, you can tie it with your own hands and then your hat-scarf trumpet will be unique and unrepeatable.
How to tie a scarf-pipe with your own hands?
The main feature of this knitted productIs a large mating, because it is clearly noticeable relief of the product gives it a special attraction. Therefore, for its manufacture, a thick volumetric yarn and spokes No. 5 or 6 ideally fits.
You can knit the scarf with a pipe in two schemesKnitting: longitudinal and transverse. The scarf of a pipe is knitted with knitting needles is very simple, so this work is possible even for beginners who never held a spoke in their hands.
Choosing a pattern is a matter of taste. However, experienced needlewomen advise to stop their choice on patterns that look equally good both from the inside and from the face.
Most often scarves of this type "Are being carried out"With the following patterns:
Garter stitch (all eye loops);
"Elastic" (English, convex, crossed);
"Rice" viscous (the loops are knitted in checkerboard pattern - the front loop over the back and, conversely, over the purl - face).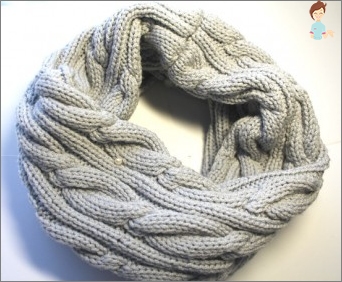 Regardless of what type of binding you have chosen forThe scarf of the pipe with knitting needles, instructions describing this process you can easily find on the Internet. You can tie the scarf-tube with or without a seam, ie. On the circular knitting needles.
For inexperienced needlewomen, the firstMethod, t. For knitting on circular knitting needles is some skill. When knitting a scarf with a seam, a set of loops can be made both from the calculation of the width of the article and from the value of its circumference.
Size matters!
Which sizes of scarf-tubes are optimal? In order for it to be conveniently worn on the head and worn as a hood or a hood, its width should be at least 60 centimeters.The circumference can range from 80 to 150 centimeters.
If you plan to wear a scarf-tube exclusively on the neck and in one turn, and the hat will be worn separately, you will only need to tie a rectangle with a width of 50 and a length of 60 centimeters.
The viscous should be even, uniform,The finished product was beautifully draped and formed attractive folds. The edges need to be made neat, so that when stapled, a beautiful, as smooth as possible suture appears.
Selection of yarn
It is necessary to approach the choice of yarn responsibly. Such a knitted garment should warm the neck and head and be pleasant to the touch, so that when touching the cheeks and neck do not cause irritation. Excellent for this purpose, suitable thread from a mixture of cotton and merino wool, very warm and pleasant is a scarf-tube of cashmere.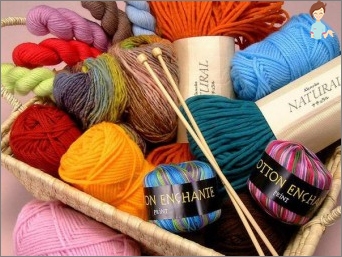 As for the color of your future scarf, it is best to give your preference to natural, soft tones that are in good harmony with the skin and do not emphasize slight defects in appearance.
Beige, cream, beige, unbleachedWool and burnt sugar, as well as the color of cocoa is well underlined the dignity of the exterior. If you prefer to be bright at any time of the year, give your preference to the yarn of sky-blue, wine or sun-yellow color.
If you not "make friendsWith spokes and feel more comfortable inHook companies, can knit a trendy, warm and cozy scarf hook crocheted. In this case, you do not even have to sew the product, because it is very easy to tie it in a circle, and most importantly - quickly. The pattern and sequence of knitting is the same as knitting.
Knit and wear beautiful exclusive things with pleasure!