Mastership of pink bouquets of sweets and paper
Crafts made of paper are very popular. Such a fascinating pastime was to the liking of both children and adults. Very original gift will be roses from sweets
A new and very fashionable direction of paper creativity called swit design continues to gain momentum and carries into the wonderful world of "Crazy handles"More and more people of different sex, age and profession. Having tried only once to make a bouquet of chocolates with your own hands, you will "get sick" with this hobby for a long time.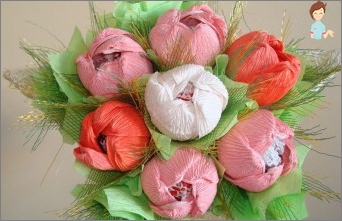 Have special knowledge or special skills to make a beautiful and original bouquet for the holiday is not necessary.
All operations are extremely simple and understandable, so cope with the creation of a beautiful flower arrangement, even a child can.
How to make roses from sweets with your own hands? Let's try to understand in detail.
The idea of ​​an ideal gift
Original decorated bouquet of delicious sweets -This is the best gift for a girl, mom or grandmother. You can give it on occasion and without it just as a token of affection or gratitude, on the occasion of a birthday or a landmark date.
A bouquet of roses made of delicious sweets, made byHands - this is not a banal box of chocolates and flowers! This is a real surprise, which will be remembered forever. You will certainly get a nice surprise and make your friends and acquaintances happy if you come to visit them with a beautiful "Bouquet"Or a basket of delicious roses.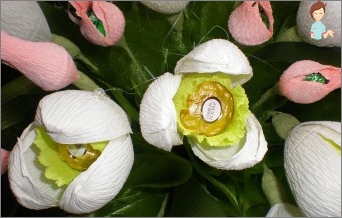 Technology of making roses and other flowersSimple to disgrace: the buds of roses themselves are made of paper, and the center of the flower is replaced by sweets. All other decorations are a flight of your imagination and sleight of hand.
Roses can be very diverse: in buds and half-closed, blossoming and violently blooming. Especially good looking English roses from corrugated paper and sweets.
The simplest paper flowers are being taught to do moreLessons of work in school, so why not remember about it and not apply your knowledge and forgotten skills in practice. Following simple instructions, everyone can create their own masterpiece. So, let's get started.
We make roses from sweets in buds
To create a delicious bouquet you need the following "materials»:
Delicious sweets in beautiful round wrappers;
Crepe-paper or corrugated paper of different colors, packing tape and multi-colored foil;
Teip-tape (floristic);
Scotch tape ordinary and bilateral;
Sturdy, unbending wire or barbecue sticks;
Scissors, thread and glue gun.
The process of creating candy-paper roses looks like this:
First you need to wrap the candy in golden foil, fix with a thread of the same color and wind it with a thin wire to the barbecue stick;
From corrugated paper of the color you like, cut out 5 squares and use the scissors to give them a rounded shape of the rose petal;
Straighten the resulting petals, starting from the middle and giving them a concave shape, wrap them in a candy and fix with a thread or an adhesive tape;
Cut the sepals from the green paper, glue it to the base with an adhesive gun and cut off excess paper under the bud;
Wrap the bottom of the bud and the edge of the skewer with a green tape.
That's all, the rose is ready! It remains only in a similar way to make the necessary number of flowers, collect roses from delicious sweets and corrugated paper in a bouquet and decorate with beautiful wrapping paper.
If there is enough patience, perseverance and corrugatedPaper can make an English rose, in which there must be at least 20 petals. The English rose looks great in small bouquets like "microphone".
Enjoy your handiwork and beautiful crafts!