How to make a frame with your own hands: techniques, tips and tricks
Want to have an original decoration for pictures or photographs, then the information on how to make a frame with your own hands will be very useful. A little practice and you will create a masterpiece
Hendmeid is becoming more popular every day. Exclusive things are highly valued in many parts of the world. Some products are quite expensive, and only a few can afford them. Today there are a lot of examples of how to make this or that piece of decor with your own hands. Let us dwell on the options for framing frames for photos and paintings.
Thanks to different techniques,Which ideally fits into any interior. In addition, it will be a perfect gift for any person. So, from the lyrics, let's move on to practice and look at some interesting master classes.
We make a frame frame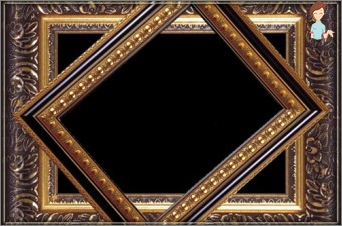 The main material is the ceilingPlinth, which is sold in any construction shop. Thanks to the variety of patterns and textures, you can get beautiful framings suitable for both photos, and for paintings or panels.
If you use a flexible material, you canGet an oval or round option. To make a frame frame it is necessary to take a plinth made of expanded polystyrene, the size of which directly depends on the desired scale of the product.
Take an adhesive suitable for this material, for example, PVA or "Dragon", measuring instruments, knife, acrylic putty and spatula. Still need "Liquid Nails», Brushes and acrylic paints.
You need to do a large frame in several stages:
After defining the size of the frame, cut off the necessary parts, but do it at an angle of 45 degrees. By attaching the details to the photo and making sure that they fit, glue them with the selected adhesive;
After the joints dry they are best plastered to remove all the crevices formed. It remains to wait until everything has dried up. Then remove the dust;
Now you can paint the frame in the selected color.
In fact, everything is ready, it remains only to insert a photo or a picture, fixing it in a newly made frame with liquid nails and place it in the chosen place.
At the rear, you can attach a suitable sizeA sheet of cardboard, so that the image is denser, but it is not necessary. By adhering to this instruction, you can make a wooden frame using a floor skirting and nails.
We make a frame from the magazine
Decorative wares from improvised means are notOnly beautiful and original, and cheap. Instead of throwing out an old and unnecessary magazine, we'll make an excellent frame for it. For this product it is necessary to take cardboard, magazines, multicolored threads, "PVA», Scissors, measuring instruments.
Making a frame with your own hands is easy, because there is a detailed instruction:
The dimensions will be indicated on the photo 10x15 cm. Take the cardboard and cut out the rectangle 20x25 cm and, measuring 5 cm from each side, draw one more in the center, the size of which will be 10x15 cm, respectively;
Using a stationery knife or any suitable tool, cut out the center rectangle to get a through hole;
Make another such part and glue it to the first one, but do not glue one side so that you can then insert the photo;
Tear out the bright sheets from the magazine and twist them into tight tubes. So that they do not unfold, put an end to the end;
Take the thread and wind it on the resulting tubes for decoration and additional fixation. It is necessary to make many preparations;
Start sticking ducts to the base, some bend to make a nice angle. Do this until the entire perimeter is sealed. Make a leg for support.
How to make a round frame?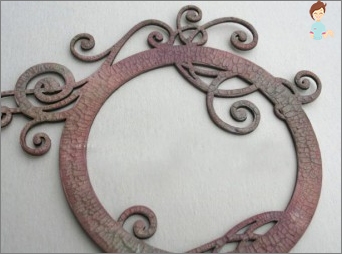 Such an original version is suitable for any product, be it photography or embroidery. To make a round frame we will be from a dense cardboard and paper or a fabric for a decor.
In addition, it is necessary to have tools for measuring, knife, scissors, "PVA", A punch and a loop for hanging the frame.
Manufacturing takes place in several stages:
Measure the image to be takenFraming is an internal value. Then add a few centimeters to get the inside diameter. Using the results obtained, make 2 blanks. The ring that surrounds the photo is the base. From the cardboard also make another circle, which for a couple of millimeters will be less than the diameter of the frame. This is necessary as a substrate to keep the photo. On it, make a notch just a bit more than a couple of centimeters. A little lower with a hole punch, make holes for the lace;
For the decor make a paper or fabric ring,But take into account the curves along the outer and inner edges. On the finish it is necessary to make cuttings on the allowances along the entire perimeter, so that it lies flat, smooth and beautiful;
Now you can assemble the product. Place the decorative material on it, and gently glue the teeth that have been made. Insert the lace into the backing and glue it. Stamp so that you can insert a photo.
It is a perfect gift for any holiday. In addition, including the imagination, you can decorate the finished product with various accessories, resulting in a new original version.
Make a volumetric frame with your own hands
Such types of framing are suitable for differentProducts, and they can be placed anywhere. There are many options, consider one of them an oval shape. Take the cardboard better from the box, napkins or toilet paper, "PVA", A thick rope, scissors, a knife, acrylic paint (in the master class is used gold), liquid bitumen and paper.
Make it yourself with a photo frame is easy, if you follow the instructions:
To make everything perfect, the bestStart with a sketch on paper. Draw the desired oval, cut out and then transfer it to the cardboard. It is necessary to obtain a single oval and 2 oval frames, one of which should be slightly less about a couple of millimeters on the inner and outer sides;
With the help of glue, creak 2 parts. In a separate container, connect the adhesive and water. In the resulting mixture it is necessary to wet the napkins and glue them around the frame, this is necessary to make a volumetric frame. Leave to dry;
We take the oval part and, putting it on the pastedFraming, circle from the inside. From this line it is necessary to retreat a few millimeters to get a larger oval. This is important to further insert the photo. Use a clerical knife to cut it, but not to the end. On the side, leave a few centimeters of one piece to make it look like a window. In order for the inner oval to open well, gently squeeze the uncut part;
Combine the frame and the base with glue, and then again once again properly glued with paper. Do everything neatly to get a single object;
Let's go on decorating. To do this, glue the prepared cord around the entire perimeter. You can make a bow out of it. To hang the frame, form a loop and glue it from behind. Now take the golden paint and gently walk it around the perimeter, and from above with bitumen for decoupage. Remove any excess with a napkin.
How to make a decorative frame with your own hands?
We offer one more version of a beautiful frameFor a photo. It's easy to do it, so you can get kids to work. For this frame, you need to take a thick cardboard, scissors, lacquer, glue, for example, "PVA", Paints, brushes and polished peas or beans.
The frame for pictures and photos do in several stages:
Determine the size, but keep in mind that on each side the border should be larger than the photo by 1.5-3 cm. After that make 2 identical cardboard blanks;
On one piece, circle and cut a rectangle. Paste the peas on it. This can be done in any order;
Now select any paint color and color the peas. When everything is dry, it's time to varnish;
Separately make a leg-support or a loop that you need to glue to another part of the workpiece;
It remains to consolidate the 2 parts so that you can then insert the photo.
It's time to create!
As you can see, having devoted needlework, you can create a real masterpiece with your own hands for a little while.
With its help it will be possible not only to decorate its ownDwelling, and to please a loved one, if you present a frame as a gift. Using the considered master classes and having shown a little imagination, it is possible to come up with new variants of framing on your own.