Pareo for the beach: a whim or irreplaceable thing
You are going to go to the sea and want to buy a beautiful pareo? In this article we will tell you how to choose a fabric and sew pareo, as well as how to properly tie it
And it's time for holidays and many of us decidedGo to the sea. And if you decide to buy a new swimsuit, then in the store you will be offered to buy also pareo. What kind of thing is this and why is it needed?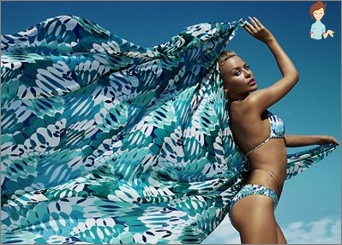 Pareos is a part of the summer wardrobe, which is oftenAll put on top of a swimsuit on the beach. It looks something like this: a large rectangular cut of fabric, which you need to put on either your hips as a skirt or as a dress.
The charm of such an element of the wardrobe is that you can easily take it off at any time and go swimming.
What should be the ideal pareo?
Easy;
Air;
Great;
Harmonize with a swimsuit.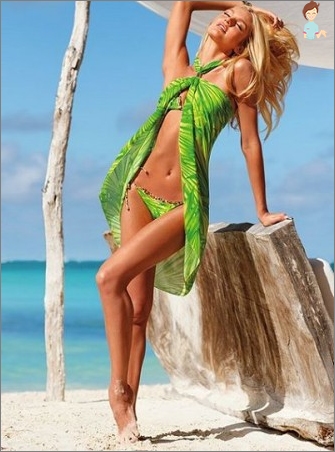 Another advantage of pareo isVariety of prints. Which only images do not occur on these sections of tissue: birds, animals, and simple abstract figures. So if you bought a swimsuit, then the pareo can be chosen of the same color and, perhaps, even with approximately the same pattern.
Ideal for such an element of the wardrobe and plump women. Do you want to buy a special bathing suit that will help to break all the flaws in the figure?
With the advent of pareo, such suits have not becomeNeed, because a light developing skirt will hide problem areas much better. Yes, and do not have to injure the body, putting on linen, which will pull together all the internal organs.
How to tie a pareo
Do you want to look impressive? Then you need to learn how to beautifully tie a pareo. For example, if you do not have a very thin waist, then you can tie it to the hips. In this case, your figure will look more refined and elegant.
Want to hide a small chest? No problem! Just tie the tissue at the chest level with a large beautiful bow. But here, the main thing is not to overdo it! Better to let the bow is a bit smaller than you would like, but you will not look ridiculous.
It will help a little pareo and women of low height. But here it is important not only to tie beautifully, but also to choose this attribute of summer vacation correctly. Do not stop your attention on models with cross strips, they only visually reduce the figure. But models with longitudinal stripes will look chic!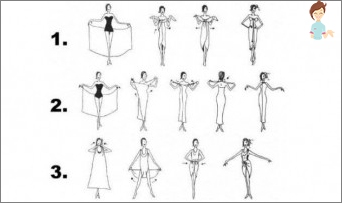 Interesting is the question of how to wear a pareoWomen with lush forms. Well, wear and tie like everything, but when buying it is worth avoiding large drawings and ornaments. It is better to take a pareo of some neutral color, then you will look slimmer.
Tying a pareo is quite easy. To do this, you need to throw it on your back and tighten the tails of the tissue over your chest. If you do this, then you will get a nice little dress-pareo strapless. If you have the financial opportunity to buy just two identical pareos, then they can get a great full dress.
For this you need to skip one handkerchief underMouse and tie a small knot on his shoulder. We pass the second handkerchief over the first and tie it on the opposite shoulder. Attention! You do not need to tie up large knots that will visually enlarge your shoulders. The little bundle should be small and almost invisible.
One more thing: Do not buy pareo directly at the resort, there and prices are much more expensive, and time will learn how to tie a handkerchief will not. But if you get this necessary thing in advance, then you will very quickly learn how to transform such a scarf in a dress, a skirt, and even a swimsuit.
How to sew pareos with your own hands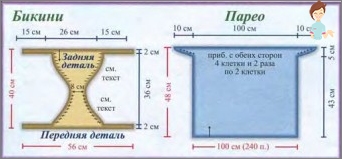 Not always in the store you can find a handkerchief that will be ideal for a swimsuit. And if you still do not have time to go shopping, then To sew a pareo Alone is not such a bad idea.
Before buying, decide on the cloth. It should be soft and translucent. When buying, also consider that you eat at sea, which means that the fabric should not soar and stick to the body, even in the hottest time of the day. So it's worth choosing from silk or chiffon.
Now as to the footage. If you want a skirt without a smell, then take a piece of cloth with a width of 50-90 cm, and the length should be approximately equal to the width of your hips. But if you want to tie both a dress, a skirt, and a sarafan, then sit down, take a pencil and count how much tissue you need.
Sewing a pareo is easy. You need to cut off the desired piece of cloth and sew it around the edge. In the process of sewing, you need to make a double fold about 6 millimeters. If you chose silk in the store, you can reduce the bend to three to four millimeters.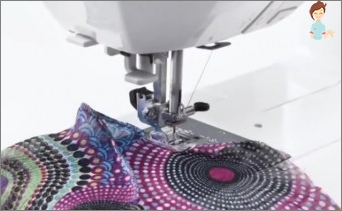 In case you decide to use a handkerchief asA skirt with a smell, you can spend a little more time and sew special ties to it. Also, you should sew a small loop on one side of the kerchief. And when you dress pareo, then stretch the tie through the loop, and you will get an excellent beach skirt.
As you can see, in order to sew pareos for the beach with your own hands you do not need much experience. The main thing is desire, patience and a little time.
Also we want to warn you that if you took the needle in your hands for the first time, the seams can turn out a little crooked, and the loop is not enough. But do not be discouraged! Over time, you will succeed!