How to organize a decent wedding with a limited budget?
Ideas for a full-fledged organization of a modest wedding: how to dress properly, who to invite, what to put on the table? How not to spend a fortune on your wedding?
The tendency to hold modest weddings is increasinglyIs found among modern youth. If earlier the wedding was celebrated as brightly and magnificently as possible, even pompously, now the young try to celebrate their most important date in a quiet and modest pair.
The very concept of expression "Modest wedding" Does not imply a budget deficit, although a lack of material resources can be the main reason for the decision to cancel the celebration. Some representatives "Golden youth" Also limited to a chamber holiday in a narrow circle of close relatives and best friends. And sometimes the married people are limited by the presence of parents on both sides.
Is it worth organizing a noisy banquet?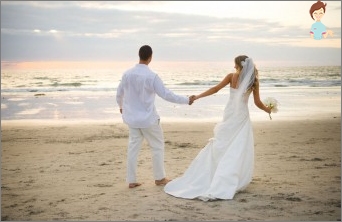 If for some reason, note loud andA magnificent wedding you do not fated - do not get upset, and even more complex. You do not need to spend a lot of money to organize a holiday for a lot of unfamiliar people who will eventually remain dissatisfied with everything they can.
Where to spend more productive "Marriage capital" For the needs of the couple, for example, go on a romantic trip or buy a car.
Celebrating the wedding, in general, is important only for youTwo, and noisy drunken guests do not need you at all. You can limit yourself to celebrating with your parents and the closest friends of your new, young family. And there are unique ideas on how to organize a modest celebration with taste, and even gloss.
Key benefits of a modest feast
If your wedding budget does not correspond to the old expectations and dreams of pompous marriage, try to find in the happening the positive side:
You can wear any dress, and spend enough money on it, which, otherwise, you would have to "Let go" To organize a large-scale feast;
You will be cheerful and joyful, your holidayWill do without stressful situations and fatigue with excessive communication. In a circle of loved ones you will feel much more comfortable and confident than with the vast public of unfamiliar people and distant relatives;
You do not have to constantly worry about that,Whether the dishes are served on time, whether all the guests have glasses filled with champagne, will not upset some guests with their jests and trite contests;
You have the opportunity to create an ideal wedding celebration for yourself, without any "Ceremonies" and "Customs", Which can tire out and dislodge even before visiting the palace of marriages;
You will rationally spend money on those important moments and events that will be remembered to you two forever;
You are guaranteed to pay for the celebration;
Your families will be strengthened, as parents will have the opportunity to communicate in a kind-hearted atmosphere;
You will have a kind of guarantee that those present at a modest wedding with parents and faithful friends will sincerely rejoice over you, and none of them will have a feeling of envy.
But the celebration of a modest wedding with taste at allDo not say that you need to start everything on its own accord. Just like the pompous feast, it should be carefully planned, not losing sight of even the smallest details.
Organize your holiday from "A" to "I"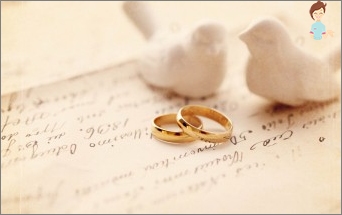 The first thing to do is to carefully paintAll the expenses that will be required for the organization of the holiday. You can do everything yourself, without resorting to outside help, but keep in mind - this will be more time-consuming. Any idea about how to modestly celebrate your wedding begins with home.
It should be decorated in advance and create a magical environment in it, because it is here that you and your loved one will return in the evening from the restaurant.
If your best friends are forced to comeOn your celebration from other cities and countries, it is you who should take care of their comfortable living in the city. They do not have to pay for themselves luxury hotels, or huddle in noisy, cramped hostels. Therefore, in advance, consider where you can place them. Ideally, if your square meters allow you to take buddies right at home.
If you do not have a chef in your family, you still need to contact the relevant organizations that are preparing the festive meals.
If you are planning a company of guests, you will still have to order a toastmaster. Even if among your friends there are "Massovik-zateynik", He certainly wants to relax with you, rather than playing a role "The clown on duty" Throughout the evening. Advice: choose a progressive young toastmaster.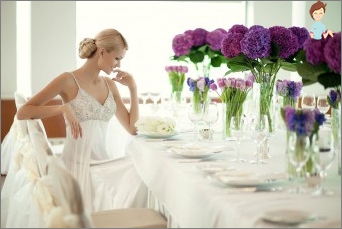 Ideally, if it is a student, it is desirablemale. At least, this applies to those who want to celebrate an inexpensive wedding with a taste, avoid dances under the Verka Serduchka and competitions with taking flowers from the neighbor's underwear. Tamada "Old school" Unlikely to provide you with the right environment, since you chose the option "Chamber" Celebrations.
Pre-meet with the organizer of the evening, discuss the desired contests and numbers, music.
Buying rings is an important and crucial moment inLife of future spouses. If the jewelry is inexpensive - that's all you can afford, do not borrow money for platinum with diamonds. Better limit your purchase of quality silver wedding rings.
Of course, you somehow have toSpend money on buying or tailor-made dress and costume. A modest dress for your own wedding can be sewed, but you can buy ready-made. To celebrate a modest wedding for two, the most appropriate outfit in the Greek style is restrained, minimalistic and refined. Dresses with huge skirts have long been out of fashion among brides, and today every stylish girl is striving for more restrained dresses. Make-up is also worth doing as much as possible "Nude" Style. Long false eyelashes and ubiquitous rhinestones have long been out of fashion among brides.
Do not forget about hiring a professional photographer. It is very important that the most intimate moments be captured on the film in the best possible way. If musicians are planned - also give preference to professionals.
Basic ideas of an interesting modest wedding:
A sea party on the rented floating transport (exit painting);
Forest party in rented cottages in nature;
Home party in the original style (think through the concept in advance);
Costume party in a specially rented room;
A fashionable party in an expensive restaurant (for a small number of guests).
And remember, modest is by no means always a synonym for cheap.
The main thing - think through all the small things, and save upThe necessary amount of money for the embodiment of the most daring fantasies about entertainment, meals and the general organization of marriage. Be happy in marriage!