Crafts in the interior with their own hands: beautiful and stylish
Brownie of burlap as a symbol talisman home. Making crafts with their hands from a variety of materials at hand. We produce flowers with his own hands
Flat - this is our private spacerecreation. Equipping it, we try to create a warm and comfortable atmosphere. It's hard to imagine a comfortable interior without the cute decorations. Very popular in recent crafts made with their own hands. The main argument - is that you do not need to buy anything special in order to make the original crafts. You'd be surprised, but the materials at hand are in your home.
Open the coffers!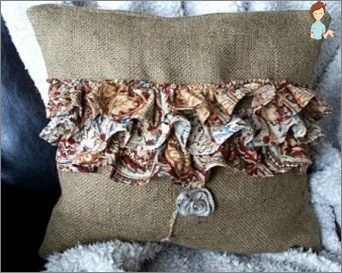 Many in the house certainly have a corner wherefolded and carefully stored the pieces of old wallpaper, small coils of wire, old newspapers or magazines, cans underside of tea or coffee, and similar rubbish.
Calming himself with the thought that now the time comes, andThis old piece of jute or linen, we certainly useful, we are gradually turning into guardians of a huge number of small items, which are unlikely to use.
Dream a little, you will be able to diversify the interior interesting elements, and to find a practical application of the things that have long been gathering dust in a closet doing nothing.
What could be crafts for the home
List all categories is not possible, because the human imagination has no limits. We can only highlight some of the most popular, namely:
Functional crafts. To this species include boxes, boxes, jars for cereals, bottles, etc. In general, anything where we can store small items in size..;
Crafts for interior decorating, which aim to create a cozy atmosphere in the room - figurines, pictures, flowers, napkins, amulets;
Crafts, which combine beauty and functionality - a coffee table, stand for shoes or umbrellas.
Choose material
It's simple: the material for the manufacture of handicrafts can be anything. It all depends on your imagination.
All the most popular articles fromburlap and twine. At first glance, it seems unattractive burlap and coarse material, which is widely used in agriculture and has nothing to do with dressing rooms.
Although it is sometimes used as a canvas for painting pictures. Interior designers have positioned as a stylish burlap, natural and environmentally clean cloth.
So happy to use it in their work, complementing it with all sorts of elements and inventing ever new decorations:
articles of burlap and jute;
jute and straw;
Decoration of coffee and burlap;
crafts with clay and jute;
burlap, linen adorned.
The list is incomplete, again, it all depends on the imagination and the available tools.
Products made of burlap with their hands
As mentioned burlap - ituniversal textile material, from which you can make a lot of interesting and useful for everyday household items - curtains, napkins, flowers, decorations for vases and flower pots.
People who are no longer newcomers in such a caserecommend starting with easy. Try to cut small portions of tissue to dissolve at the edges of Bahram and starch. Here and ready table napkins!
The same principle can be given the originalkind of ordinary flower pot. To do this, merely, wrap it with a thick cloth and how to fix the stapled edges together. To hack did not seem boring on top of the material can be pasted watermelon or pumpkin seeds, add coffee beans or any other cereals.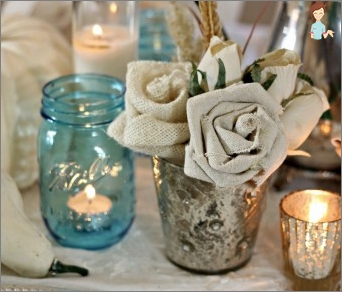 The main thing - is the variety of colors usedmaterials. This design is not only pleasing to the eye with its originality, but will from time to time change the design of flower pots. Not requiring you with additional costs.
Personally element manufactured homeInterior may show an original idea for a gift, for example, friends or relatives. So, it is interesting and important in any home looks an element such as a talisman.
We produce guardian of burlap
The house - it is our fortress. And no fortress is complete without a guard, and a house can not do without the guardian of the hearth. And when it comes to home amulets, the first thing that comes to mind for most people - a figure domovenka. Make domovenka burlap with his hands just enough. All you need - is to follow the instructions.
Before you start work on the figure, you should make sure that you have everything you need, namely:
2 wires;
twine;
A piece of burlap;
Disposable spoons 3 pcs .;
A block of pakli;
pencil;
scissors;
Needle and thread;
Disposable socks or as they are also called kapron;
A coil of wire;
Sintepon;
A sheet of cardboard or any other material that would come up, for the model of the torso is a housekeeper.
glue;
Accessories for decorating figurines - coins, cereals, a small broom, etc.
Now go directly to the manufacturing process.
A piece of available cardboard is twisted into a tube and fixed around the edges with a stapler. PAt your discretion, we make holes for the future hands of the little man and insert the wire there.
Next we take disposable socks, fill them with a small amount of sintepon and roll them into balls. After that, these balls are tied to the side wires of our crafts. Between the ball and the hole where the wire enters the cone, there must be a distance. We will close this gap with a sleeve that can be sewn from any material you like.
By the same principle as hands, manufacturedhead. After the head is fixed on the body of the housekeeper, sew buttons that in this case will mimic the eyes and embroider a beautiful smile with threads.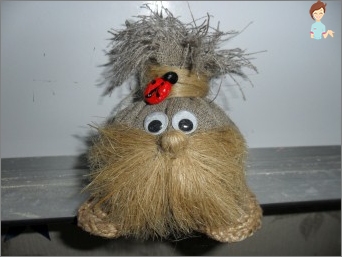 Take 2 disposable spoons and break off from them.Handles in such a way that you have two convenient supports for the little man. Having glued the legs, you can decorate the spoons with pieces of sacking, creating an imitation of slippers.
The remaining spoon is glued to the handle of the housekeeper. Spoon - a symbol of prosperity and on the home amulet such an element will look, as it is impossible, by the way.
Your housekeeper is almost ready. It remains to make a beard from the twine. After the process is completed, decorate the housekeeper with accessories that have a symbolic overtones - coins, cereals, in particular, rice, watermelon seeds, etc.
As you can see, the little housekeeper of burlap and twine perform simply, the main thing is your desire. On the Internet, you can find a large number of crafts that you can do yourself, diversifying, thus, your interior. Creative inspiration to you!