Simple tricks for the effective aging of paper products
Scrapbooking is the original way to turnMemories in an attractive family archive. How to grow old paper for an album in classical style? Simple tricks for the effective aging of paper products
Modern art of needlework possessesA lot of industries, the most popular of which was scrapbooking. This hobby is fascinated by a huge number of women who want to create attractive and original archives of family photos, postcards, letters, children's drawings. The technique of scrapbooking is realized in the creation of decorating albums, panels or diaries.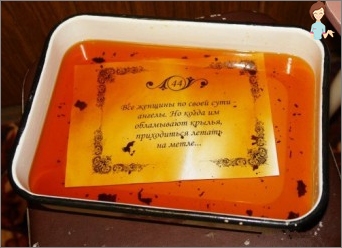 The main component of needleworkBecome paper products. Their design is the most important step in shaping the image of your future offspring. Fans of vintage compositions are constantly asked the vital question - how to grow old paper?
Artificial giving the atmosphere of antiquity to the baseYour future crafts - a simple matter. But since you have to work with a variety of liquids, we recommend taking a responsible approach to selecting raw materials. It should be textured and dense: it is easy to make paper of this type easy and without loss of quality.
Create Vintage Paper with Tea
Strong black tea - simple and effectiveA tool that helps to make aged paper. To enhance the effect of "antiquity", you can pre-emboss the sheet in parts or completely. In this case, the pigment will penetrate into the wrinkled texture and create a visual image of the cracks. To age the paper with black tea, you will need a packing of leaf brew.
You can buy the cheapest product - it will provide intensive pigmentation. Remember: the more tea leaves, the more intense the color, and the "Ancient"Will look like a sheet. Do not use products for photocopies and drawings - most likely, it will be a waste of time, effort and money.
Coloration of tea is as follows:
Place 7-10 tsp. Tea in a large container and pour 250-300 ml of steep boiling water;
Give the future pigment to infuse for 10-15 minutes under a lid or cloth;
Strain the resulting broth and pour it into a small bath;
Lower the sheet into it for a few minutes;
Remove the paper from the solution and place it on a flat surface;
When it dries a little, sprinkle it with a few drops of tea in a chaotic order: this will exacerbate the old effect;
After completely drying, iron the stylized sheet with an iron.
If desired, the edges can be slightly burned with a match orA lighter. However, do not overdo it and do it as carefully as possible, so as not to incinerate all the work done. If you have an electric stove at home, hold the product over the heated hotplate to make the work even more realistic.
Old paper with coffee
You can make paper using naturalGround coffee. This technique is a favorite among scrapbookers: needlewomen explain their preferences by the fact that an invigorating drink not only stains the surface, but also makes the sheets denser and rougher.
Before you can make paper with natural coffee, you can practice on thinner raw materials for a copier or printer. When preparing tools, we advise you to crush and grind the sheet with force.
Step-by-step instruction differs from the first recipe only in ingredients:
Brew 5-7 tsp. Natural ground coffee with boiling water in the amount of 150-200 ml;
Insist coffee drink for 10 minutes;
Carefully discard your mixture so that abrasives do not get into the dye bath;
Pour the filtered coffee into the prepared container;
Do not need a long "marinate"A sheet in a liquid - 5 minutes is enough;
Remove the product and distribute it on a flat surface.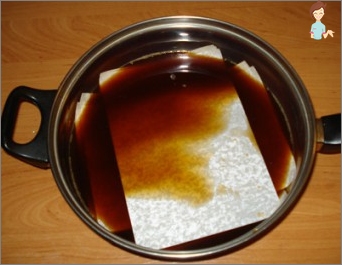 Manipulations with ironing are desirable for anyType of treatment in the liquid. Make sure that the iron is operating outside the steam mode. Partial firing of paper can be done by methods already known to you. In addition, you can refer to instant coffee.
While the sheet dries, rub the granulated coffee with your fingers and slab the workpiece in certain places. This will help how to make a truly aged paper, and give an especially ancient "Atmosphere".
Is the text an obstacle to processing?
How to grow old chosen for scrapbooking paper,If it has text, print, drawing or ornament? If you have decided to acquire a hand-made article in the classical style, and in your arsenal there is paper in the spirit of ancient literature, you are quite rightly puzzled by the question: what happens to the text in the traditional way of processing the product?
Ink can really behaveIt is unpredictable: to spread out, to stain the sheet, to get off it. How to make old papers with texts? In this case, distressing is best done by dry methods and as accurately as possible.
A great method is intensive drying of paper. For this purpose, an oven or microwave oven is suitable. Once such a technique even scammers used to forge documents for lawsuits, giving them an archaic look. Now this method is easily identified by state structures, therefore for criminal acts it is irrelevant. But it was useful handicraftsmen!
How to grow old paper in a microwave?
Gradual aging is as follows:
Put in a cup of standard volume 5-7 tea bags;
Fill with water and place the container in the microwave oven;
Warm the mixture for 1.5-2 minutes;
Remove from the microwave and allow to cool;
Press the bag on the sheet and carefully distribute the liquid with a tamponing technique or a soft squirrel brush;
Put the paper product in a large container like a baking sheet and send it to the microwave for 5-7 minutes;
Warm up at minimum temperature.
"Bake"Sheets can also be used in an oven. Among the masters, a natural way of drying in the sun is also practiced. Have you noticed what happens to newspapers and magazines that are long on window sills and balconies under the sun's rays?
Daylight is the easiest, affordable andA natural source of making vintage raw materials for the future masterpiece. Just put the future like a parchment in a place of open access to the sun for a few days, and enjoy the result.
And most importantly, remember: no creativity is unthinkable without improvisation and experimentation! Even the most banal recipes can be interpreted in their own way, achieving with their help optimal results.
Do not be afraid to make your own proof-reading in thoseOr other techniques to enhance the color or effect, to strengthen the visualization of old-fashionedness, to realize their fantasies in edging, shapes and textures. We wish you productive creativity and a mass of grandiose ideas!