How to make a quick and simple keychain with your own hands
Many people will be interested to learn about how to make a keychain with your own hands. This is a very interesting and exciting, besides homemade thing brings more joy than the purchase
Many like cute trinkets like key rings forKeys, backpack, pencil case, etc. Today you can buy any such trifle, because the range of goods is extremely huge. But you will agree that the author's work will look much more stylish and bring more joy than the next product from China. And since you can make a key chain with your own hands from almost any improvised materials, then there will not be any special difficulties in this matter.
From what you can make a stylish and cute accessory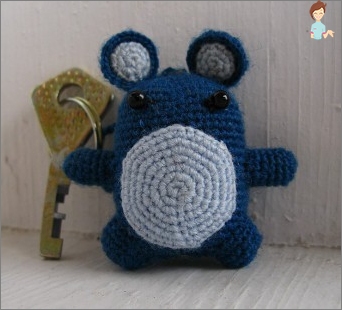 Before sharing in a simple wayMaking jewelry for a bunch of keys it is worth recalling that the key chain is not just a thing. This is a kind of expression of the individuality of its owner, especially if it was made by his own hands.
In addition, it carries an energy message, so you need to start work only with a good mood and, perhaps, then your craft will become for you a real amulet at random or an amulet.
Of what can you make such a thing? Yes, almost from anything, for example, from such materials:
Beads;
Paper;
Thread;
Plasticine;
Coins;
Rubber bands, etc.
You can also use old, unnecessary partsFrom watches and leather straps for a charm in the style of steampunk, wine corks, pencil sticks, rags of cloth, ribbons and much more. It all depends on your imagination and available materials.
Paper
To begin with it is necessary to talk about how to make a small key chain made of paper. This material can be found in every house. There are a lot of options for crafts.
The easiest way to apply this approach is:
Take unnecessary logs, to be exact, their covers, or several sheets of dense colored paper;
Cut out of them long strips in the form of a triangle;
Fasten on the wide side of a strip of paper (the one opposite the corner) a toothpick;
Begin to minimize the segment. Tap the PVA;
Open the lacquer, put the details on the rope, you can add the beads.
Also from paper, you can make this accessory inOrigami technique or quilling. A very interesting solution is a miniature booklet. However, please note that, most likely, such crafts will not last long, as they are quickly overwritten.
Elastic bands and threads
Also, various crafts can be made fromOrdinary threads. To do this, you need a fantasy, as well as a scheme for work. You can easily find suitable on the Internet. Since the key chain is better made from strong threads, take yarn or shoe threads. Also moulin or thin elastic bands will fit.
As an example, you can try to execute fromThread of the dream catcher. For this, the base ring is taken and wrapped tightly with threads. Then begin to tie the pattern in the center of the ring. Separate segments intertwine with each other in bizarre patterns. You can specify with their help a specific value for the key fob.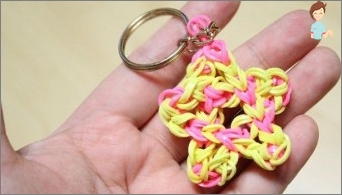 And here's how to make a key chain made of rubber bands? You can try to weave an odd job on the principle of making friendship bracelets. This technique implies interlacing several segments with each other, tying knots, which in the end allows you to give the product a specific shape.
The same can be done with threads. Applied and clerical rubber bands. For example, with their help and a simple hook for knitting, you can weave a heart-shaped key ring from rubber bands.
Beads and beads
As to make of beads and beads a key chain of any form is the easiest, this method is the most popular. To do this, you will need a set of beads, fishing line or thin wire and a circuit for work.
How to make a keychain in the shape of a flower?
Cut the wire and bend it in half;
At one end, put on a bead of beads and push it to the middle. The second end of the wire is threaded through it;
Put on the second row of beads, one more, then three, etc. To make the petal interesting, use beads of a different color along the edges, beginning with the third row;
After reaching the middle, begin to reduce the number of beads in the row;
Make thus the necessary number of petals. On the wire, put on yellow or black beads, on top - the bead is larger. It will be a stamen;
Connect all the elements, twist the wire and fasten it with a large bead below.
Plasticine and polymer clay
You can also make a craft of plasticine. It is better to use polymer clay, as it can be baked for greater strength.
Since it is possible to make a keychain made of clay or plasticine of any color and shape, there are no restrictions in this respect.
The main thing is to observe the basic rules:
For work, measure a small amount of material. The remains of clay wrap so that it does not wither;
Mounting is used metal. It can be inserted in the center and baked with our future accessory, or fixed only afterwards, having poured into the prepared hole;
Bake clay can be in the oven or try drying with a hair dryer;
Top coat the key chain with lacquer.
Coins
And here's how to make a stylish keychain out of a coin? For this you need coins of different sizes. Drill holes in them and fasten them with a chain, alternating between different diameter elements. You can create an original composition from the currency of different countries. Such an accessory can become a collection of souvenirs from your foreign travel.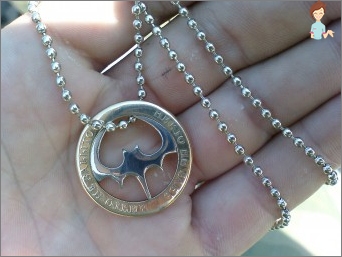 Also it is possible to make a hand-made article from one singleCoins. The easiest option is to cut it in half with a curly line. It turns out the similarity of yin and yang, the second half, which you can give to a person close to you. The coin holder is inserted into the drilled hole from above. By the way, a stylish little thing from a coin can bring good luck in personal affairs and in the financial sector.
There are many more ways to do thisKey chain with your own hands. And for this, absolutely unexpected materials may be needed. You can combine small pieces of beads, paper, thread and plasticine.
Fantasy is not limited to anything, besides all the necessary details can be easily found in shops for needlework and even at home. Inspiration for you and creative success!