Create fashionable luminous shoelaces with your own hands
Modern youth loves to be bright, unlike and original. And reliable assistants in this business for young people are unusual accessories, for example, luminous shoelaces
Today, one of the most popular accessoriesModern youth are luminous shoelaces - another original invention of the restless Chinese. They became popular due to the increased interest of young people, striving to stand out against their peers and be a star in any disco.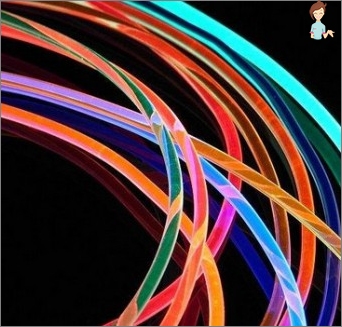 Not having time to appear on the market, luminous shoelaces became a hit of sales. You can buy this product both in usual and in Internet shops, and you can make them yourself.
Understand the intricacies
There are two types of luminous accessories for shoes:
Led, powered by batteries;
Ordinary cotton or synthetic, impregnated with a special composition.
Both varieties are of good and very stable demand, and each of them has operational features.
Bright and fashionable led shoelaces
Luminous and flickering led shoelaces representA soft silicone cord that transmits light with an integrated LED and an electronic unit. They receive food from ordinary batteries, which can be purchased at any store.
They can work in three modes, which can be changed using the switch built into the electronic unit:
Mode of continuous continuous glow;
Mode of color overflow;
Mode of rare or frequent flicker.
The working time of luminous laces is about65-70 hours, after which it is enough to replace the battery and they are again ready to attract surprised interested looks to their owner. The standard length of such laces is 80 centimeters.
The color of the luminous led laces, can be the mostVarious - bright red and orange, blue and rich purple, light green and green. Glow of such accessories is absolutely safe. Silicone does not leak water and has high strength, so you can walk in luminous laces not only at night, but in the rain. The main thing is that the shoes withstand such walks.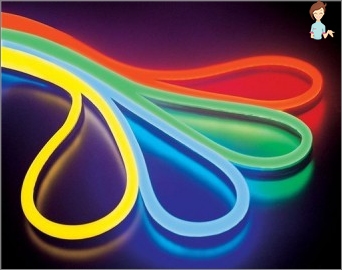 Wishing to stand out from the crowd and be fashionable, it's not worth itForget that the luminous silicone straps are just an accessory. It is not to be hoped that they will reliably hold the shoes on the foot, so do not use them on shoes that require tight fitting, for example, on running shoes or football boots.
Such bright accessories are more suitable for skaters and cyclists, visits to discos, nightclubs and romantic walks around the city.
Laces impregnated with a special compound
The second type of luminous accessoriesAre conventional cotton or synthetic laces, which in the process of production are impregnated with a special composition based on fluorescent or photoluminescent paint.
They can be used for socks on any shoe, inIncluding requiring a tight attachment to the leg. During the daytime, they hardly differ in appearance from ordinary ones, and only in the dark can you see how their color changes.
How to make your own hands?
Make luminous shoelaces with their own hands canAnyone who wants, the most important thing is to have patience and apply some effort to this process. You can make this unusual and bright accessory not only for yourself, but also for your relatives, friends and colleagues, especially small children and teenagers will be happy with this gift.
In addition to its direct function, luminous shoelaces can be used as decorations on the head, bracelet and even necklaces, and they can also be attached to a backpack or bag.
In order to make such accessories at home you will need the following materials:
Silicone tube with a diameter of 3.5 mm and a length of 2 meters;
LEDs of any color - 4 pieces;
Soldering iron;
Silicone (liquid);
Small flat batteries (4 pieces);
A small box for batteries.
Silicone tube should be divided in half, i.е. On two equal segments on 1 m in length. Next, each segment must be filled with liquid silicone using a syringe. After that, using a soldering iron around the edges, you need to fix the LED so that the bulb itself is inside the tube, and the wiring is from the outside.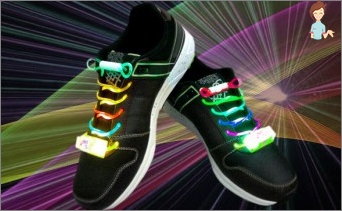 Now you can proceed to fasten the wires to the batteries with a soldering iron or glue. After that, the batteries should be placed in a box or gently pull the right color with electrical tape.
That's all - your stylish accessory is ready, you canBoldly go to the disco and shine until the batteries are down! If you want your fashion shoelaces to glow only when you want, you need to provide for the fastening of the switch when assembling them.
The second and most simple way to make yourselfA fashionable shiny accessory for shoes - dye ordinary shoe luminous paint, which can be called fluorescent, fluorescent or photoluminescent.
Of course, the paint will remain on the laces are not foreverAnd after 3-4 washings or a couple of good rains will wash, but nothing will prevent you from applying it again! You can tie these shoelaces on anything and knit any knots from them. Bright and stylish to you accessories and positive emotions!