Learning to sculpt figurines of animals from plasticine
Molding from plasticine is an interesting, fascinating and useful activity. Teach your children to sculpt, and they will please you with nice crafts. Learning to sculpt from plasticine
Plasticine is a constant material for childrenCreativity and development. He easily gives in to the efforts of little fingers, developing their motor skills and the imagination of the baby. Molding is an incredibly fun experience. Just try to teach your child the simplest things and figures from plasticine, and you will be surprised how much he will be involved in the process. Most likely, that at his desk the kid will sit for hours, whereas during this time you will receive a lot of positive emotions from watching the fruits of his labors.
The use of modeling
Primitive clay was made from clay mixedWith animal fats and wax, whereas its modern analogue is made of polyvinyl chloride or rubber. In addition to the fact that the current material for creativity has a bright color, it can also be easily removed from the working surface.
In addition, if, together with the guys, we learn how to sculpt from plasticine, we are at the same time:
Stimulate their imagination;
Contribute to the formation of artistic taste, patience, concentration and imagination;
Activate the work of the brain;
Help develop small motor skills, the interrelation of movements and their results, eloquence and so on;
Form a correct vision of objects, flowers, and their combinations;
Make children more independent.
Basic rules of work
To work with children did not turn into torture, it is important to choose the right and high-quality material.
It must meet the following requirements:
Keep the given form, and do not disintegrate;
Easy to roll down, do not crumble;
Quickly warm up in the palms, acquiring suppleness;
Contain vegetable, not toxic ingredients;
Do not leave the slightest greasy or colored marks on the clothes or skin of the young creator.
Before you start modeling from plasticine, take care of the appropriate working environment.
For example, make a table by cutting a linoleum or a dense oilcloth, prepare the following devices:
Special wooden / plastic plate;
A stack (a knife for cutting);
Plastic rolling pin;
Stamps and molds for extruding / cutting figures;
Containers, which will store ready-made silhouettes of animals, fairy-tale heroes or people;
Cardboard for the exhibition of finished crafts;
Napkins from microfiber, which can be wiped hands and a table;
Working clothes (T-shirts and panties, which do not mind staining).
Where to begin?
Any lesson starting with words "We sculpt from clay and plasticine with children", Does not do without rules of conduct with such materials for creativity. Repeat them should be until full memorization, which will help to avoid a lot of unpleasant moments.
So, your kids should learn the following:
Nothing can be eaten or thrown on the floor;
The material and tools must be handled carefully and carefully;
Handicraft must necessarily be completed;
A ready-made figure or composition should be put on a cardboard or cleaned in a pre-prepared container;
The remains of plasticine are sorted by colors, they are removed into boxes, and the workplace is washed, as well as hands.
First, first, introduce the child to howIs obtained from plasticine ball, cylinder, flagellum or usual flat cake. Focus on how soft and plastic the material is, how it changes its shape from touch and pressure. Then show what each specific tool is for, and how to use it correctly.
For classes with small children, who firstOnce faced with a similar occupation, it is better to print step-by-step instructions. They show in detail how to sculpt a pony, men, dinosaurs, favorite Smeshariki and other living creatures. Do not worry, even a two-year-old will quickly learn how to roll balls and sausages, and already from them will turn out funny fruits and fairy-tale characters.
We sculpt a dragon, a dinosaur and a pony of plasticine with children 2 years and older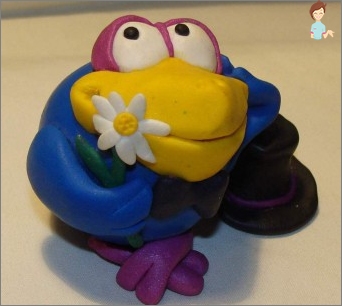 Sooner or later your baby will be bored with rolling koloboks and bunnies, and he will ask how to mold dinosaurs from plasticine.
For such large-scale tasks sculpture material is more suitable, which costs a little more, but it allows you to get a beautiful and spectacular hand-made article.
To correctly imagine the dimensions and components, take a picture of the cartoon about the dragons for the pattern, and on it, mold the neck, head, tail and body of the monster.
To fasten all parts, use toothpicks, and smooth the transitions with your fingertips.
Note that if you sculpt a dragon with a baby 2-3Years, then all small details such as the crest, bulges on the skin or muzzle, you have to build yourself. But older guys can do it themselves.
Now about how to sculpt a pony from a multi-colored plasticine:
Initially, you need to roll up the pink sausage, about 3 cm long, it will become the calf of the horse;
One edge of the sausage is pulled out a little and wrapped upwards - this is the future neck;
From the pale pink mass we roll the head-ball, we give it the form of a muzzle;
From the same pale pink plasticine, form two triangular billets for the ears. They need to be made drop-shaped and fixed on the head;
Body and head can be attached to each other with a toothpick or its fragments;
For the mane you need to put together a strip of bright and pale plasticine pink, all rolled into sausage and give the desired shape;
Legs - these are the same light pink sausages, slightly thickening downwards. Hoofs are denoted by a knife;
The tail is made;
The eyes are a pair of white plasticine rounds that flatten out like a small leaf;
In the middle of each eye glued "pupil" - points of brown consumable material;
Nostrils and mouth are also marked with a special knife.
All this - the basics of how to sculpt a soft orHard plasticine animals and cartoon characters. In fact, working with such material brings pleasure not only to children, but also to adults. Within a few minutes the process is delayed, a sense of unity appears, time flies imperceptibly and profitably. You can also watch the video lesson "We sculpt from plasticine with small children 3-5 years old", You do not need to spend a lot of effort or money on it.
Be sure to try to teach your child modeling, and the results of his efforts will necessarily become a family pride!