Daisies of plastic bottles - unfading beauty with his own hands!
If you want to decorate your home garden or revitalize your room, read the article. In it you will find tips on how to make chamomile from plastic bottles for decoration
Every year more and more people are fond of hand maid - learn to make from improvised materials various interesting things, thus giving "Rubbish"A second life. What people do not do with their own hands: organizers from cans, furniture from wooden pallets, bags of old trousers and much more. But today I want to talk about how to make daisies from plastic bottles.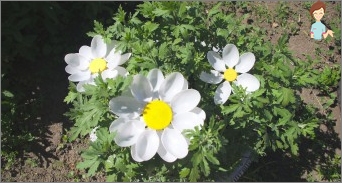 Why do they, you ask? Yes, everything is simple, with such artificial bouquets it is quite possible to decorate a household plot or revive a boring room in your own apartment.
Perhaps, this kind of creativity, like the creation of chamomiles, you will like it so that soon you will complete your plastic bouquet and other flowers.
Master camomiles from plastic bottles for cottages
Flowers from plastic containers can be an excellent decoration of the country site, and such products are harmoniously supplemented as already available living bed, and will replace it.
Making flowers is recommended large and bulky,So they will look more spectacular and attract the views of neighbors. If you want to make a full-length chamomile, then they will have to do a lot, so that they occupy the whole flower bed. Single copies will look unattractive.
So, to create your own hands daisies from plastic bottles, you will need the following materials:
Plastic bottles, it is better to take white (fit kefir and milk containers) and opaque. If there are none, then choose any. True, after they will have to apply acrylic paint;
Shears, an awl, a knife, a piece of wire;
For the middle of the flower, find some old yellow lid, you can use the case from "Kinder-surprise".
If you find all the necessary materials, then you can start creativity.
And to make it easier for you to make chamomile, we will discuss the whole process in stages:
For the production of one flower will need 3 bottles. Take the container and trim it across approximately in the middle. Part with the bottom can be postponed, it will not be needed for today's composition;
Two blanks with a neck need to be cut off;
Now, armed with scissors, cut the circular petals, but do not cut them to the end. They will stay on the neck;
On the workpiece that remained with the neckPull the ones that are without the neck. You will get a multi-layer daisy, and, you can make several more necks with petals. The more magnificent the flower, the more beautiful;
To make the plant similar to the plant, slightly bend the plastic petals;
Wrap the lid on the neck of a yellow or orange color. If you do not find one, then you can use the case from "Kinder-surprise"However, in order to fix it, you will need an awl and wire;
The resulting flower is fixed on some "Stalk", For example, take an iron rod. And to make it look like a stalk, you will need a plastic container of green color, cut out a spiral from it and wind it on the rod. To keep the plastic well, submerge it a little on the fire.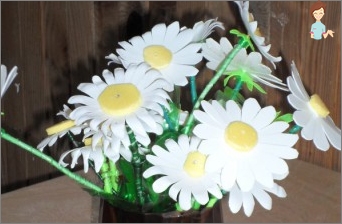 By the principle described above, you can make any amount of chamomile and decorate your garden with them. Such crafts are fearless weather, so they will please the eye year-round.
If you wish, you can make flowers from tareDifferent shades, so that a real riot of colors is obtained. True, it is important not to overdo it, otherwise instead of beauty will turn out a motley mess. In all need a measure!
We make a small bouquet for the decor of the apartment
You can do big chamomiles now, but theySuitable only for the street. Of course, according to the above instructions, you can try to make small flowers, but it is better to use another scheme for creating a bouquet.
For creating "Home"The bouquet needs to be stocked with a landscape sheet, pencil, white, orange and green containers, scissors, a candle, an awl and a piece of wire in a green winding.
When everything needs to be cooked, you can start making flowers:
On the album sheet, draw circles 9 cm in diameter and 3 cm in diameter;
Cut out stencils from paper;
Now use a larger diameter billet to cut a circle from a white plastic container. You can cut several if you create a large bouquet;
Cut a circle into petals, each try to round off a little;
Shilo heat above the flame of the candle and make a hole in the middle of the plastic blank;
An improvised daisy, too, hold it a little over the candle so that the petals melt slightly, getting a beautiful shape;
Armed with a paper blank of a smallerDiameter, cut out a bottle of orange in the middle for chamomile. Center through the hole with an awl. Slightly flower the core of the flower so that it has a beautiful shape;
Take the container green and cut the sepal. Do in the center of the hole and blow the product over the candle;
Cut out the improvised green leaflets and connect the flower with a wire. Then fix everything on the wire, the bouquet is ready.
As you can see, creating beautiful bouquets with bottles is not difficult. The only thing you will need is a little patience. Good luck and new creative success!