Openwork napkins - a relic of the past or a fashion accessory?
Knitting - not a grandmother's occupation and not a relic of the past, as it seems to some. This is a great way to spend time with advantage, having received as a result cozy hand-made articles
Some modern girls believe thatKnitting is a relic of the past, a grandmother's occupation, and knitted things should find their place only in the trunk. This approach is not surprising, especially considering that it is now fashionable to deal with patchwork, scrapbooking, felting, quilling, etc.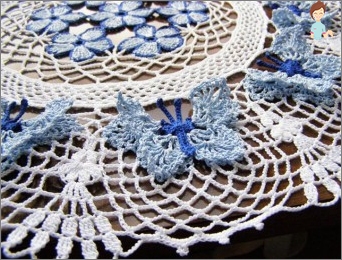 These types of handicrafts are not only interesting, but also yielding additional income, because hand-made has always been highly valued. However, do not throw a hook.
The concept itself "Crochet" Automatically resuscitates when it isThe question of ennobling the interior. In fact, napkins are often used in design, however, in this case, the right approach is necessary. We suggest in this publication to answer such entertaining and unusual questions: how, and where to apply the openwork product, so that it looks neat and in the subject?
What do you need to know to start knitting?
First of all you need to learn how to keepCorrectly hook in hand. Then try to make a loop, and from the loop, tie the chain. Understand the symbols in different loops. You should clearly see the difference between the air loop and the crochet loop.
If you already have a good crochet, then youShould get the simplest schemes. Crochet patterns crochet can turn out great if you reckon with the schemes on which the napkins with flowers are offered in a graphic format.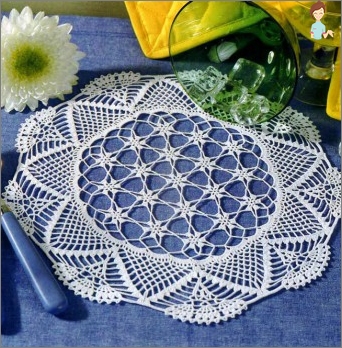 The diagram is your instruction on knitting, and at the same timeYour wand is a bailout, because often in verbal descriptions mistakes are made. Learning to easily and fluently read the scheme - then, to master the skill of weaving the crochet in full. On the Internet there are lots of examples for knitting.
When you determine which napkin. The pattern or flower should be crocheted,Choose the type of yarn and the tool number. To make the product neat, and the flowers were clearly visible, choose threads without pile. The thickness of it depends on what effect you are trying to achieve.
It can be massive napkins for furniture, rough thick articles to be used instead of a rug, thin tablecloths and bedspreads.
Last time you can find threads for decor with a pile, balls and a different interlacing of fibers. Before you buy such a yarn, you need to think about whether it will not spoil the drawing.
Under the thread thickness, the hook number is selected. These figures are indicated on the packaging with yarn and on the instrument itself. It is necessary to know, the more elegant the thing, the thinner the hook must be. If the thickness of the thread and the hook does not match, then large errors in knitting are possible. In this case, the weave will go too tight or too loose, which will reflect on the pattern.
Techniques of "chicanery"
Knitting patterns with such a device suggest different weaving techniques. It depends on them, in what style the pattern will be executed.
At the moment the most popular techniques are as follows:
Openwork - a gentle patterns, which are created by alternating or interlacing columns and air loops. From a distance, openwork artifacts are like a spider web;
Fillet, which is made like fillet lace. That is, the knitting fabric resembles a grid, and as an ornament empty and filled cells appear;
Tunisian, which makes it possible to get a strong knitted fabric. For such a technique you need a long hook, and when knitting it you need to hold it like a spoke;
Tambour, very similar to lace. In this weaving there are no special patterns, therefore only longitudinal or transverse posts are used, which are shaped like a napkin;
Bruges, which is a lace of intertwined braid. From the side it seems that the canvas seems to be connected with the help of bobbins.
Application in design
As additional textiles, napkins, blankets, and tablecloths with floral motifs are simply necessary for some interior styles.
In order to harmoniously blend into the overall image, you need to know some of the nuances of its implementation in the existing or conceived design:
Country. Studying this style, you will see how organically it fits napkins with flowers. For the American direction of the country airy, hardly appreciable products will approach. English country style prefers floral ornament everywhere: on curtains, upholstery of a sofa, tablecloths. Everything is sustained in red, green and brown colors. Therefore, it is important to emphasize as a white napkin, so that the motives in the house intertwine with one theme. For Italian country is more typical grace. In this case, choose a delicate and laborious flower pattern. But German country requires pedantry and restraint in everything, so napkins with flowers should be concise and practical;
Scandinavian style. It radiates naturalness and coldness in all elements of the decor. It is an original design that prefers wooden furniture and simplicity. In it, large napkins with a floral pattern look beautiful on the sofas, and small ones can be used as cup holders or put under a flower pot. A good idea is to place such a knitted article in a wicker basket. There will be a place for a napkin without unnecessary extra delicate elements;
Provence. This direction combines pastel colors with juicy accents in the form of blue
The color of lavender and yellow sunflower. Everywhere and in all there are floral compositions. It can be a small neat bouquet, or a separate luxury flower. This approach is also applied to napkins that can adorn intricate, but unobtrusive floral motifs. Often for the style of Provence they use not just a napkin with a floral pattern, but weave the entire product in the shape of a flower, and decorating it with a prominent part of the room;
Shebbie-chic style. It includes the obligatory use of textiles and a large number of hand-made things. The sense of this direction is that the old things will again begin to live a new life. A big plus would be if the napkins with flowers begin to give back to old times, as if they had long been stuck in a chest, turned yellow and aged, and their patterns remained naive and simple.
If you do not have the opportunity to make repairs inA certain style, there is always a chance to decorate using knitted napkins. It's very beautiful when they make lampshades, pens, panels, curtains and even bags. For this, it is not necessary to knit a flower pattern with one pattern.
Tie several crafts of different diameters and weaving, fasten them together, and you will get something original and unusual.