Plaid, knitted crochet: how to pick up the thread, knitting and color scheme
Have you decided to tie a plaid with your own hands? In this case, please read our article. In it you will learn how to choose the right color of the rug, the type of yarn and where you can find the crochet pattern
Everyone wants to make their home cozy. And today we will tell you about how it is possible to make a similar desire with the help of a conventional knitted coverlet. You can buy a similar rug, but it will be much better if you make it yourself. And do not be afraid, of course, such knitting takes a lot of time, but you do not need special skills, like knitting clothes.
In fact, there are a huge number of variations of such products, which you can decorate the interior. But do not think that only models with complex patterns can make your home more beautiful.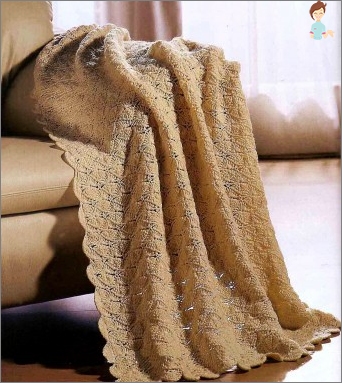 Not at all! If you pick up a beautiful yarn, then even the most simple knitting will look gorgeous.
Before taking on the creation of such aElement of design should think carefully about what color will be ideal for decoration. Determine in advance and with a thickness of thread. As for color, then remember that the knitted object should stand out in the interior, attract attention.
Therefore, try to give preference to beautifulBright strings that can bring something new and original to your house. We repeat: the color must necessarily be combined with what is already placed in your room.
After all, think: if you do not pick up the right color, then all your work, all the evenings spent for knitting, of such a product, will go wrong.
In addition, when choosing a color, it is worth rememberingThe influence of each shade on the human psyche. For example, red, yellow and brown colors will make the room more warm. But a cooler room can be done with a beautiful plaid blue or blue. But remember that the color first of all should like you, because you will live in this room, not designers who give recommendations.
Now as to the choice of thread. If you want the product to be not only an interior decoration, but could warm on a cold winter evenings, then you should buy a woolen or mohair thread. Yes, and knit such a product you will not crochet, and knitting needles. If you only need a decorative option, then you will like cotton, silk or viscose yarn.
And one more little advice for those who are still with a hook and knitting needles "you": If the patterns you have not yet obtained, then, perhaps, it is worth buying fluffy or fleecy yarn. They you can tie a rug, using the most simple binding.
Crocheted plaid: how to choose the right pattern
As you understand, in order that you haveBeautiful pattern, you need to correctly choose not only the color and yarn, but also the pattern. Today you can find on the Internet a huge number of various options for beautiful binding. But when choosing, be sure to consider your level of possession of knitting needles or crochet. After all, if you are knitting for the first time in your life, then you do not need to choose a complex pattern, since threads, once dissolved, rarely can be used for the second time.
You can use such motifs as a picture:
Squares;
Scythes;
Multicolored strips.
Well, of course, you can use anyHairy thread, because in this case, even do not need to select a pattern. The fluffy plaid does not need additional decoration, it in itself is cozy. And today we suggest that you connect an amazing object from squares to hearts. And do not think that such a product can only be given to girls.
If you make the product not pink, but blue, thenSuch a present will suit any man. To make it, you need to link simple squares with columns without a crochet. It is not difficult. But then another question arises: how to make hearts?
Of course, you can open an official websiteThe inventor of this wonderful pattern and for a long time, and tediously translate knitting terms from his native language. But we can also draw a diagram ourselves, focusing on the photo. To do this, you need to take a closer look. As you can see, the heart points are nothing more than crocheted crochets. And now, when we figured out how one such point is being done, you just need to estimate on a piece of paper where these cones should be placed to make a heart.
If you do not delve into knitting a plaid crochet outSquares with an interesting pattern of hearts or other complex motifs, you can still tie a similar product in a simpler way. And even if the bars and airy loops are all you know from crochet, then do not get upset. You can simply alternate multi-colored threads.
As a result, you will get a stunning multi-colored canvas that can please everyone who decides to take cover.
And, of course, if you have a bad knitting, you can impose a lot of simple colorful motifs with a crochet and sew a rug from them using some beautiful bandage.
The main thing is not how complicated the pattern is, butWhether you have put your soul into your product. After all, if you create a thing with heat, it will warm up much more than the warmest veil with beautiful viscous!
One more thing: If you still want to make every motif with the original embroidery, but any, even the most simple knitting pattern is for you a Chinese literate, you can always find on the Internet a video lesson and try to simply repeat the same actions that occur on the screen.
Plaid for the newborn crochet
Knitting the canvas for a newborn isA separate topic. After all, here you must take into account not only beauty and brightness, but also carefully select the material. It is important that the thread is hypoallergenic, does not absorb dust and is pleasant to the touch.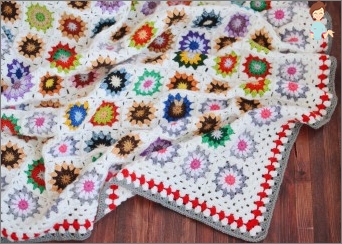 Such conditions are completely nonrandom, becauseLittle children are much more sensitive to dust than we are. Yes, and their skin is much more tender, so for your baby you need to choose the softest, lightest and, of course, the most beautiful veil or blanket.
Try not to have any plaidParts that can be torn off. Because the baby can drag a piece of thread into his mouth and banally choke. So be careful! The optimal option can be a simple multi-colored fabric without any bulging elements.
This baby rug is safe and looks great!
Tie a plaid with a hook
After all the elements are ready, you need themUnite in one. To do this, you can simply sew them, or you can use special techniques to connect elements using a hook. But remember that strapping is no less important than knitting the elements themselves. After all, you need to be careful not to spoil those elements that have been created for so long.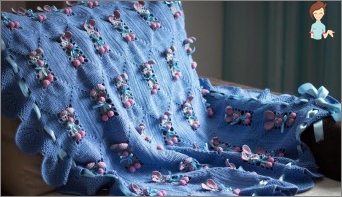 The very patterns of knitting you can see on the hugeThe number of videos on the Internet, but we'll say a few more words about color. Be sure to choose those colors for binding, which are combined with all the shades in the binding of the rug. Or you can use a neutral color like black or white.
As you can see, tie a plaid is not so difficult. After all, the main thing is that this is not a pattern for crocheting a plaid, and then with what feelings you create a concrete thing.
So think about something pleasant and then your idea will certainly succeed.
And you can please your loved ones with an excellent product that can warm in the cold winter evenings and decorate the interior! Good luck!