Create knitted clothes with their own hands
Knitted clothing - it's not just bonnets and socks from my grandmother. Modern jersey - trendy dresses, tops, bolero and cardigans. How to create knitted clothes with your own hands
Girls and women who follow the developmentPodium fashion, know that often model outfits are part of the everyday wardrobe. That is why this article will consider the fashion trends of this year, which were announced by leading world designers.
Fashion for knitted dresses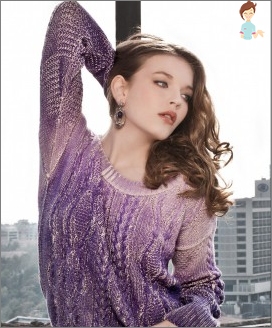 Knitted clothes will become the most popular in the autumn-winter season of this year, because it was such products that designers took the lead in their author's works.
Although this is not surprising, because knitted things give people not only coziness and warmth, but also allow to supplement the external image, creating a unique style and the ability to stand out from the general gray mass.
Therefore, in the wardrobe of every self-respecting girl there should appear at least one knitted attribute: dress, cardigan, tunic, top, sweater or coat.
Products crocheted or knitted inCollections of eminent fashion designers differ in different variants of mating: starting from a fairly large one, reminiscent of fishing pullovers, and ending with a thin viscous type of macrame.
In addition, the designers did not ignore the knitted multi-colored inserts in clothes that can decorate any outfit, making it stylish and at the same time attractive for the passers-by.
Hits of the season
Despite the wide variety of products, the phrase «Knitted fashion» Most people associate with pullovers or cardigans.
However, this season will be relevant not only these things, but also such items of the wardrobe:
Dresses;
Blazers;
Tops;
coat;
bolero;
Elongated sweaters;
Pullover with hood;
Tunics.
In addition, fashion designers advise to pay special attention to dresses with embossed and large viscous, as well as sweaters with a high collar and short "Stretched" Topam.
Some of the models of knitted modern clothing crochet and knitting needles will be presented here with detailed diagrams and examples of works.
Pullover crochet - trend of the season
Pullover is a versatile and very comfortable thing,Which will never go out of fashion. The following patterns of stylish knitted clothing will make it possible to make a beautiful pullover without much effort, which will be able to hide almost all the shortcomings of the figure.
Outwardly, the product is somewhat reminiscent of chain mail, thatMakes the thing more attractive and unusual. In addition, long things, up to the middle of the thigh, will be relevant in the autumn season, as has been repeatedly stated by famous domestic and foreign fashion designers.
We knit a dress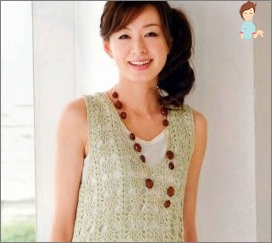 Among the main trends for 2015 are warm knitted dresses, which were demonstrated by the models of the famous designer Yohji Yamamoto.
Of course, this detail of the wardrobe was represented by other eminent couturiers, so there is no reason to doubt the relevance of dresses made from yarn.
A very beautiful and elegant outfit will allow you to warm up in quite severe frosts.
Therefore, if you have already begun to think about replenishing your wardrobe with warm clothes, starting work on assembling the product is already now.
In order to make a knitted dress yourself, you will need:
450 g of mohair lilac;
150 g of gray mohair;
Spokes number 6 (straight and circular).
Of course, the process of assembling the product will take away from youFor a while, but the end result will certainly please you and surprise your acquaintances. A beautiful dress with embossed viscose is perfectly combined with any kinds of costume jewelry, so you will look just stunning.
Sweater with "braids" - a stylish accessory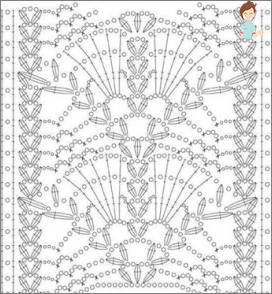 Knitted clothing knitting needles for young and mature women can also be purchased at the store, however it is the man-made product that will become unique, unparalleled in color and finish.
If you are good at knitting, make a beautiful sweater with "Scythes" Will not be difficult for you. Looking at the main circuit, it immediately becomes clear that this thing is performed in a fairly simple technique. Therefore, the process of making a stylish element of the wardrobe will not take you much time.
Despite the fact that the sweater is a classic of the genre, the original weaving allows us to transform the standard thing beyond recognition, making it not only not primitive, but also trendy.
Sweater, the assembly scheme of which is demonstrated below, will become indispensable in the cold season. It can be worn both for work and hiking, thanks to a free "Cut", Which does not constrain movement.
Knitted poncho for autumn
Knitted poncho is the trend of this season. Several interesting variants of long and loose coats were presented at the shows of famous couturiers, so it was simply impossible not to pay attention to it. A stylish and soft coat for women, presented here, can become a favorite thing of any girl. Since this particular product, with the length to the knee, is perfect for women who prefer casual style:
If you put elegance and sophistication aboveSexuality, such a thing must necessarily appear in your wardrobe. The autumn coat can be worn not only with jeans or leggings, but also with skirts, which significantly expands the range of possibilities during the combination of various wardrobe items.
Knitted decor: interesting ideas
Want to update your wardrobe, but at the same time get off with a little blood? - The original decoration of things with knitted inserts will help you cope with this task.
Here are collected light, but at the same time, original variants of decorating various wardrobe items that will allow you to look at your own things in a new way:
Decor lace. Even an ordinary shirt can be a source of pride, if you know how to decorate it. Beautiful lace strapping, which can be found even on ordinary napkins, will make your shirt unusual:;
Openwork insert. Decorative inserts on the sleeves shown on the scheme, suitable for finishing not only T-shirts, but also knitted sweaters or summer raincoats;
Inserts on the pockets. Considered here the scheme of square inserts will allow to decorate pockets on jeans trousers or shorts. After assembling the decorative element, it is simply sewn onto the thing, as a result of which the product is completely transformed.
Knitted decoration for women's clothing - very comfortableAnd a labor-consuming way of transforming things that either went out of fashion, or just got boring. Applying the suggested methods of finishing, you can transform any thing in a matter of hours, giving it a chance for a second life.
Knitted thing - a stylish and original accessory, which must be in the wardrobe of any woman. Such products allow you to look beautiful and attractive at any time of the year.
Using tips and recommendations for assembling "hit" outfits, which were considered in the article above, you will certainly please both yourself and your loved ones with new and unusual images!