Getting ready for winter - knitting cardigans
Although the scarcity of things has become a thing of the past, the market can not always satisfy all requests. So you need to take the situation into your own hands and tie the necessary things yourself, for example - a cardigan
Winter collections created by famousDesigners, are full of warm and comfortable things. This winter, women of fashion also can not do without knitted cardigans, jackets, ponchos and other items of a wardrobe of a similar nature.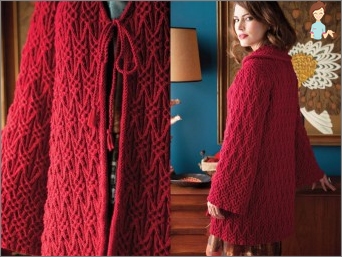 But here's the ill luck: Find a model that will simultaneously fit the size, color and style, sit perfectly on the body and give a sense of comfort - that's still a problem, especially if there is not enough money to buy it.
Refuse yourself a stylish and warm new thing? Yes, no way! We take everything in our hands, and we begin to knit the coveted new clothes with crochets, knitting needles and even in the technique of macrame.
Basic rules and recommendations
Choose the model you want in specialMagazines devoted to knitting. If there is no access to such literature, boldly open the Internet and begin to study hundreds and thousands of possible variations. Remember that not every knitted coat can go exactly to your physique, color-type or an existing wardrobe.
Ideally, if you can try on severalReady-made versions of similar clothes manufactured in an industrial way. This will make it possible to understand what the length of the future product should be, what color the thread should stand on, and what scheme of weaving it is better to use. We separately emphasize your attention to the fact that different types of knitted patterns can visually fill the figure, make it slimmer, wider, wider and higher.
We also take into account the following points:
To the appearance of the cardigan satisfied all your expectations, you need to choose the right type of thread and the density of the weave;
In order to avoid long loops and other consequences of active socks on the clothes, dense patterns and types of matings should be chosen.
A loose knit fabric very quickly stretches out on the elbows and buttocks. If you really want to have "Air»Cardigan, add it with a lining of special fabric;
Separate attention should be paid to the structure of the yarn. Taking into account the fact that a knitted jacket or cardigan is a large outer garment, it is better to use not very thick threads, whereas their thin analog is more adapted for machine knitting. It is important to find the very "Gold"Middle, because too thick yarn makes the clothes voluminous and heavy, making feel his owner awkward and uncomfortable;
Be sure to evaluate the quality of the threads. For example, woolen starting material warms perfectly, but sits down after washing and makes the final product heavier. Knitting cardigans with knitting or crocheting, using a synthetic thread, makes it possible to get a light, but not very warm new thing, while too fluffy yarn is subject to rapid wear and rolling. Proceeding from all this, it is better to buy a material, at least 30% consisting of real wool.
Main Fashion Trends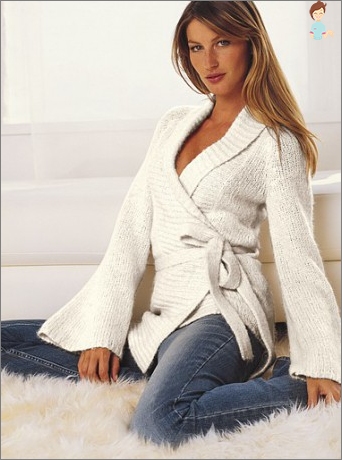 Own knitting with knitting needles is profitableA way of obtaining original and unique models of cardigans and jackets, all the elements of which are knitted separately. It is possible to use a monotonous mating with "Harnesses","Knobs" or "Braids", Weave in the technique of jacquard or ordinary smooth.
On the top knitted clothes look very nicePatterns of contrasting color, depicting snowflakes, deer and other Scandinavian motifs. The product is additionally supplied with slotted or patch pockets, a belt, a hood and other elements, but this is at will and skills.
Knitting coats, ponchos and cardigans crocheted is an opportunity to fill up your wardrobe with a stylish and unusual thing in the style of "Patchwork", That is, connected from separate square elements of different colors. Elegant, feminine and elegant look a coat crocheted with white yarn.
With what to combine and how to wear correctly
Knitting coats, elongated jackets and cardigansAllows you to regularly enjoy yourself with a new thing, which perfectly integrates with the already existing items of the wardrobe. But in this case it is necessary to act skillfully, because the final "winter" image can turn out to be ridiculous and unsuccessful.
Since the knitting of jackets and cardigans with knitting needlesOr crochet can occur in different techniques, using threads of varying density, composition and color, it is necessary to carefully think over what will be worn by the final product.
For example, knitting cardigans with pins, ponchosAnd the coat obliges to combine them with jeans and straight cut trousers, while a short bolero or jacket will perfectly complement the strict office attire in the form of a dress, blouse and skirt.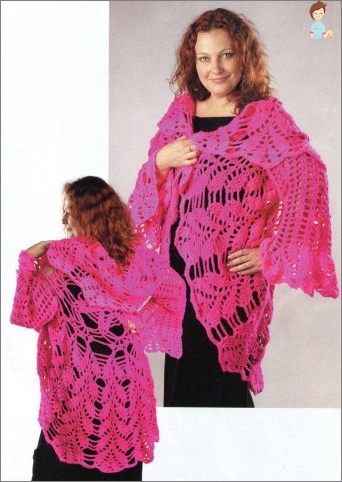 Knitting cardigans with knitting needles, which becomesFor women, not only as a means of obtaining additional income or replenishing their own wardrobe, eliminates the need to take care of the top spring or autumn clothes.
A real master can connect a product,Which will easily replace the demi-season jacket. This apparel should be complemented with leggings or straight cut trousers, high boots in jockey style and massive costume jewelry.
If we dwell on the colorPalette, then in autumn or winter, knitted things of coffee and gray shades are in great demand. They can easily be combined with restrained work clothes or diluted with bright wardrobe items.
But this is not at all a rule, becauseHand-made braiding of jackets and cardigans can occur using yarn of any shade and color, as can be seen by looking at the fashion catalogs of the current year.