Knitting sweaters for girls with knitting needles: popular styles and rules for choosing yarns
Knitted things are at the peak of fashion for children and adults. To connect a jacket for the girl is absolutely simple, in fact now there is a set of different schemes and recommendations of skilled knitters
Knitted things have long been fashionable and reliable inThey are entrenched, because they are not only convenient, but also elegant. Knitted sweaters are worn by women and small girls. This comfortable thing should be in the wardrobe of every girl, because she saves in any weather: a lace blouse is worn on summer evenings, and warm will become an indispensable attribute in the cool autumn and spring days.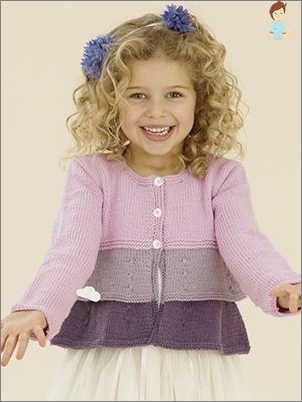 In addition, if you knit a warm jacket for girls, it can even replace a demi-season jacket in sunny weather, and it can also be worn instead of a sweater in the cold winter.
Most popular styles
The main feature of which is knittedA jacket from other clothes is the presence of fasteners. Buttons, buttons, zippers or ties can be used as fasteners. An elongated jacket is called a cardigan, and a short model, the length of which reaches just below the shoulder blades, is known as a bolero.
This kind of clothing is represented by a rather large variety of models, so many people are accustomed to all knitwear things called sweatshirts.
The most popular sweaters for girls with knitting needles are such models:
Flywheels;
On the coquette;
Capes;
With short sleeves and completely without them;
with fur.
On small girls, knitted clothes always look very stylish and beautiful, regardless of whether lace or embossed binding is used.
We choose yarn for sweatshirts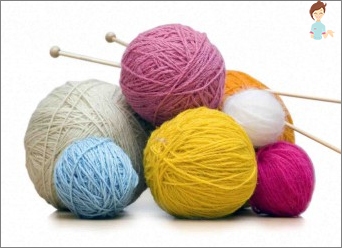 In order to connect a quality thing, it is importantTo be able to choose the thread. For the body, natural materials are the most comfortable, so a thin slim blouse should be knit from cotton, and warm - from wool. However, natural materials have drawbacks, which you must also take into account.
Clothing, knitted from cotton, has a propertyCrumble, and woolen things sit down and often irritate the delicate skin of the child. That's why not all yarn is 100% cotton or wool, other materials can be included in its composition. Most often, as additives to natural yarn used elastane and acrylic, which give the knitted fabric the right shape.
Optimal choice of wool yarnNeedlewomen who decided to do knitting with knitting needles warm jacket for girls, are considered the thread, which includes 30-40% acrylic. This synthetic fiber softens the fabric well, making it pleasant for the baby's skin.
But in cases where when knitting a womanUse woolen yarn with a high percentage of acrylic, the things created by their hands are quickly covered with pellets, lose their new look, look sloppy and worn out. Also, you should know that warm clothing made of acrylic deteriorates the evacuation of skin fumes, so active children will constantly sweat while wearing a sweatshirt.
For a teenager, the knitted sweater can be knitted with pure wool, because at this age the girl's skin is not so sensitive to the material, especially if the thing performs the function of outerwear.
It is popular among yarn materials,Suitable for a teenage girl, wool alpaca. It is better to knit with such embroidered or tracery patterns, with such an execution it will visually seem that the thing is made of mohair.
If you want to tie a fishnet jacket for a girl,Choose cotton and linen with the addition of elastane. This synthetic material prolongs the term of clothing, preventing it from stretching. Such things are usually knit from a weightless thread with openwork patterns, so they are light and not light compared to even natural, but dense products.
Features of knitting raglan
The main advantage of such knitting techniques asRaglan, is the absence of seams along the shoulder line. These things look graceful and neat, but it's not difficult to tie a sweater with knitting needles for a girl. Raglan is a method of knitting clothes with a seamless continuous cloth in the upper part of the trunk.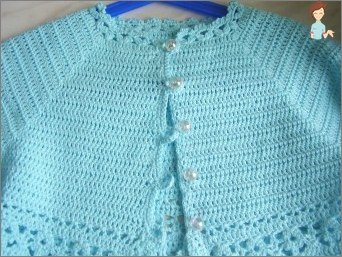 Many needlewomen avoid this way of knitting, believing that this is an impossible task. In fact, to get a nice raglan, you just need to correctly calculate the number of loops.
First of all, for the successful creation of thisUnusual technique, it is necessary to understand what a line of raglan. This term denotes loops, on which the two sides are made out for the extension of the canvas. It can consist of one, two or three loops, while knitting a raglan with knitting needles for girls can be any pattern - delicate, embossed, with braids and strands.
Try to knit your blouse for your daughter, sister or niece, and this thing will certainly become the most beloved in their wardrobe!