How to make flowers out of tissue paper: step by step instructions
How to make crafts, flowers from napkins - carnation and dandelions, workshops on the production of flowers and topiary of paper napkins for the table
Flowers never get bored, especially their lovewomen. The more so because they are so many and they are so different. They can be created from different materials, and each flower will be fine. Simple paper towels - a wonderful material for the manufacture of various decorative items, gifts and crafts.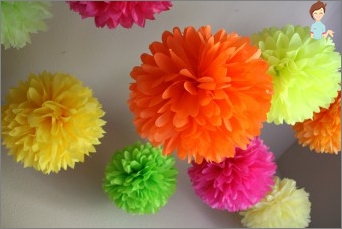 They are cheap compared to othermaterials for creativity and are excellent for creating decorative interior and truly unique and beautiful decorations. Very fast and easy, you can make beautiful large flowers of conventional napkins on the table. These decorative crafts can decorate your house, give them to friends to make a gift to the kindergarten and school.
Let them be everywhere, decorating the room and making them cozy and pleasant atmosphere.
---
If you have never worked with such a technique,better to start with the most simple forms. Over time, you will obtain a magical compositions, you will be able to transfer to the paper all their imagination, creating a beautiful and amazing similarity with the original product and excellent composition of them on various occasions.
How to make flowers out of tissue
Things you will need:
paper towels;
scissors;
thread.
Flowers from napkins - step by step:
You will need four napkins in the same color and one - in the other, it is better to pick them so that they match each other and combined together. For example, cyan and blue, red and pink;
Unfold and place them neatly on one another;
Cut the edge of the napkin of a different color to make it a little smaller than the other four, and place it in the middle of the stack;
Now start folding paper pileaccordion as if doing a fan or an accordion. Step back and bend centimeter of paper on a flat line, then another centimeter and bend the paper in the opposite direction;
Link the resulting accordion in the middle of the thread so that it is held tightly folded paper;
You can then round off the edges or not to do so;
Now turn down the edge of the product, creating a full-blown bud and gently straighten it;
Put in the middle of a wooden toothpick or skewer and stick it using double-sided tape;
In order not to be seen scotch tape obkleyte flower stalk of cloth or tissue;
Flowers from paper napkins ready.
These products are similar to cloves. Feet-stems can be neatly wrap ribbons of green napkins or paper of the same color by gluing them to the stem of the skewers, so turn out beautiful artificial paper carnations or chrysanthemums, a bouquet of which you can put in a decorative vase.
Dandelion of napkins
Materials:
three yellow napkins;
stapler with staples;
green paper;
wooden skewers for stalks;
Scotch double-sided;
scissors;
glue.
How to make dandelion:
Divide the napkins on the layers, add them together four times;
Staplers fasten dandelion in the middle;
Then cut the resulting square, rounded edges, to get around;
The edges of the circle cut in the middle of small cuts to 1 cm long;
Now gently presses the top layer with your fingers, as if to him to the center;
We do the same with each new layer;
From the green colored paper-cut leaves and thin ribbons wrap stem from skewers;
Stick double-sided adhesive tape to stem bud and mask Scotch green paper;
Dandelion ready.
In this technique, you can create a composition of colors, combining them together and creating beautiful bouquets on the table.
Topiary of artificial flowers
From these flowers can make a topiary -Small decorative tree made of artificial flowers, as it is made from other decorative materials: coffee beans, shell, shells, cones, chestnuts and other materials. This tree will decorate the room, beautiful stylish addition for celebration or maybe just be creative and a good gift.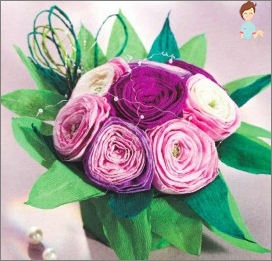 For Topiary you need a lot of flowers -about 20 medium-sized and about 30 - small, they should be glued onto the ball, made of newspaper. However, you can buy in the store for needlework special ball made of polystyrene foam, which is easy to stick buds. Preferably stick flowers from napkins to Topiary using the glue gun, so it will be faster and stronger.
For good fit Topiary trunk tree branch,and the base will be a beautiful decorative pot filled bowl or large mug which can be decorated with decoupage and varnish, pasted strips of cloth.
Finally, you can decorate the resulting treeBeads, decor of ribbons, sequins, feathers - everything that the soul desires and imagination will allow. In this very simple and quick way we can create a very interesting decor for our house.