Crafts from cockleshells - wonderful memories of summer
Shells are a wonderful material for creativity. You can make different beautiful crafts from shells with your own hands and decorate the interior. To this lesson it is easy to introduce children
The most popular souvenir that everyoneBrings from a rest at sea, are seashells. Most people at home just hide them in the closet. How to make it so that this little souvenir could remind of bright summer days, a pleasant breeze and a fresh sea wave? Use your imagination and create beautiful crafts of their cockleshells with your own hands.
Cooking seashells for crafts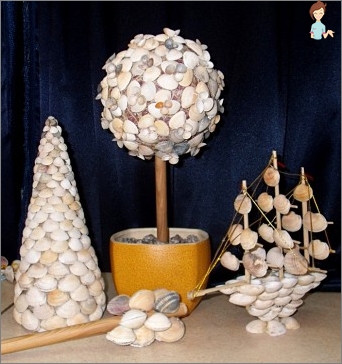 Making products from shells isFascinating and simple process for both adults and children. Shells come in a variety of shapes and sizes, and with their unusual relief and beautiful patterns they allow you to mentally return to a warm summer.
Sometimes it seems that they are created by nature specifically, to make some beautiful thing or jewelry from them.
But before proceeding to this, it is necessary to prepare the material for the work:
Good to wash;
If the remains of mollusks are visible - the material must be boiled for at least 1 hour in slightly salted water; Otherwise you will get an unpleasant smell;
Treat sharp broken edges with sandpaper, you can also use a nail file or file;
To give shine and brightness of paints, the surface of the shell should be greased with baby oil or varnished.
Those who have already worked with this material, know all the subtleties of skill. For beginners, you first need to learn how to properly glue the shell.
This can be done with several options:
A glue gun. Working with him, you must follow these rules:
The use of silicone adhesive is simpler andSafe option. Since it dries a long time, this is an ideal option for making crafts from shells to beginners: one or another detail of the composition can easily be replaced. Silicone adhesive is applied abundantly so that the shells can be buried in it.
A good option is glue "Moment". If you do not like something, you can gently tear off the shell and then paste again after cleaning.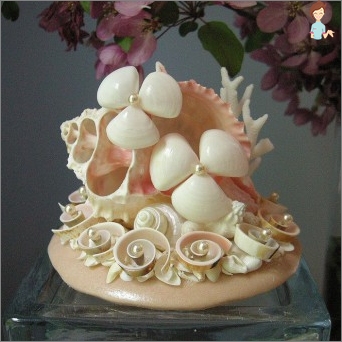 Since the glue is transparent, there will be no traces:
Glue does not overheat, otherwise it will turn yellow;
Take special care when working with small parts, since the adhesive leaves the nozzle very hot, its temperature is 200 degrees, so you can accidentally burn yourself;
If it happened that you were burned - quickly remove the glue from your fingers, as it will very quickly solidify on the skin and remove it will be extremely problematic.
Sometimes when working with a shell it is necessaryMake holes. Use a drill for this. But before drilling, wrap the material with adhesive tape and drill over it. Even if the shell is small, it will not crack.
What can be made from seashells?
Pictures, souvenirs, boxes, photo frames, candles and candlesticks, appliqués, figurines and many other crafts from shells you have the opportunity to make by yourself.
The simplest, and at the same time, beautiful craftsmanship,Is a decorative vase. To do this, we pour sand into a transparent glass container, and from the top we lay beautifully the shells of different shapes. Such an odd job diversifies the interior of your house. The perfect complement for romantic evenings will be candlesticks and candles made of shells.
Very nice looks photo frame from the seaMaterials. You can simply glue this material with a simple frame for photos. As a result, an interesting thing will turn out, which you can decorate your house or give an original gift to your relatives.
Using seashells, you can varyThe interior of his home. Shellfish trees or flowers can be placed on a coffee table, hang a picture or a panel of seashells on a wall. Different-caliber sea mollusks can be decorated with a mirror frame or clock. Crafts made of shells and stones can decorate a balcony or a bathroom.
Representatives of the beautiful half of humanity will be pleased with stylish marine jewelry - beads, bracelets, pendants, brooches and other products. They look very nice and original.
Crafts from sea shells for children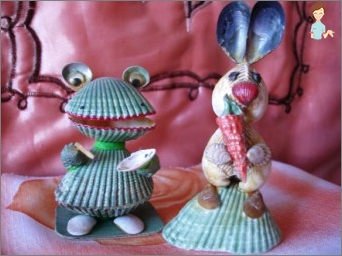 Simple shell anime you can makeWith his baby. Start with such products, in which only one or several shells need to be supplemented with small elements (they can be molded from plasticine). For example, you can make a snail.
To do this, take a spirally twisted shell. Blind clay all the parts of the body of the mollusc. Then connect them among themselves, make small eyes of small seeds - and the snail is ready!
Another shell shell for children - a turtle. Select the shell for the shell, from the light tones of plasticine make the head, tail and legs, then connect all the parts, modify the muzzle and eyes and with your child admire the small sea turtle.
As you can see, seashells can be used with advantage. For this it is enough to find free time and include imagination. Create, and let your creations gladden you and give you a good mood!