How to make a music card?
Once musical postcards were a huge rarity that came to us by single specimens (from the mysterious country of the GDR). But today you can even make such a card yourself
In the Soviet era, the post offices were literallyFilled with festive and greeting cards, which rarely reached the addressee on time. Today, it can be reminded of a memorable or solemn event on the phone or the Internet, while some people still have not lost the desire to collect memorabilia in family albums.
In this publication we offer the main recommendations on how to make a real music card with your own hands.
So, what can you advise a beginner?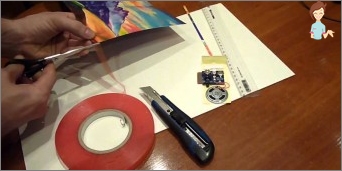 If you undertake such a thing for the first time, and toYou do not belong to the number of radio amateurs, then you can go the easy way and buy all the accessories in specialized stores. Again, the goods for handmade creativity in them are quite expensive, and therefore it is worth looking for similar consumables at outlets selling the office and sewing accessories.
There you will need to choose rhinestones and beads,Pieces of felt and ready-made applications, cute stamps and stuff. The final set of fixtures and supplies will depend on what type of postcard you are going to make. It's great if the idea of ​​its appearance and content you have long been nurturing in your head. You can also use our tips.
To force a postcard to sing, you need to doSearches for a musical element, the text and pronunciation of which you will be satisfied in full. To this end, you will have to listen to a lot of finished products and pick up something that meets the event and personal requirements.
Recommendations for creating a gift
As a basis, the thickestSingle-color or colorful double-sided cardboard, scrapbooking paper and invitation letters. The basis is given the necessary parameters and forms, after which you can start decorating.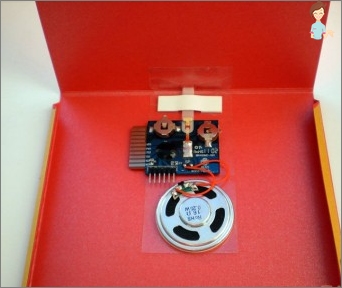 This is the most important part, requiring an understanding of the combination of colors and shades, basic and auxiliary elements, holiday themes and personal preferences of the recipient.
In the role of jewelry can do anything: ribbons, feathers, laces, beads and buttons, beads, butterflies or animals, cut through stencils.
Above all it is important not to forget to put the very greeting inscription, for which you can use markers, markers, acrylic or gouache paints, paste of gold or other color.
Fabric card version
A more cozy and "warm" way of making a greeting or an invitation card with your own hands looks like this:
A sheet of thick paper or cardboard is bent in half;
The usual surface glue is applied to the entire surface of the base. It is better, if it is in the form of a pencil, so it is more convenient;
Then you need to quickly glue to the paper pieces of cloth, imitating a Scottish cage, patchwork quilt, or simply create a background of one shade and texture;
Such a musical work can be decorated for everyone,That it will be glued to or stitched. One of the options will be tissue petals and flowers, plant patterns from ribbons and beads. The main thing is to make a sketch of the future pattern with the help of a copy paper or a stencil taken from a site or invented independently. To make the petals and buds bulky, you need to cut several identical pieces, then glue them together and attach them to the base. For example, if a greeting card is decorated with an appliqué in the form of a bouquet, then the stems of flowers can be embroidered, twisted from ribbons or again cut out of the tissue of the desired color and glued;
Do not forget to attach a musical element drawn from a postcard of industrial production.
Embroidered greeting card
Even if you do not know how to embroider onProfessional level, they can really create their own original and spiritual offering with their own hands, in which each stitch will be made with love and a good message. To do this, it will be enough to buy a canvas in the needlework store with a schematic depiction of the required drawing and the necessary inscriptions, acrylic or floss threads, a thimble (just in case), and be patient. The main thing in this venture is not to depart from the scheme by a millimeter, because only so it will turn out to create a truly neat gift.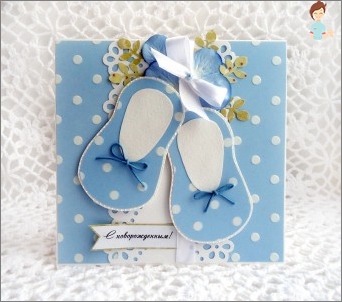 A ready-made hand-made article can be glued on a base ofCardboard or thick paper, and you can make a move with a knight, and enclose the embroidered picture in a wooden frame. The latter can be painted in bright colors, wrapped with ribbons or sisal, sealed with seashells, butterflies, flowers, beads and artificial pearls. Do not forget that there are enough alphabetic schemes available on the market, thanks to which you can embroider congratulations to the recipient or simply his name and patronymic. Well, if you are a confident user of the PC and the Internet, then you can create a personal virtual music card using the appropriate software.
It takes a few minutes, and the finished result can be placed on social networks or sent by e-mail.
Dare, and make people happy!