How to make a lampshade with their hands out of scrap materials?
How to make a lampshade with your own hands? In the course you can start up any improvised materials - fabric, satin ribbons, plastic dishes, thread, yarn and other materials
Interior design can not be called complete ifIn it there are no accessories and other small things. Paintings, lamps and floor lamps, animal figures and vases are all part of it, without which the room looks boring. Repair in the house involves replacing old things with new ones, but you should not rush to throw out an old lamp or a lamp, because it can be updated without any special material costs. How to make a lampshade with your own hands?
Lampshade of fabric and thread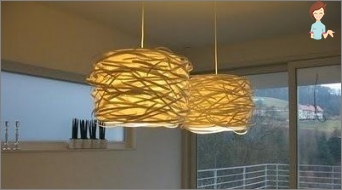 In principle, having a ready-made frame, you can make an external design using a variety of materials - old newspapers and magazines, fabrics, satin tapes and much more, including linking a new "Clothing"On the lamp with knitting needles or a crochet. If you just want to wrap the old frame with a cloth, you need to take measurements from the old plastic. It is easier to prepare a template with the help of a newspaper.
Later it needs to be transferred to the fabric and cutStocking with allowances for seams and folding. All further design depends only on your imagination. You can buy artificial flowers and rhinestones and decorate them with a future element of the interior. And how else to make a lampshade on the lamp?
Incredibly original and original looksLamp, decorated with roses from burlap. To do this, burlap should be cut into squares of the same shape and twisted from each improvised rose using a transparent glue. As soon as the flowers dry, place them in rows on the lampshade, using the same glue and a clerical stapler to fix them.
How can you make a lampshade out of the threads? Balls made with thread, have long been popular as interior decor elements. Such inexpensive material will help to renew and an old lamp or chandelier.
Here are the stages of its manufacture:
Inflate a ball of round shape and size and fix it with a thread;
Armed with a skein of threads, start gently and slowly wrap the ball around them, moving in different directions and making sure that the thread is tight;
On how many layers of thread you will be wrapped, the permeability of light depends and it must be taken into account. Having finished this stage of work, the thread must be thoroughly impregnated with PVA glue;
When they dry up, you can start extracting the ball. It is not forbidden to break it with a needle, or else you can simply lower the air slowly and remove an unnecessary element;
The place where the tail of the ball was, you can carefully cut with scissors. The hole must be sufficient to pass the wire with the lamp.
How to make a frame for a lamp shade
And what to do to those who do not have a skeleton, on which it is possible to strengthen a work of art made with their own hands?
Make it yourself by following the following instructions:
You will need two kinds of wire: one with a diameter of 4 mm and the other with a diameter of 1 mm;
Make two rings of the right size from a thick wire. Fasten the fastening of the two ends with a thin wire and glue with "Moment". To work with a thick wire you will need a hacksaw, the thin ones will easily be bitten by wire cutters;
The ribs of the future lampshade are also made of thicker metalware, and they are attached to the rings according to the principle described above;
Now it remains to fix the bulb holder for the bulb in the frame. Make a loop from the wire and wrap the cartridge around it, and the outgoing "tails"To use for hanging over the top ring, also"Insuring"By their thin metalware and glue. Everything, the frame is ready.
Other options for making a shade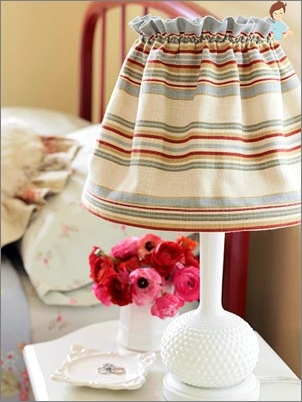 How can I make a lampshade for a table lamp? Anything can go to the course. Look around you and once again go through old things and interior items that have already "outlived" their and dust on the balcony.
Maybe you still have an old globe? Then it can be cut into two parts and make not one, but even two table lamps.
From something left the cork paper? It can also be used and decorate the old shade, following the instructions:
For starters, you need to paint an old paint in some places with a gold paint in order to add a presentable look to it;
Now from self-adhesive cork paper cut out circles of different sizes. Go out into the street, break some thin twigs of trees and pruner cut them into small blocks;
To glue the lampshade in circles, and then along the perimeter of each of them to put the cut brusochki from the branches. For fixing, you can use the adhesive "The Dragon";
How to make a beautiful lampshade for a lamp? To decorate the base with the same brusochkami, laying them in several rows. Such an unusual lamp fits perfectly into the country-style interior that embodies the village spirit.
If you still have a piece of felt and you would likeUse it, but do not know how to make a lampshade from this material, we'll tell you about it. Everything is elementary here. Uncrossing the fabric with the help of a pattern from the newspaper, tighten its frame of the future lamp. But before that, you have to draw a pattern on it, then cut and paste flowers, butterflies, any geometric shapes and everything that comes to your mind.
However, it is not necessary to completely cut figurines, it is importantSo that they at least some part connected with the common canvas. As a result, there will be a multi-layer effect, and from small holes in the fabric formed by cut-out figures that are not completely finished, light will gently penetrate the room.
How else to make a lamp shade for a floor lamp? To decorate the lamp you can use disposable dishes, for example, cups.
Here are the stages of assembling such an original light source:
In accordance with the diameter of the frame, to assemble a circle of cups, connecting them together with clothespins;
Make a few such circles, and that theyKept together and did not disintegrate, each pair of glasses should be welded together. If you have a wire frame, then fix the entire structure on it simply - just put it on top and that's it. So do in the case when the floor lamp already has its own old lampshade, and if necessary, the bottom of several cups should be glued with glue;
This design can be made round. In this case, the ball is made of two halves, and if you have an old Christmas tree garland, you can insert its light bulbs into the holes made in the bottom of the cups and get an unsurpassed beauty lamp that can cheer you up on a cold winter day.
Good luck to you handicrafts, creative ideas and inspiration for creating an author's unique shade!