We update the wardrobe without costs: how to give the second life of the old thing
How to make a t-shirt with slits. Sweater in Versace style with riveted elbow pads. We change your old things for children. Boring ballet flats turn into a trendy pair of shoes
A great way to get reallyThe exclusive thing is to do it yourself. Remaking old things is not as difficult as it might seem. Try to update your wardrobe yourself and your child: our ideas are your inspiration!
Creative from a simple T-shirt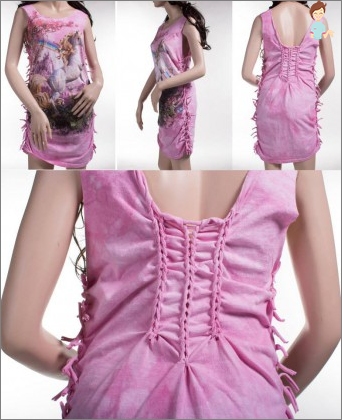 Qualitative jersey of T-shirts gives huge opportunities to those who peresthes old things with their own hands. Just look how the shape, appearance and even mood of these things change!
A black or gray T-shirt produces a very stylish top with slits. For this you will need only sharp scissors and half an hour of free time.
Mark two lines that will become the edges of futureSlits. Cut the fabric between them into strips with a width of 1.5 cm. Stretch the strips so that the knitted fabric is curled into tubules. Done! With the help of this simple technique, you can bring back to life the old demolished T-shirts, because for the punk style is what you need.
Making an open back for a T-shirt is easy. While you are still learning to change old things, put your hand on easy options that do not require special skill.
For example, make a cut on the back of the T-shirt,Retreating from the neck 5 cm, and from the bottom edge - 5-15, depending on the length. Now make two identical horizontal cuts of the back halves somewhere at the waist level, until the connecting side seams. Grasp the corners of the fabric and weave a short tourniquet out of them, then fasten it with a few stitches with the bottom corners. Get a very stylish top that you can not buy in the store.
How to solve something different from old things? Try to turn a bright T-shirt into a scarf-snood (in our opinion - a yoke).
Cut the top of the T-shirt along the line passing underSleeves. Stitch the edge or stretch the jersey to make a round roller. Trim the bottom of the t-shirt, freeing the future snud from the scar. Using sharp scissors, cut "Noodles"- strips 1.5 cm wide. Stretch the strips and tie them knots in staggered order in 2-3 rows.
You can make as many different snobs as you have bright old T-shirts or T-shirts.
We change the skirt according to the fashion cut
The usual maxi skirt looks quite uninteresting, but everything is in your hands!
Fold the skirt with folds in front and behind. Sew a little cake or a simple slice of soap, draw a descending back line with a beautiful wavy bend. Cut off the excess. Treat the edges of the cut, bending the thin material by 0.5 cm, and tight - 1 cm. Decorate the waist with a bright belt - and enjoy the unusual change!
Stylish decor sweater own hands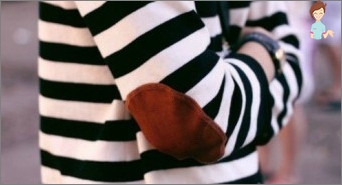 Do you want to decorate a boring jumper in Versace style? Nothing is easier!
Cut from a suitable piece of black leather orLeatherette elbow pads - two ovals with sections of 8 and 15 cm. Attach to each elbow metal rivets of golden color - 40-50 pieces depending on their size. Attach the ovals to the sleeves at the elbow bend.
We change our old clothes for babies
It is very easy to make a mat for a baby because it does not require a lot of fabric, and a neat and cute outfit is easy to create with the help of ordinary threads and needles.
Summer dress for a girl from a T-shirt
T-shirts made from natural cotton are great for children as a material for summer things. You will cut out from the back of the bright T-shirt an integral detail of the dress, with a rise of 10 cm exactly in the middle.
Stitch the back seam, sew a thin strap onShoulders made of stretched strips of knit fabric, which are best cut from the fabric diagonally. Do not process the bottom of the dress, but make a fringe 5 cm long with scissors, stretch it "Viscous". If desired, decorate before a soft applique.
Warm overall of an old sweater
If you have an unnecessary sweater made of soft wool, try to change from it a comfortable and warm overall to your baby for the winter.
Open the sleeves on the shoulder seam. Dissolve the side seam on each sleeve, leaving it intact for a length corresponding to the length of the baby's legs. The upper sleeve, that is, its ascent, cut in the middle in the form of a letter V. Sew both sleeves along a new V-shaped cut with an overhead seam or outward so that it does not press. Get pants with two slats - front and back.
Attach the straps for the shoulders, sweep the edges with a tie-back seam, tie it with a crochet or cover with an oblique tack.
Pereshivaya old things for children, remember that their looks for babies shall comply with the minimum requirements:
Use only natural cotton, delicate wool or knitwear;
Cloth take a soft, without a pile, sequins and other prickly ornaments;
Try to make a minimum of seams, do not leave on them large allowances that can crush and crash into the delicate baby skin;
Choose bright, cheerful colors of fabrics.
How to decorate ballets with your own hands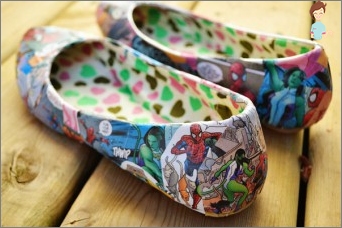 Ballet flats are comfortable casual shoes thatLove everything. Make them interesting and at the same time to update the knocked-down socks will help ordinary paint. Even if you have never painted shoes, you will succeed - so these ideas are easy to implement!
You will need: Paint for shoes in a can or can, brush and scotch.
How to do
We paste on the toe of each shoe a stripScotch tape for protection and even application. Spray paint on the open area (or paint with a brush). When the paint dries, turn on the fantasy - we finish the cat's ears and face. Exclusive ballet flats are ready!
If you have unnecessary clothes and shoes, do not rush to get rid of them. Pereshivat and redo them - not only an interesting and creative leisure, but also a way to save on buying things!