Hedgehog of sweets - the original and delicious gift for all occasions
Hedgehog of chocolates is unusual present for each person. Original and tasty pet, you can create your own hands quickly and easily
Recently, articles are chocolatesvery popular. Beautiful bouquets and original shapes will be a perfect gift for both children and adults, and for any occasion. Tasty Present can be purchased in a store or order online, but there is also a great alternative - to do with her hands.
Hedgehog of sweets is an unusual variantYour sweets. Thanks to detailed master classes everyone can easily do it yourself. Presented a gift to a child, and he will receive not only the favorite sweets, but also interesting and unusual toy.
Masterclass - do hedgehog from sweets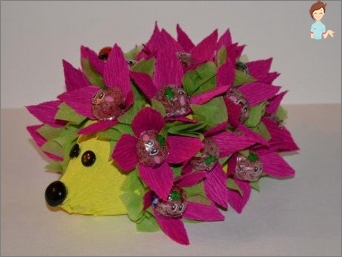 To make this hack, you do not need special skills, so you can work and lure children for whom this will be not only interesting, but also fun.
Materials needed to make a hedgehog:
Styrofoam;
Metallic paper gold color, although optional, you can choose a different color;
Crepe paper;
Chocolates having a circular and a rectangular shape;
Toothpicks, tape;
The gun with hot glue;
Buttons or beads for eyes and nose;
Floral wrap;
Artificial flowers and various ornaments.
Advanced workshop for the manufacture of a hedgehog
You should start with the formation of the animal's body. To do this, take the foam and cut out oval. The length should be about 18 cm, width 13 cm. Then, remove the bottom layer, so that the figure is not exactly staggered and stood on the table. With a sharp knife cut the snout with a pointed nose upward. In general, you need to get the body as close to the outline of the figure hedgehog;
Now, using the glue gun muzzle obkleyte gold metallized paper, and the body - crepe. Do everything carefully, that there are no creases.
Using the buttons and beads, make animaleyes and nose. Ideal if you take these details with the old toys. Their size does not matter, the main thing that was nice. In this case, the hedgehog of chocolates, made with his own hands, will look most realistic;
Go to body decoration. Take floristic film of any color or use several options. Because it is necessary to make the preform. Cut squares of 13x13 cm. Take two different colored squares and place them on top of each other so that they form an octagon. Using sewing carefully make a hole in the middle and insert a toothpick in it. Collect the film that turned the likeness of a beautiful flower, and secure it with tape. Gently smooth out and set aside. According to this scheme, continue with their hands to make the workpiece, as a result, there should be 45 pcs;
When everything is ready, start to inserttoothpick into the body of a hedgehog. First make a single row and move to another, which is slightly shifted to avoid voids. Another update - see the film did not close my eyes, so the first row should be 2 cm above them;
At the end of the hedgehog and turn it recommended throughoutSquare insert toothpicks with the film. This will not only get a flat bottom, but also improve the stability. In general, all of the animal's body, except the faces shall be covered with film flowers. Hedgehog already looks very nice, but now we are his "sweeten". Using a glue gun, attach candies to a toothpick. It is important that they are straight or staggered. Then distribute sweets throughout the body hedgehog.
In principle it is possible to stop the master-class, butWe offer to make the figure even more beautiful: with the help of the same gun with the adhesive composition can be supplemented with artificial flowers small apples or mushrooms, of course, artificial. That's all the original gift is ready!
A few tips for beginners
Instead floral cellophane can beuse organza, net, tulle and other similar fabrics. Of these, you can also make squares or rectangles cut to form or Funtikov kulechkov. In this case, Organza width should be as in the master class, ie, 13x13 cm;
Another original version. You can take a corrugated paper, cut out her petals, and then 4 pcs. stick to the candy and then mounted on a toothpick. It turns out that the candy is the center of flower. Hedgehog with such embellishments looks very nice;
To figure looked even more organic, can be of corrugated paper to make a stand in the form of a leaf.
As of chocolates to make a hedgehog?
Another option to create a sweet gift. This master class is similar to the previous one, but the final result will be significantly different.
Necessary materials:
Foam "Oasis" (available at floral shops) or foam;
Transparent floral paper;
The foil or shiny wrapping paper;
Cardboard;
Corrugated Paper;
Double-sided tape;
Chocolates that are wrapped on top;
Glue gun;
Eyes and nose;
Toothpicks;
Chocolate Mushroom, coins, etc.
A detailed description of how to make a bouquet of candy-hedgehog
As in the previous master class is to start withcutting out of the animal's body. Obkleyte its corrugated paper and attach the eyes and nose using a glue gun. Using foil and toothpicks, make blanks. Cut squares, fold and puncture them. Fold the workpiece, making something like a flower, and secure with tape. Make about 16 pieces, and then, as in the previous version, distribute them to the body of a hedgehog;
Go to the formation of needles. To do this, 14 boxes of transparent floral paper measuring 15x10 cm. Take a toothpick and glue on the end of it double-sided tape. Of the rectangle make a cone and put it in the candy so that at the tip of the tail was. The candy floss insert and fix on an adhesive tape adhesive tape previously. To the ends of the paper are more accurate, you can wrap them with cling film. As a result, you should get a neat cone with candy floss on the inside. Make these 14 items. and spread it evenly over the body of a hedgehog;
Using the glue gun, attach the mushrooms, coins and other decorative elements.
How to make your own hands hedgehog of coffee?
Crafts of coffee are very popular,because they not only perform a decorative role, and are an excellent flavor. We offer learn to make beautiful hedgehog is made from coffee beans.
Necessary materials:
Coffee beans;
Plastic ball, the desired size;
PVA, "Moment" and glue gun;
Acrylic paint brown;
Twine or decorative lace;
A piece of foam;
eyes;
Cardboard.
Description of the master class on creating a hedgehog
Take the foam ball and cut ithalf. Then you need to cut out cardboard circle, which apply to it one of the halves. It is recommended to take the cardboard out of the dense boxes. With glue "Moment"Cardboard must be glued to the ball halves;
Lubricating cardboard base "PVA"Glue twine, wrapping it around. That will have a beautiful bottom of our future hedgehog;
Using acrylic paint, cover her ball. From the foam, cut a small triangle, be guided by the size of the ball - it will muzzle. The resulting part lubricate "PVA"And wrap it around with string. Using glue "Moment", a muzzle attach a semicircle near the base;
Using the glue gun, start in a rowstrengthen the grain. Install them on the edge of a narrow margin, slightly tilted forward. Gradually aligning the grain should continue to glue them in rows. When he reached the middle of the grain of the ball should be level. Moving down, the grain should be tilted back a little bit, but in the opposite direction. Continue to work until the whole body will be nestled coffee beans;
You're at the end of the muzzle sticking grain coffee and fix the eyes. Garnish with a hedgehog can be a flower or a small decorative apple.
How do you see bouquets made of sweets completelyeasy, especially if there is a detailed description of the master class. Using the techniques discussed, you can create your own hands to come up with different figures and other products, all depends on the desires and fantasies. Good luck!