Multicolored salt is a bright attribute of various crafts and souvenirs. We will tell you how you can color the kitchen salt at home with your own hands
Many of you are unequivocally seen in souvenirShops and handmade exhibitions of bright and exotic bottles filled with colorful salt. Such handicrafts serve as an excellent gift, interior decoration and a reminder of the perfect journey at the same time. It turns out that painting with colored salt is already a full-fledged art, which anyone can master.
Its basis is salt, painted by its own hands in the right shades. How to do it? It's simple!
We paint salt
Using the colors of gouache, you can paint the salt yourself in any color.
This requires a minimum set of items, namely:
The seasoning of the shallowest fraction;
Gouache of the required coloring;
Funnel or watering can;
Brush;
Fork and dry packaging for mixing;
Fine sieve;
Heat-resistant utensils or pieces of foil.
In general, the whole process of how to independently make colored sand from salt, looks like this:
The paint is slightly diluted with water and poured intoDry salt. At this stage, you can adjust the intensity of the color of the final product, taking into account that after drying, the salty sand will become a couple of shades of light;
All the lumps have to be carefully kneaded and pounded, achieving uniform coloring;
Then all the portions, painted in different colors, are laid out over the heat-resistant dishes. In her role can perform improvised kremanki of dense foil;
The billet goes to the oven, where it is dried for an hour, and at a temperature of +100 degrees;
After heat treatment, the colored salt for the future decor of the glass container is well sieved through the smallest sieve that is only available in the house.
Now, about how to create salty crafts.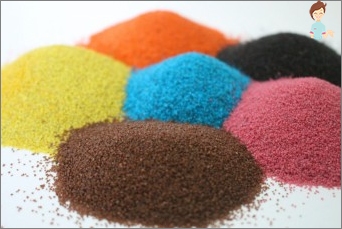 Take a clean and dry bottle of bizarre shape,A transparent vase or a beautiful glass. In a container, using a watering can or a paper funnel, in turn, a dry mixture of the desired shade is applied. To get an interesting drawing and clear edges of material of different colors, the bottle must be filled at different angles, and do not shake during work. If you do not observe the elementary accuracy, the colored sand, made of salt and gouache, simply mixes, and forms an unpleasant looking porridge.
Tare must be filled to the eye, close tightlyA cork or a lid, then hit it several times on any horizontal plane. So you can sort out the supplies and fill it up to the required level.
Coloring with colored crayons
Now about how to make colored decorative salt with the help of chalks, with which children like to paint on asphalt.
To do this, you need a minimum set of items:
Dense newspaper or cardboard;
Crayons of different shades;
Salt type «Extra»;
Transparent packaging.
With all this you need to do the following:
Put a little seasoning on paper or cardboard, evenly distribute it on the surface;
Take the chalk of the required color and methodicallyRub it on the powder until the required coloring. It is better to do this in a circular motion. The product will crawl away, so it should be periodically reassembled and continued to work;
Similarly, salty sand of different shades is created at home;
A ready-to-use consumable is poured into the transparent container by layers. With the help of a thin and long toothpick, you can try to create an elementary pattern, hills, for example.
It is important that all crafts made from colorSalt, were tightly packed and covered with lids. It is not necessary that they be plastic, glass or wooden, you can simply tie the neck with cloth, decorate with ribbons, pendants and beads. A tight lid is necessary if the finished décor is to be transported or permanently rearranged from place to place. Open tanks with salty sand also look quite original, but their downside is that dust and small debris start to accumulate on the salt, and it can not be removed.
Pictures in bottles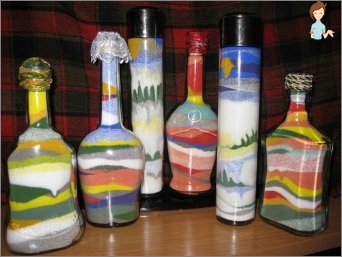 Having mastered the basics of dealing with colored salt, you canPass to the creation of these masterpieces. Prepare for the fact that it is much more difficult than painting the right color for salt water and drying it in the oven. You will need accuracy, diligence and a little imagination.
Drawings are created using a thin knitting needle orLength of the toothpick, and to facilitate the task, the future pattern is to be schematically depicted on the outer surface of the ennobling container. In order to save money, the middle of the can / bottle should be filled with white consumable material, and it should be stuffed under the cover.
Complex landscapes and patterns are convenient for pouring teaOr even a coffee spoon, and the necessary contours of individual elements are created by piercing the salt layers to the required depth. Yes, it sounds difficult, but it is worth at least once to watch a video lesson on this kind of art, as everything will become clear and accessible for repetition.
By the way it will be said: jars of salt - it's not just a great way to enjoy and enjoy leisure, but also a great option for additional earnings.
Finished products can be a good gift for this or that event, interior decorations and just a reminder of pleasant moments.