We spend time with advantage: we learn to do decoupage of vases
Decoupage is quite simple. But a spectacular way of decorating the interior. We will tell you how to make decoupage vases yourself with your own hands
Decoupage became a budgetary way of decorationAll sorts of things, from small mirrors and mini-comics, to furniture, appliances and even walls. Most often in the hands of handymen get the items of interior and utensils. And therefore, in this article we offer several options for how to make decoupage of paper vases Napkins In different styles and techniques.
Classic Edition
So, decoupage of a vase with ordinary table napkins requires the following consumables:
The glass vessel itself;
Napkins with the desired pattern;
Rice or mulberry paper of white color (in our case);
Special decoupage glue;
Flat brush with synthetic pile;
Acrylic glossy (matt, semi-matt) lacquer.
Further decoupage of the vase with white rice paper is as follows:
The vessel is degreased, for which it is enough to wipe it with an acetone moistened with a napkin, or simply wash it well with a detergent;
Mutton rice paper is torn into small pieces,Which are glued lapped. To do this, use a synthetic brush and the very special glue. In the case of rice white or colored paper, there is no need to be afraid of leaving the junctions visible, since this material initially has a fibrous and heterogeneous structure;
Next, we take a standard three-layer napkin, from which we cut out the desired fragment. Then, with the most accurate and slow movements, the brightest outer layer is removed;
The pattern is glued to the vase with the same adhesive, which should be applied from the middle of the napkin to its edges. Movements with a brush should be accurate, with light pressure and rapid;
Similarly, all the elements necessary to create the final composition are glued;
The dried vase is covered with several layers of varnish, each of which needs to be covered with fine-grained sandpaper.
A bit of antiquity
The word "vintage" refers to a wine with many years of aging. In our case, the decoupage of a glass or ceramic vase in the vintage style provides for its deliberate "Aging"By artificial means.
Pass the real spirit of antiquity and rarityHelps a specific crakery lacquer, and in shades of consumables, all natural tones predominate. If you want to use bright colors, they are recommended to be rubbed until the base material is shaded through them.
Vintage decoupage of a glass vase in the technique of craquelure is done according to the following technology:
Initially, the vessel is degreased and dried;
From the two-way decoupage map, vintage-style, the necessary fragment is cut out, which is soaked for one minute in water;
Next, the picture is laid out on a cloth or a towel, after which the glue is applied abundantly to its underside for decoupage;
A fragment with the selected pattern is superimposed on the reverse side of the vase, and now its outer side is covered with an adhesive compound. The final arrangement of the drawings on the vessel is worth considering in advance;
That such a decoupage of a glass vase with its own hands is completed as soon as possible, a drying fan can be used to dry the applied fragment;
Then we start using the craquelure itself, initially applying its first composition, and then the second one. At each new stage, the vase is well dried;
In this style, you need to achieve greater realism, and this can be done by applying to the bitumen vase. On the surface it is spread with a finger, applying a very thin layer, which clogs the craquel "Cracks";
After that, we cover the vase with varnish, let it dry again.
Style Provence
In fact, this is an old French country styleInterior decoration and decoration of things. It is distinguished by a light touch of antiquity, scuffs, cute charm and discreetness. Decoupage of a glass vase in the style of Provence Can be done by one of the methods described above.
But for work it is necessary to use the expendable materials, sustained in such color palette:
Lavender and sea wave;
Delicate yellow, blue pastel, muted orange and classic olive, mustard, terracotta, ocher, honey and sunflower inflorescence;
Provence is impossible without all shades of ivory, dairy and beige, pastel and "Faded" colors.
In this technique, vegetable and floral ornaments predominate, embroidered elements and lace are allowed.
Simplicity
This is the most budgetary decoupage of a glass vase for flowers, whose name translates as "Style of a big city".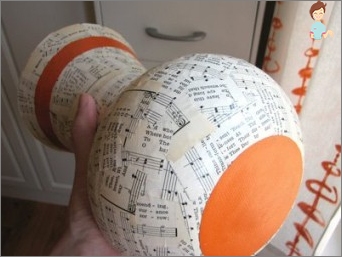 Its low cost can be explained simply: To decorate a vessel for flowers or branches with your own hands, it is enough to tear a motley and bright glossy magazine, newspaper or other periodicals into fragments, then glue the pieces to a skimmed surface with the same special decoupage glue.
A distinctive feature of such a glass container will be a deliberately open technique of execution and exhibiting the ragged edges of the decorative coating.
As you can see, despite the mysterious and overseasName, decoupage - it is quite affordable in all respects decoration techniques, for which you will need an elementary set of objects: acrylic paint, glue, brushes, napkins and cards, the future artwork and a little patience.
As your experience and desire to create masterpieces grow, the list of consumables will expand inexorably, releasing your imagination to freedom. Enjoy and useful to you needlework!