Decoupage Wallets: tips, ideas, technology
Housekeeper - is not only a device that allows you to lose all the keys at once, but also a stylish accessory that can become a prominent part of the image. How to decoupage housekeeper?
If your family has an annoyinghabit of losing the keys of all that only lockable, we recommend that you immediately make your own hands housekeeper. You will see how quickly accustomed to its existence all home, and storage of important things will be organized and secure. And once such a decision has been made, do not stop on store blanks that still have to completely disassemble prior to application of decorative layers.
Much more original and beautiful lookshousekeeper, which will preform operating time of the male half of the family, all the more so to create it will need a little bit of effort, time and financial costs.
Basic supplies
If all the ideas studied decoupage home housekeeper led to the fact that it will take the form of the house (quite logically), then the supplies you need:
the required number of key hooks;
Cutting chipboard;
thin boards or reechki;
short nails and a hammer;
lacquer based on acrylic;
sponge;
decoupage card, which is a special paper with the desired pattern;
PVA glue;
Varnish with effect craquelure, and paint on the basis of acrylic.
Create Template
Harvesting wood housekeeper for decoupage is done as follows:
From DPS pieces are cut individual elements, which then become the roof and back wall of the house;
All parts are well in the skins of the cut, and assembled together with short studs;
Makeshift house thoroughly degreased with an alcohol, and then dried well;
Separately planochka preparing for future hooks. Planks or reechki cut to required size, skin and the same short studs are attached to the base of the back side, so that on the personal details of the housekeeper not eclipsed even bumps indicating the location of the nails;
Do not immediately attach hooks, as they can print acrylic paint or other coating, and scour them have long and carefully.
Stages decoration
Regardless of the basic idea, that is, on what will be the shape or size of the crafts, decoupage housekeeper happens the same way.
General technology as follows:
All planes in one layer are tinted whitepaint based on acrylic, which is very convenient to do bathhouse porous sponge, stamp, but not stretching movements. That left a layer uniform, paint is first distributed over an iron palette, and from it to gain a sponge. Otherwise it is necessary "stretch" acrylic on wood base, which is not an easy task;
Despite the fact that the layer must be very thin, the formation of unacceptable
bald spots and gaps. If this happens, the primary colored product should dry 5 hours, after which it is already more meticulously and densely covered with a second layer of acrylic paint in white. He will hide possible irregularities planes, and will contribute to the fact that the rest of the coating will be juicier and more vivid;
Next decoupage housekeeper home with their own handsdecoupage involves the manipulation of cards, fine, but not the delicate paper, which does not change the initial appearance for 5-10 years. This means that all the time it will transcend moisture, ultraviolet and other harmful factors of the paper. Consider the fact that the housekeeper decoupage, whether heart, angels or klasschiesky house can occur through a variety of cards that require pre-soaking or superimposed on the basis of the dry method. Whatever it was, masters recommend to transfer image only after soaking it in warm water, even for a couple of minutes;
In that situation, when the size of the purchased cards are too large, cut it into pieces of desired size need only dry, pre-clearing the housekeeper with all measurements;
On the underside of the card decoupage glue is appliedPVA, which is distributed over the entire surface, but does not reach the edge of a couple of centimeters. Then the map is superimposed on a wood base, is placed on top of it clear a file, and the paper is smoothed with a rubber spatula or cloth fabric. Not on your nelly not be used metal or plastic objects, able to stretch or tear the card. Smoothes be from center to edge, achieving the complete disappearance of air bubbles;
After a couple of hours after it is completeddecoupage homemade housekeeper with a door or without it, the whole hack carefully opened paint a darker shade, and only then with clear acrylic lacquer. Each new layer is applied after an hour, and all of them will take 2-3. Only in this way will protect the achieved result from the effects of humidity or burnout.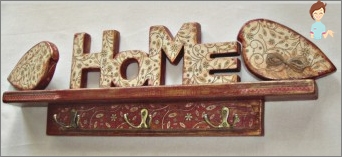 If there is a desire to make the housekeeper morevolume, you can duplicate some elements of decoupage card beads, pearls, polymer clay, cloth, thread, and other decorative gadgets. They are glued to the usual means of PVA or glue gun. By the way, a similar decoration can be used for interior decoration crafts.
It can be made "under the tree"Decorate with carved curls, funny figurines and other elements.
In general, in order to achieve the desired result only requires compliance with technology training, application and protection of decoupage card. The rest - the challenge to your imagination and accuracy.