Decoupage Chest: features art and style
Tired of an old chest of drawers? Do not rush it out, because it can turn out a great addition to your interior. You just need to decorate it in the technique of decoupage!
If you have an old, ugly chest of drawers at home, you might not want to throw it out right away. What if from it you can make a pretty nice interior detail, capable of Original decorate your room. How can this be done? Today, a rather simple and inexpensive way to restore the beautiful look of your furniture is decoupage. And this method is called decoupage.
And before we start to learn how to update furniture with our own hands, let's find out what decoupage is and how it appeared in our country.
A bit of theory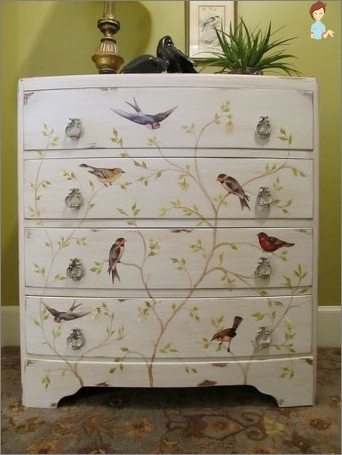 By itself, decoupage is an ornamentFurniture with a variety of clippings that combine with special effects. Despite the fact that its name was given to this technique in France, its motherland is the eastern part of Siberia.
A little later, this method of decorating furniture was used in China to decorate with the help of paper windows, lanterns or small boxes for jewelry. But in Venice, this art was called "Art of the poor".
This name came about because it was not possible for every person to decorate furniture with gold, silver or precious stones. But I wanted to live in a beautiful house.
That's used the poorer sections of the populationThis way to ennoble your homes. But over time, in France, such an ornament was raised to the rank of art and the rich did not disdain such decoration in their house.
Now that we have learned what decoupage is, let's find out how to properly decorate a chest of drawers with this amazing method.
Decoupage of the dresser: the rules of decorating the tree
Working with an unprocessed or simply oldWood on the chest of drawers you need first of all to pay attention to whether the smooth wood or not. If the probability of getting several large splinters is quite high, then before starting work it is necessary to sand the surface with a fine sandpaper.
If there are several chips on the old chest of drawers, then necessarily level them with a putty. Also, when decapping a chest with your own hands, it is worth covering all the wood with a layer of special lacquer.
If the chest is in good condition, then you should notApply to the preparation of special efforts. Simply sand the surface and cover with paint. Attention! If you decide to tidy up one of the elements of kitchen utensils, decoupage technique should only be exposed to that part of the wooden surfaces that will not come into contact with the products.
Decoupage of the chest from Ikea
If a few years ago you bought a chest of drawers in Ikea and today it does not fit into your interior, it's time to start updating it.
In order for the decoupage of the new chest of drawers to work out successfully you need to prepare such items:
The chest of drawers;
Acrylic colors of the shades you need;
A special lacquer that creates a visual cracking effect on the tree;
Acrylic lacquer for coating. We will apply it at the final stage of decorating the old chest, as loose paper elements can fall off very quickly;
Matched drawings of paper;
Sandpaper, scotch tape and scissors.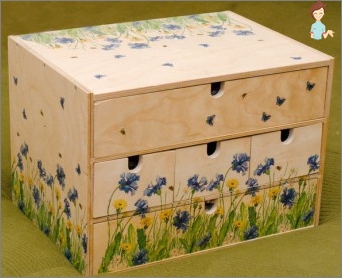 After you have collected all the necessaryMaterials can begin to directly decorate your furniture. First of all, unscrew from the lockers of the handle and cover the surface with acrylic lacquer. Now you need to wait until the varnish dries. After that, we cover the surface with paint.
After the paint and varnish have completely dried up,Take a few stencils and a thin brush, we apply some effects to the surface. For example, if you decide to decorate furniture with motifs with flowers or birds, then on the surface you can draw thin branches.
By the way, in order to create a design itemLike the Ikeev dresser, you can use ordinary newspapers. Decorating them is very simple. To do this, you do not need to paint a tree, but stick it with newspaper cuttings. But here to cover with varnish after the termination all costs or stands. Otherwise, the newspapers will simply erase and fall off with time.
By the way, in exactly the same way you can make andDecoupage of mini chest of drawers. But with such a decoration, you need to remember that the details on the mini chest of drawers should also be miniature. By the way, the most interesting in this case, the option of decoupage of the mini dresser Ikea will be the floral motif.
Features decoupage chest in the style of Provence
The first feature of the design of furniture in thisStyle is the color scheme. The colors accepted in this case are blue, white, olive and yellow. As for the paper parts themselves, in the style of Provence, the symbols of this amazing French town, olive branch, lavender or sunflowers, are most often used.
The procedure for decorating furniture itself is approximately the same as in other cases. But there is no need to use too saturated and "Congested" colors. The shade should be gentle and easy to perceive, and the flowers should in no case be too large and bright.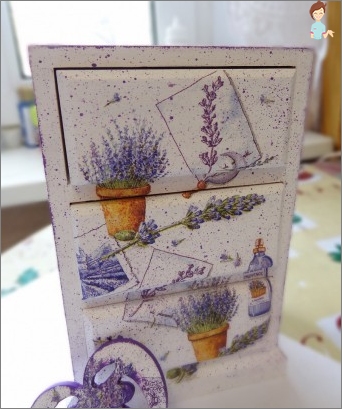 I want to talk about another smallTricks: if you want to make your dresser white, you can apply a small amount of a spray of lavender color to the surface. And if you also attach paper applications with motifs of lavender, then you will have a wonderful comedic.
But how to make beautiful droplets, you will not be able to draw each separately. To do this you will need a paint and a hard toothbrush.
Note that the brush should be exactlyRigid, since with too soft bristles the drops will turn out to be too large and uneven. Before you spray the paint, go back a meter or two.
The distance depends on the size of the drop you need. The closer you get up, the larger the droplets will be.
As you can see, to give a new life to your chest withUsing the technique of decoupage is possible. Of course, for the first time everything will turn out rather slowly. Yes, and the results of your own sloppiness you also have to eliminate. But the result is worth it! So take paint, cut out the pictures you like and update your old furniture!