Needlework: options, rules, features
Handicraft with your own hands is an opportunity to create original and beautiful things. Various objects of decor will decorate, and create a cosiness in the house
Today,Objects made by own hands. Original things help to diversify and decorate any room. In addition, handicrafts with their own hands - this is a very exciting pastime, which helps to cope with bad mood and distract from existing problems.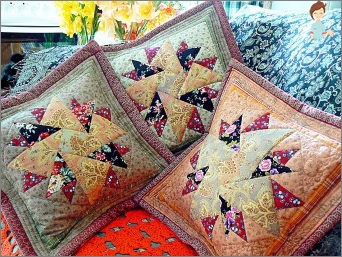 Thanks to the rich variety of techniques, every woman will find a job for herself. In addition, it is worth considering that time does not stand still and every day the "piggy bank" is filled with new ideas.
Patchwork
This kind of interesting handicrafts with their own handsAppeared recently. In fact, patchwork is the technique of creating different things from rags. Still our grandmothers, trying to save, collected old things and made of them veils, blankets, etc.
To date, we can say that this occupation was "second wind". Today, they create accessories, clothes and other original things from rags.
Basics of patchwork technique:
You can use scraps of both new andOld things. By the way, if you took a new material, then you must wash it to check if it loses color, etc. If you use the flaps obtained from the old product, it is best to starch;
It is best to choose cotton materials, since they perfectly hold the shape and are easily sewn. For such products as, for example, carpets or panels;
It is recommended to use fabrics of the same texture for one product;
If you want to make a product that will be subjected to a significant load, for example, a blanket, then it is recommended to use a lining. Its role can be performed by batting or sintepon;
To decorate the product you can take a variety of tapes, braids, etc. As a result, the subject becomes more original and full;
It is necessary to have in your arsenal of cloth, thread, scissors, chalk for transferring forms, paper or cardboard and, of course, a sewing machine;
To date, there are different ideas forPatchwork, let's look at a few of them. For example, the traditional option involves the creation of solid canvases from the same pieces. Most often this technique is used to create a tack, cover, etc.
Crazy-patchwork is a technique when it comes toFlaps of different shapes, and the seams are concealed with the help of ribbons and laces. Use this option to create coverlets, clothes, accessories, etc. Another popular technique is a knitted patchwork. The difference is that the scraps are not stitched, but tied.
Japanese patchwork implies the use ofSilk fabrics and stitches. In this technique, they make bedspreads, clothes and panels. And the last option on which we will stop is quilting, which in translation means quilted cloth. In this case, two parts are connected by a machine stitch, making out different patterns. Still use a soft lining. They make various products in this technique, starting from stitches and ending with clothes.
Felting
Another new technique of needlework with your own hands, which allows you to create real masterpieces. This is a kind of felting out of wool, it makes it possible to make clothes, toys, accessories and other things.
At first it may seem impossibleTask, but starting with the basics, it will be possible to achieve good results in the end. There are 2 options: dry and wet felting. To get started, you need to have a special unkempt wool and needles for felting.
Let's start with the wet felting. In this case, it is necessary to use warm water with soap, which makes it possible to make felt from wool.
Consider the technique in more detail to make the decor and various toys:
Bar soap grate and dissolve it in 2 liters of boiling water. Leave to infuse for 2 hours. In addition, there is an alternative - liquid soap;
On the table lay an oilcloth, and put on topBase layer, then background and drawing. Lay out the coat in a thin layer, overlap, but make sure that there are no gaps. Note that the thickness of all layers is the same. Since the water volume decreases significantly after water treatment, make the thickness 3 times as much as desired;
Using a spray gun, wet thoroughlyWool so that it does not budge. Top with a nylon cloth and moisten with soapy water. So that all is soaked, press on the coat with your hands or roll several times with a rolling pin;
Now go to felting. To do this, rub your hands with the cloth in different directions.
New and original things, for example, flowers orToys, can be created with the help of another option - dry felting. In this case, use dry hair and a special needle, which helps to achieve the desired shape.
Description of equipment:
It is necessary to take a sponge and put a coat on it. With the help of a needle, start tangling the threads, thereby creating a future thing. Consider that the hair is sitting at 1/3, so take more;
To fix the irregularities, add a little wool on top.
Thanks to a large number of schemes and examples, each person will be able to learn felting.
Scrapbooking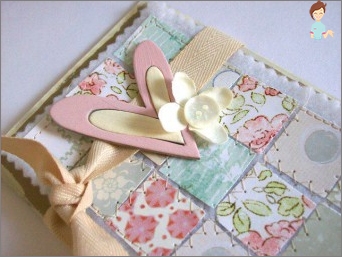 There is a huge number of ideas for needleworkWith their own hands, which allow using various ornaments to create an original frame for photographs, albums and postcards. Scrapbooking helps not only to decorate pictures, but also to support the topic and reveal the idea.
The most popular such handicraftsUses in America, and in the post-Soviet spaces, technology is becoming more popular day by day. To get to work other than the album itself and photos, you need to have tools and materials.
Various objects of decor can be purchased in special shops or produced by oneself. Ornaments can be: buttons, ribbons, stamps, rhinestones, etc. To create an exclusive album you need to take different pens, a pencil, a marker, scissors, an adhesive tape, glue.
Learn the basics of beautiful handicrafts with your own handsIn the technique of scrapbooking is to start with the most simple things. You can use the ideas that professionals have already come up with, and you can do it yourself. Start by making a sketch to determine where all the details will be. Just keep in mind that, most importantly, this is a photo, and all other items should decorate, but not overlap.
Decoupage
For the creation of decor and ornaments, this kind of needlework with their own hands began to be used more recently. Every year the technique is improved, which allows achieving a beautiful and original result.
Decoupage is a kind of unusual application thatIt is varnished. As a result, things look like a painting. In comparison with other types of needlework with this technique, even a novice master, who had not previously engaged in anything, will cope. In their works, decoupage was used even by eminent artists. At present, beautiful and original art allows you to decorate, furniture, caskets, vessels and the surface of other objects.
It is important that their color is not too dark and better monophonic. Today, three-layer napkins are most often used in the work, so they call this technique a napkin.
In order to proceed with the manufacture of the product,It is necessary to determine the decoration object. It can be either a new or an old thing. It is best if it is made of wood. In a special store you should buy napkins, special scissors, brushes, glue, lacquer, acrylic paints.
Now consider the main stages of work in the technique of decoupage:
As in any other kind of needlework, the most important thing is the idea. You have to think in advance what exactly you want to receive;
Now you need to prepare the surface. If there are any irregularities, for example, on a wooden product, they can be removed with sandpaper, and then apply a primer. If you decorate a glass object, it must be degreased with any detergent or alcohol;
If you use three-layer wipes, then carefully separate the top layer, which you will have to work with. Cut out the desired pattern with scissors, and you can then fine-tune the fine details;
Then put the cut out patterns on the selectedSurface and start treating it with glue. Do it carefully, as the napkin will get wet and can tear. After that, draw all the desired details;
It remained to process all the varnish in two layers to protect the image from moisture and mechanical damage.
As you can see there is nothing complicated in this, so if you want, you can easily cope with any task in the technique of decoupage.
We hope you will find interesting and fascinating handicrafts for yourself that will help not only to create the original thing, but also to improve the mood.