Crafts from macaroni: we spend leisure fun!
The choice of materials for creativity is truly inexhaustible. Did you know that interesting things can be done even ... from pasta. Crafts from pasta will become a real decoration of your interior
Flight of imagination in the manufacture of craftsHands simply has no boundaries. The most unusual and very original things can be made from almost any improvised means. For example, few people can guess that beautiful things can be done using ordinary pasta.
Along with the fact that pasta is a usefulA product from which delicious dishes are obtained, they also have a rather attractive appearance, and they can be safely placed within the kitchen. Crafts are perfectly combined with kitchen utensils and dishes.
Macaroni can be of all shapes, sizes andcolors. It can be products in the form of tubes, ribbons, circles, stars, hearts and so on. Crafts from them can be made in combination with other materials.
For example, very beautiful souvenirs are obtainedThanks to the use of pasta and cereals. You can also use a kind of pasta, such as noodles, which will become an ideal decor for compositions of flowers and plants.
Why macaroni?
So why are these flour products an ideal material for handmade creativity?
It's pretty simple:
This material is in every house, so everyone can start to create. For those who have long thought about what to do in their spare time, this option is the most suitable and inexpensive;
For many, sorting out such small details asPasta or cereals is a kind of meditation. Even adolescents before exams, psychologists recommend to alternate mental work with activities of this kind. If these products are made by children's hands, then they are exclusive and unique in their kind;
Creative approach and artistic taste of an adultA person makes it possible to combine pasta with cereals, making crafts from them not only worthy of attention, but also admirable in all others;
Such works of art are very often possibleTo observe at festive exhibitions or fairs, where they are exposed to people's court. A lot of such works are also on the Internet, where they are not only in demand, but also cost a decent amount of money.
Such works of art areIntricate vessels, caskets and bottles, decorated with pasta, cereals, coffee grains and other materials. It is very interesting to observe not only finished products, but also the process of their manufacture, which very often combines various decorative materials and techniques of execution.
A master class is a good example of howSomeone's hands step by step very simply create beautiful products from everyday and accessible material. This stimulates the independent creation of such masterpieces. Most often, such a desire arises on the eve of the holidays, when people give each other gifts and pleasantly surprise people who are dear to the heart.
We create together with children
In order for the children to take part in yourCreativity, you can also teach them how to make crafts from pasta by conducting a master class for them. Girls, most likely, will like to make beads or a crown, after all this very simple and fascinating employment!
To make the crown bright and original,You need to take a round and asterisks of pasta, paint in bright colors, and then cover with a golden or silver spray paint. After it completely dries, the material can be glued to a regular hoop. And to make beads, all the details will be painted in different colors and put on a fishing line or a strong thread.
Pasta is a wonderful subsidiaryMaterial for all kinds of pictures, frames and applications. For children it is very useful to learn by yourself, group the pasta in the picture and spread the letters. In order to help them a little, it is possible to draw a sketch, along which a pattern or words with the use of glue are laid out.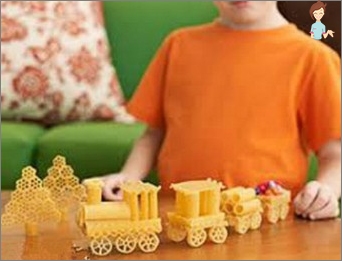 It is very important for children to know the world in all itsManifestations. Thus, crafts using flour products give them the opportunity to fully manifest their imagination, curiosity and resourcefulness.
If you are engaged in such creativity withChild - you can be sure that this is a very important step in the development and development of his personality, which will undoubtedly affect his future life. Folding pasta, the child can very quickly learn to coordinate the movements of the fingers, as well as develop the speech, as a consequence, and the letter.
Over time, children become bored with toys, and they are no longerI want to sculpt from plasticine, but such a creative activity as a crafts from macaroni is unambiguous to the child. Thus, ordinary home cooking can turn into a mysterious workshop where your child can make an exciting trip.
The main advantage of this material isThat with his help you can make various crafts of all shapes and sizes. The original appearance is of volume crafts, but with such an item the adult will best cope, since here you will need special patience.
In order for finished products to be preserved asCan be longer, they will need to be covered with paint or varnish. If the craft is made according to all the rules, people who look at it will find it rather difficult to understand what material was used in its manufacture.
For those who are engaged in the manufacture of crafts fromMacaroni - this activity is not only an opportunity to show your imagination and creativity, but also one more way to relax from everyday worries. And as a result of this rest, the original decor elements in the house are obtained.
For beginners
For those who first decided to make crafts fromMacaroni with their own hands is best to start with something very simple. And only after a certain period of training you can proceed to something more complex and voluminous. The most important thing is that there is a huge irrepressible desire and then everything will turn out all right.
When making pasta from pasta, an aerosol color is applied, which makes it possible to achieve uniform application of it and the article is neat and beautiful.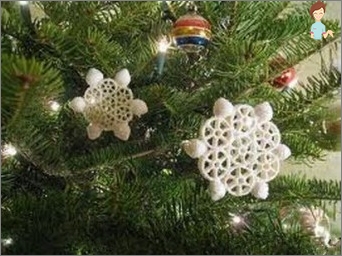 Crafts from pasta can beMade in the form of glued together macaroni. They are glued with conventional PVA glue to any surfaces, and also very well painted in various colors.
For example, you can make a very beautiful Christmas treeToys or a decorative herringbone, as well as a cup for pens and pencils of a child. Compositions can be of various forms and contents, depending on the desire to engage in this painstaking work.
In search of similar ideas it is very important to drawAttention to simple materials and their combination, discovering new and new creative horizons for themselves and children, giving scope to their imagination, not limited to conventional forms and standards.
Be sure to try your hand at crafting pasta items, and then you will certainly get a beautiful and unusual thing that no one else has!