8 ideas for unnecessary things
A new life of old things. We decorate the house with plastic handicrafts. How to make an ottoman from plastic bottles? Interior by yourself: interesting organizers from simple materials
Give new life to old things, manufacturingBeautiful and necessary crafts - a new trendy trend of modern leisure and needlework for all. We have prepared interesting ideas, which any newcomer can implement!
5 ideas from plastic bottles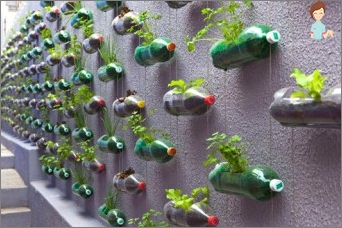 This material is ideal for crafts from old unnecessary things. If you have accumulated a lot of bottles, take a pair of scissors, a large needle and a fishing line - and start making creative Window curtains. At the dacha this option will be quite appropriate.
How to do
Cut the bottom of the plastic bottle - you will have in your hands something like a transparent flower-pjatilistnik. Needle pierced holes in four "Petals", We pass a fishing line through them, tying a knot hole for strength from below.
Having bottomed in staggered order, we make a curtain of the right size. Adjust it to the window can be on the ordinary cornice or a stretched rope. Excellent decor for windows without cost!
Do you like to grow greens and you have a free wall in the house or in the yard? Excellent! Create "Hanging vegetable garden"Using plastic bottles with slots as pots for your mini beds.
How to do
We put a strong rope (with knots) through 5-7Eggplants, depending on the height of the wall. String pots at an equal distance from each other and hang these rows on the wall. It is important to make a good fastening, for example, with an anchor, since the weight of bottles with the ground will be considerable. Pour the prepared earth mix and plant your favorite parsley, rosemary, basil or green onions.
Can you hold a brush in your hands? Color an empty carved plastic bottle for kashpo in the form of a seal.
How to do
Cut the bottom of the bottle at a height of 10-12 cm, with oneHand scissors make a cat's ears. Mix white with glue (for example, gouache with PVA) and paint the workpiece from the outside. When it dries, draw a marker or paints Pink ears and a muzzle of a sleeping kitten. Plant your flowers and admire!
Men or women who are not afraid to make an effort can be advised to make a home ottoman from plastic bottles.
How to do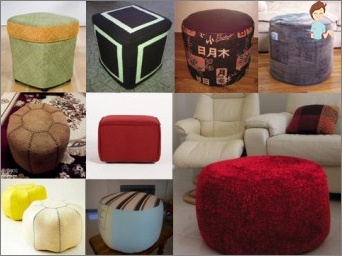 Tie together 30-35 empty bottles from underSoda. Well tighten them with a string, apply two discs to the size of the pouffe - the bottom and the seat. You can use dense cardboard, plywood, wood, plastic. Tighten it all with a dense oilcloth.
Put a few layers of stuffing for furniture -Sintepon, foam rubber, old batting. It remains to sew a beautiful cover, which can be fixed on the structure with a thread and a needle or a construction stapler.
A simple way to decorate the dressing table Organizer for costume jewelery From plastic bottles.
How to do
At color bottles from under a soda cut offBottoms. It is advisable to choose bottles of different sizes to make the organizer more effective. One or all of the bottoms can be decorated with figured cutouts. On the rod or thick needle, it is desirable to steel, heavier, thread three levels and fix the screws on the glue. The fourth bottom is used as a stand.
We decorate the room without costs
For whom the usual trash, but for whom - an excellent material for creative crafts and old things in a new role.
For example, make a wall clock with a unique design from the buttons from the old keyboard, the counting material of the grown first-grader or as in the picture, from the set of dominoes.
How to make
Give a second life to a working sentryMechanism, making for him a creative dial. The basis is made of textured boards, plywood sheet or old tray. Fix the axis of the arrows in the middle, lay on the glue the watch and decorate it in a neat frame of thin racks.
Convenient and voluminous Desktop organizer Will come from an old magazine.
How to do
Take a thick directory or advertising directoryWith a soft cover. Cut it in half along a horizontal line. Divide the thickness into 5 equal parts, each of which is rolled into a tube. Get five "CupsFor pencils. Fix the pages in the center with a large amount of glue.
A simple stool from old magazines will look good in any interior. Make sure that crafts from old things can be beautiful, and very functional.
How to do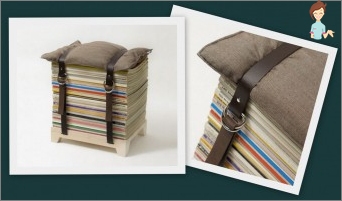 Choose a stack of glossy magazines comfortableHeight. For strength, fix them with glue or punch 3-2 logs among themselves with thin studs as the stack is created. The base can be with or without legs, most importantly, make holes in the belt board. Flat seat cushion (not necessarily new) and the whole construction is fixed with two old belts. In this craft, the main thing is the accuracy of execution.
Decorate the interior, create funny toys, practical things and furniture - all this can be done from the accumulated unnecessary items that already have no place in the house, and it's a pity to throw out.
Look at the great examples of creativity of home craftsmen - now you will think twice before you carry something to the dump!