Crafts from polymer clay - this cute souvenirs to decorate the interior, creative and pleasant pastime. Sharing in this occupation can be, after reading our tips
Today jewelry from polymer clay are slightlyIs not the most fashionable accessory. And no wonder, because they are not only created from a unique material, but made in a single copy, in which is embedded a piece of the soul master.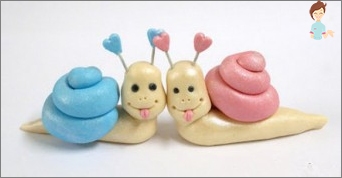 Perhaps that is why more and more women are trying to understand how complicated by all these articles made of polymer clayAnd how to overcome the complexity of handling such material.
Already held masters assure their followers that this hobby is given not only easy, but also brings incredible moral satisfaction, not to mention the financial benefits.
Polymer Clay: what it is?
The basic ingredient of this material isPVC, which on the outside and the tactile sensations reminiscent of a normal clay. From the latter it is less stickiness and plasticity limit. Curing occurs by clay influence on it a very high temperature, after which it acquires properties similar to the plastic or ceramic.
Finished articles made of clay can be fired in a conventional oven, preheated to a temperature of 110-130 degrees.
Getting to the process, you need to remember a few rules:
Under no circumstances do the oven temperature higher than written on the packaging. This provokes the material on the selection of toxic substances;
It is forbidden to bake finished products in one container, which is used for cooking;
If you accidentally exceed a drying temperature of the polymer, turn and carefully wash the oven, and ventilate the room.
What does the choice of instrument depends?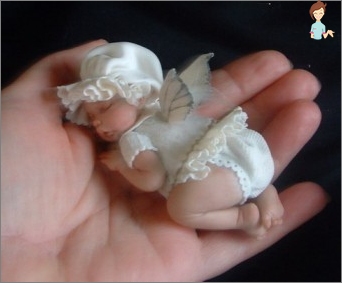 Initially, you need to focus on the brandused clay. Experienced skilled workers prefer to work with materials of foreign production, which are more degrees of softness, a wide range of color solutions and polymerization temperature.
Today artefacts of polymer clay with their hands You can mold plastic that glowsthe ultraviolet and in the dark, opaque or translucent, and without sparkles with those with the effect of mother of pearl, stone or metallic. It is also possible to test the properties of clay which is in a liquid state or in the form of rubber.
The polymer from the domestic producersattracted by its affordable pricing, but that's all its advantages end. The material is very flexible, with the kneading turns into crumbs, and finished articles from a polymer clay for children are fragile and short-lived.
What to cook for?
Originally need to equip the workplace. It can be any surface of glass or tile, at least - of paper. It is important that the clay from sticking to it, and it was convenient to handle.
Next, stock up on the following set of tools:
The thin and sharp blade (knife). It is required to cut the material pieces and give them the necessary outlines. Accuracy and precision of the workpiece depends on the severity and the blade thickness;
Special roller for rolling, which can be replaced by containers of perfume or nail polish;
Oven and utensils for baking in the form of plates or a conventional baking. It is desirable, that the oven was equipped with a thermometer. To make your hands earrings or figures are not scorched, a metal substrate for baking is necessary to cover the writing paper or parchment;
Waterproof nazhdachki with different grain size, which will need to remove the roughness and irregularities;
Polishing cloth. Suitable suede or felt;
Specific varnish, which will give the finished jewelry luster. This can be deliberately manufactured substance, but for starters, you can focus on building an acrylic varnish on water basis;
Accessories. It is useful if you want to his efforts to make jewelry for sale and for his own use. All these shvenzy, chains and pins can be purchased at any store for needlework or at special sites.
How is modeling itself?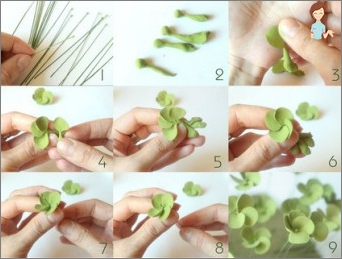 For beginners, it is important to remember that clayyou need to carefully knead for quite a long time. These efforts will make a soft material, will help eliminate air bubbles from the plasticizer and contribute to obtaining products without bumps.
A variety of crafts made of clay for experienced masters and beginners followersThey may be made in different techniques. In any event, in this case can not do without the creative thinking developed imagination and love of needlework. Well, if you refer to this occupation and their still children. the fun, informative and unusual leisure will be guaranteed.
Beginners may be advisable to start with the production ofbeads of various sizes and shapes. To this end, the plastic enough to roll out the layer, cut into identical squares from which the beads and roll off. This approach allows you to get the same products that are easy to bake on a toothpick.
You can also try punching technique whenyou need to use a specific flexible plastic mold relief. The plastic is desired imprint, which is baked and used as a form for subsequent products.