To not be bored at home, learning tinkering crafts from paper clips!
Do you like tinkering from scrap materials, try to create crafts from paper clips. And which of them can be read in the article
If the rain outside and get out for a walkabsolutely impossible, you should look for entertainment at home. But what if the apartment is in perfect order, dinner is ready, and the TV tired? You may want to be creative and make some crafts. By the way, this interesting case, you can bring the whole family and have fun.
Master can be of anything, for example, try to make crafts out of paper clips, and if you do not know how, then read the article, it will be a few interesting ideas.
Flower from paper clips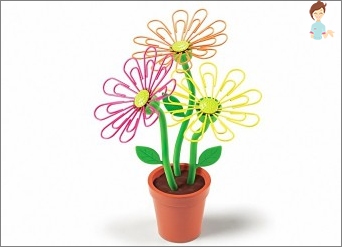 The simplest thing you can do from skrepochek - a bouquet that will not only please the eye, but also to perform a practical function, be responsible for the safety of stationery.
To make beautiful flowers need the following items:
Colored paper clips (2-3 boxes), choose colors to your own taste;
2 sheets of A4 paper;
Glue, scissors, compasses.
When you are ready, you can start tinkering crafts of colored paper clips:
On one sheet of A4 draw a compass 4range: 2 large radius of one and two smaller diameter (with a difference of about 3 cm). If you are going to be creative with a small child, instead of a compass to draw a circle, use cups of different diameters;
Armed with scissors, cut out the drawn circles. By the way, if the house has a colored paper or cardboard, the workpiece can be made from these materials;
Now two large circular blanks promazhte adhesive and are joined together;
Of the remaining sheet of paper to fold the stem of flower. He is supposed to be flat, and to better behaved, promazhte it with glue;
Now circles on cemented stem position, but not at the edge, so as to lay across the diameter. This will make the flower more sustainable;
You now have a blank, something looking like aracket for tennis, but that's not all. The large circle is necessary to stick a smaller circle. Thus apply glue only to the center of a leaf, and the edges should be free "flight". Similarly fastened and the smallest circle;
Paper flower is ready, now it is necessary, usingpaper clips, to make beautiful colored petals and stems. To do this, the free edges of the three circles of paper placed colored stationery, and improvised green stem attached clip.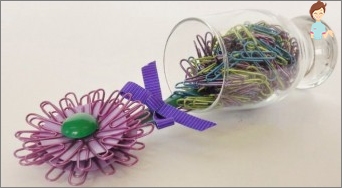 After all the manipulations flower is ready, it will be very good look in the organizer on the desktop, and to articles made of paper clips did not fall, it is recommended to press a bit line.
Basically, if you do not flower with a 3 and 2 skrepochek circles, it will be more stable.
Master garland
With the help of clips can be made with your own handsvery attractive garland, which, of course, decorate the room for any occasion. To make such beauty need not so much scrap materials: scissors, colorful sheets of paper, magazines and any suitable dense print, glue and staples.
Now you can make a garland:
Cut rectangular pieces of paper of such magnitude that they could wrap the paper clip;
Now take a stationery and paper wrap, the free edge of the lock with glue;
Connect "jewelery"Skrepochku with"naked"And then wrap a second;
We perform these steps until until you get the desired length of the garland.
By the way, if desired, the decoration can be done in several rows. And by using different size clips to create a very interesting general garland.
It is worth noting that the diligent women on this principle carved curtains, and kids fun bracelets for yourself and friends.
Making Christmas decorations
With the help of clips can make lovely Christmas toys in the form of skates for figure skating.
To implement creative venture will need these materials:
Felt of different colors;
Beads and sequins;
The sheet of paper and a pencil;
Staples large;
Thin ribbons;
Glue;
Threads and needle.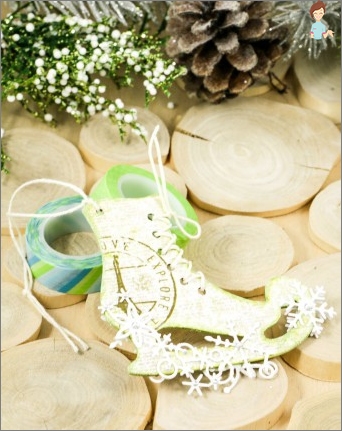 On a sheet of paper, draw a horse, but without the blades, one shoe. Cut out the stencil, and then drag the image on the felt.
Before you cut out the image of the fabric, foldit in half, so you could make a real horse. Cut in the middle of nothing. After cutting should have two skate in the mirror.
In the middle of the felt blank distribute the clip, and then sew the edge of the future toys. Do this large stitches using the yarn of the color to blend in with the fabric.
On both sides of the cross-linked products secure with glue beads or sequins, they will serve as a makeshift holes for laces.
Last one's left a bar, a thin ribbon to sew a felt roof ridge, and you get a wonderful toy for a Christmas tree.
By the way, such ornaments can be prepared on the day of the child's birth, if the baby is interested in hockey. This will help make the holiday theme.
As you can see, crafts from paper clips, made with their own hands, can be varied. Everything is limited only by your desire and fiction. Do not be afraid to dream and to create, you can do it, good luck!