What can be done from matches?
Many people think that crafts made from matches are boring. In fact, matches are a grateful and pliable material for creativity that does not limit the flight of fantasy. What can be done from matches?
Matches are everyone's famous flammableMaterial that is used in every home. Due to the minimum cost, some craftsmen use it as a material for crafts, which has simply unlimited possibilities for creativity and leisure.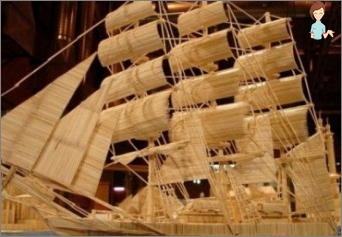 Many even do not realize that from such a simple material as matches you can create extraordinary things!
Why matches?
Crafts from matches are a fine art form,Which strikes with its beauty and pleases the eye no less than the majestic sculptures or paintings. This occupation requires a lot of patience and perseverance. In order to make a house or palace from this material, you need to spend more than one hour, and sometimes more than one day.
A huge number of architectural structuresCan be built from matches, ranging from simple small houses to majestic buildings. Moreover, this material is very useful for constructing all sorts of puzzles.
And for children this is the way to develop creative activity, mindfulness, accuracy of movements, ingenuity, and most importantly the desire to achieve their own goals.
A long process of collecting individual smallParts in a single design has a positive effect on the human nervous system. The whole process of creativity is concentration on the result, so all other thoughts go to the background. The result is a kind of relaxation for the brain and prevention of depressive conditions.
Doing crafts of matches with your own hands, you canVery useful and exciting time. This occupation can be compared with the construction of sandy palaces and castles, but the work process here is distinguished by a certain unique specificity. The use of this material is obvious, since wood is capable of absorbing negative energy.
Methods of construction
There are two main ways of connecting betweenA variety of details: using glue or making crafts from matches without glue. Of course, thanks to the use of glue, the whole process of work is simplified, and even young children can get involved in this activity. Matches can be bent and glued together, forming figures of animals, people, cars at home and even whole pictures.
They are perfectly glued in almost any formGlue, so making crafts from them is very simple. For the youngest, it will be very interesting to make such crafts as applique. Children sometimes even easier to see the material in a variety of forms, rather than adults.
Using a second, globeless method,To design no less beautiful and interesting compositions and scenery. This technique of construction is more complex and requires a certain skill in working with this material. It is very important to be persistent and careful in work here.
Even though there is no match between the matchesThere is no gluing agent, they are held together by friction, and the heads are folded into locks, thanks to which the product does not disintegrate. But still crafts from matches for beginners it is better to first learn how to make with the help of glue.
Any long way always begins with a step,So to master this kind of art you need to start with the basics: wells, cubes, houses. After, the existing skills can be used to create models of houses and churches, solid panels, as well as pictures based on matches.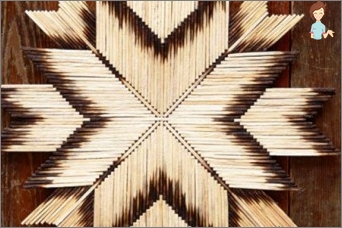 Such material can still be combined with otherMaterials suitable for the manufacture of original handicrafts. It can be interesting and funny little animals, toys, figurines of insects and animals. During the creation of large paintings, volumetric constructions, applications, this material can be combined with paper, as well as with cloth and threads.
A very useful piece of work is the stand forHot, which is useful in everyday life. The finished product is opened with varnish and remains for drying for a sufficient amount of time. Before applying a protective coating, the product can be beautifully decorated. It can be coffee beans, beans, flowers, spikelets.
Very beautiful and original look compositions with multi-colored sulfur heads, which if necessary can be painted in various colors with acrylic paints or varnish.
Virtually all crafts are created one by onetechnologies. Initially, a cube is collected, which is the basis for all other constructions. To create a standard cube, you need to use five match boxes, and if necessary, you can increase the cube.
To date, there are not too manyPeople who are seriously engaged in such creativity, since many consider this work very laborious and boring. But the real connoisseurs of this business get great pleasure and a charge of positive energy in the process of creating their masterpieces.
Helpful Tips
In order for you to succeed at the first try, follow these rules:
Place for work needs to be prepared by making it an oilcloth;
For glue, a special container must be provided;
For convenience, glue should be taken with a toothpick or sharpened match;
In order for the article to be more accurate, it is better to choose a material with an even surface of the face;
If the heads are cut with scissors or a clerical knife, the surface will be smoother, however the product will lose some charm;
More accurate crafts are obtained if each individual part is given time to dry out. That is why it is difficult to determine how long it will take to make the whole thing.
We use matchboxes
Matches are a great material for creativity, but matchboxes can be used to embody fantasies. For example, they are an excellent material for creating objects of doll furniture.
From these boxes can easily be madeA lot of convenient and elegant mini-chests for storing all kinds of little things: jewelry, small toys, tapes for needlework, beads and much more. Each separate drawer of the dresser can be pasted with decorative paper or a beautiful cloth, decorated with paillettes or rhinestones.
Schemes will help you quickly cope with theSet task, and crafts from matchboxes can be done very easily. From matchboxes you can make real toys, gluing the cardboard backbone among themselves, then pasting it with colored paper or painting. This material can also be used to make comfortable cots for small toys.
Children 1,5-2 years of age will be interesting to collect puzzlesFrom the boxes. To do this, it will be sufficient to cut one large picture into several fragments, and paste them on cardboard boxes. For older children, you can no longer use pictures, but letters, words and phrases.
From the matchbox it will also be veryA good needle bed, from which not a single needle will be lost. For this, special magnetic paper is used, which can be bought at the needlework store. From above the bed can be glued with any materials to your taste.
In order to make a volumetric craft, you must adhere to the standard scheme, Which is used for crafts from matches. Initially, it is necessary to cut out the necessary piece of foam from the foam, then deeply insert the matches into the base so that only the match heads are visible on the surface.
If it is an animal, then the eyes, nose and mouth should be made of heads of a different color. If they are not present, the sulfur is very easily colored in any color by gouache. Do not be afraid to create and enjoy it!