Plasticine modeling - an exciting and interesting to do
From clay to create true masterpieces. This creativity can engage adults and kids. For the children - it is fun and benefits for adults - a great pastime
Plasticine is an affordable and simple material,Used by both children and adults. What can be made of it? All that the soul desires! Probably, today there is no such person who would not cook with his own hands crafts made of plasticine. This is due to the fact that modeling is a very exciting, useful and interesting activity, developing in people a sense of beauty.
Plasticine creativity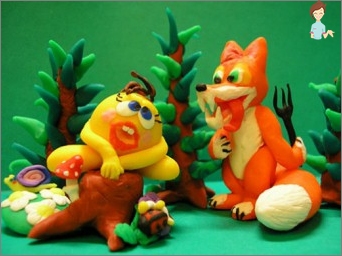 To make a figure from plasticine is very interesting andIt's quite simple. Children at any age like this occupation. But parents often do not want to do this. They believe that such material can stick to the furniture, the floor, leave a trace behind.
First, adults explain that a baby canSwallow such a vivid and colorful material, and over time simply refer to the other interests of your child. But parents who have taught their children to love plasticine, are able to give them a lot of positive emotions, which will not replace either drawing or application.
Unfortunately, many modern moms and dadsDo not seek to do anything with their own hands, forgetting about what a joy it is for crumbs. With the help of plasticine, you can create three-dimensional images and even entire compositions.
Every kid, using this kind of creativity,Has the opportunity to create your own multi-colored world! It is very easy to make crafts made of plasticine. With this, even the smallest child can cope. After a year the baby can be introduced to modeling.
Choose clay
Long gone are the times when the firmThe plasticine mass had to be heated in the hands. Today, for the youngest, you can choose an elastic and soft material. The choice necessarily depends on the purpose for which you are going to buy it.
For children, it is better to choose soft and bright sets. If you plan to make a craft of plasticine with your children, choose your harder grades.
Plasticine must necessarily matchThe age of the baby. For the youngest, it is better to choose soft varieties that are plastic and easily rolled out. Very soft is a plastic material on a plant basis. Produce it from starch or flour, so if a youngster pulls a piece of such material into his mouth during the molding process, nothing bad will happen.
Soft waxes belong to wax clay. Although it almost does not stick to your hands, but with an increase in the temperature of the air in the room can become so softened that it will be unworkable for work. It is difficult to mold small elements from soft varieties.
Classic plasticine in the form of barsHarsh, requires preliminary kneading, but it perfectly connects with each other, which is important in the process of work. Using it you need to take into account the fact that it can dirty clothes and nearby objects. To avoid this, use an apron and special planks for modeling.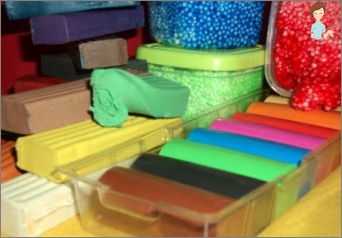 Choosing the material for older children, preference is best given to a hard grade. With him, the child will be able to create more complex plasticine compositions.
In recent years, the molding from a hardening plasticine has become very popular. He does not stick to his hands, but working with such material, you must immediately create "Final version"Composition, since it instantly solidifies.
Excellent material for modeling - ballPlasticine, consisting of multi-colored small balls. It's almost weightless, it does not stick to your hands. This kind of material for modeling is both solidifying and not solidifying.
In the process of work, you can make an article from balls of the same color, or mix several colors. Also, ball clay is an excellent material for application.
Advantages of modeling
In the process of molding, the child is not only able to see his creation, but he can touch it and, if necessary, change it. From one piece you can recreate completely different images.
The modeling of plasticine has a complex effect on the baby:
Develops memory and logic;
Enhances sensory sensitivity, promotes perception of texture, weight, shape, color;
Develops fine motor skills of hands, which has a beneficial effect on the development and formation of the child's speech;
Develops spatial thinking, imagination and imagination;
Brings up assiduity;
Develops creative thinking;
Teaches you to achieve the result of your work and, if necessary, correct mistakes;
Forms the ability to plan your time;
Develops the baby aesthetically, teaches to see the beautiful.
What can be made from plasticine
Since the age of three, children canWith their hands, without the help of their parents, to mold simple plasticine figures. The movements of the baby's hands become more dexterous with time, and he can already create what he himself wants: flowers, cars, animals, houses and other objects.
Plasticine crafts can be "Destroy", And then make a new one or leave it for memory. Crafts made by a child from plastic or plasticine crafts can be presented as a gift to relatives and friends.
As the child grows up, the process of modelingIt is necessary to complicate. You need to teach the child to observe the proportions, to sculpt complex products. These skills will be useful in school in the classroom. Interesting plasticine figures often fall on school creative exhibitions.
Of plasticine, you can not only sculpt. This material can perfectly replace the paint. From it come out bright, like living pictures, and the very process of creating them is a great pleasure for the young artist. Plasticine does not leave uneven strokes, it does not flow, and you need to draw a finger.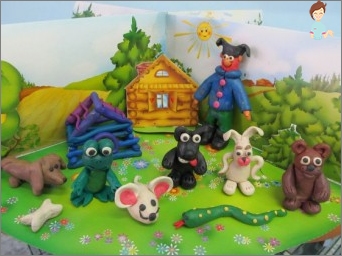 It is this method that helps to really feel the picture. The material is perfectly blended, so you can reproduce several shades of the same color.
When using plasticine for paintingIt is necessary to take into account the fact that it melts, and because of this is not suitable for long-term storage. Therefore, having decided to organize an exhibition of your products, choose a cool room for this.
Adults need not forget that modeling fromPlasticine - this is not just an ordinary game, but a kind of creativity, as well as a wonderful pastime with your baby. Let the child independently make crafts from plastic, plasticine, clay and other materials. This will only contribute to its all-round development. You should try to keep the brightest crafts.
After a while already with an adult daughter orSon you will open this magic box and will be able to remember the merry moments of childhood. Do it with your children and enjoy it!