Crafts for the New Year 2016 - original ideas
Ideas of hand-made articles. Crafts for the New Year 2016 - we make a Christmas tree toy and a boot for gifts. New Year's crafts with children - thread balls, frosted branches and snowmen from pompoms
Both adults and children, all without exception waitingThe coming of New Year's holidays. This is a special time filled with merry bustle, buying gifts and waiting for a miracle. Great joy brings decoration to the meeting in 2016 at home and the New Year tree. For this, a lot of festive, thematic decorations are sold - toys, garlands, New Year's accessories. However, we offer to experience the joy of creativity and make crafts themselves for the new year 2016.
Especially good if your family has children andThey will take part in this tremendous pleasure - to make children's crafts with their own hands. After all, joint creativity always brings people together, makes them even more familiar and friendly!
Ideas of crafts for the New Year
It's no secret that every year has its ownThe patron. 2016, of course, is no exception. His patron is a red fiery monkey. Therefore, coming up with ideas for crafts and thinking about how to decorate your house and table for a holiday, it is worth trying to please the hostess.
First, do not forget about the red color. Secondly, if you have a fireplace, it's time to decorate it and light it for celebration. If not, you can make thematic candlesticks, weld red candles and always light them on the New Year's table. Bengal lights will also be on the topic. But lighting a fire in the house, remember the rules of fire safety and prudence.
The monkey's totem can be used in fullSearch for ideas for crafts with their own hands, to decorate the house by the New Year. For example, the walls can be veiled with monkey masks. Monkey muzzles for this are cut out of napkins in the original way or done with modular origami. From the puff pastry it is possible to bake monkeys for magnets and New Year's toys.
This animal can be embodied in toysFrom felt, with the help of felting techniques and macrame, tilde dolls, embroidery, paints on any media - paper, fabric, glass, etc., in general, which is enough for fantasy. And this is not counting the usual New Year's crafts in the form of boots made of felt for gifts, scrapbooking, original balls, twigs and cones in homemade "Frost".
Crafts for the New Year - sapozhok for gifts
Of course, you can not list all the ideas in one short article, so we selected the ones that liked the most, and which are easier to implement.
Sapozhok of felt can be like a Christmas tree toy, or a full-fledged boot, in which it is customary to put gifts to family members.
To create it you will need:
Pattern pattern;
Red and burgundy felt;
Rain, lace, buttons and other elements for decoration;
Scissors, thread, needle;
Sintepon.
Download and print the templates. Put them on felt and translate with chalk or soap of soap. Cut out. Side blanks will need two, soles - one. If the boot is not one, then the number of patterns should be multiply increased.
Then the side blanks are sewn, beginning withBack seam. To do this, select white threads and stitch with a stitch that will give the boots a decorative effect. Then sew the front parts of the boot with the same seam and sew the sole from the front. The stitches are also used.
From above on the boot we sew a lace ribbon andFrom behind we sew a small satin bow. The same bow for asymmetry can be placed and somewhere on the bootleg. Decorate the boot with any accessories, buttons, rain, half-beads, golden-colored stars, etc.
At the top of the boot, near the back seam to the wrong side, sew an eyelet, for which the shoe will be attached to a tree or carnations.
Children's crafts for the new year 2016
Time spent with children is valuable a hundredfold, andIf it is also filled with joint creativity, then the benefit of such pastime will be enormous. We offer to dedicate a few evenings to make original and unusual children's crafts for the new 2016 year.
Nityaznye transparent balls like their childrenUnusual. To make them even a preschool child, of course, under the strict guidance of adults. Blow a couple of balloons and tie them up to prevent the air from escaping.
Then glaze the ball with glue and on top of it, letA multicolored thread. Then the threads can be additionally fixed with a hair spray. After that, the ball is pierced, and in your hands you have the original ball. And each of them will be unique.
Very nice look in the interior for the New YearFossilized living branches and fir cones. Making them easier than it seems. Mix the strong saline solution in the proportions of salt 1 part, water 2 parts. To do this, salt and water are poured into a saucepan and brought to a boil. After that, the pan is removed from the fire and spruce branches and cones are dipped into it for 5-6 hours.
After that, the branches are removed and put to dry. In addition, frosted artifacts can be powdered with snow. To do this, you need glue and polystyrene. Glue on branches and needles, and polystyrene crumble, and sprinkle on top. In this way, you can decorate anything.
What kind of children's New Year without a snowman -Favorite hero of the guys? You can blind them not only from the snow, but as an artifact. You can make them from anything - paper, modular origami, balloons and threads (as described above), felt, plastic bottles and puff pastry. And we suggest to blind the assistant of Santa Claus from the pompoms.
Using bobbins to create pompons from yarnOr cardboard circles, make three pompoms of different sizes. This will be the head and torso of the snowman, so take the yarn white or blue. Wind the yarn over the mugs, then firmly bind them with a thread in the middle and remove them from the workpiece.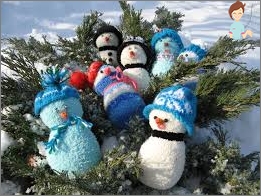 Cut all the threads exactly in the middle - inThe top of the turns. The pompoms received are not yet suitable, as they look sloppy, so start to cut them gradually, until you get the fluffy and neat balls. Using threads or glue, connect them.
Cut the top and bottom of the snowman so that they becomeFlat, on the lower part it will stand, and up we will put on a headdress - bright red headphones made of felt. Stand snowman can become a saucer, sprinkled with white polystyrene, and a circle of cardboard, decorated for the New Year. For the snowman's eyes, take the black beads and glue them in place, and from the felt make a nose-carrot.
A snowman's scarf as well as headphones can also beMade of felt. Hands will be two thin twigs, stuck on the sides. That's it - the snowman is ready to take his rightful place under the tree or turn into a wonderful gift for the holiday.
We hope that our ideas inspired you for an immediatecreation. The resulted master classes will help with a minimum of efforts and the spent materials, create interesting crafts that will please you and your loved ones all New Year's holidays.