Coat cocoon: can I sew it myself
Do you want to change something in your image? In this case, you are ideally suited coat cocoon. Can not find the model that suits you? Sew the coats themselves, and we'll tell you about the nuances!
If you follow the fashion trends, then for youThe fact that recently the cocoon coat is quite a popular model will not be new. What kind of style is this, and for what type of figure is it most suitable.
New or well forgotten old?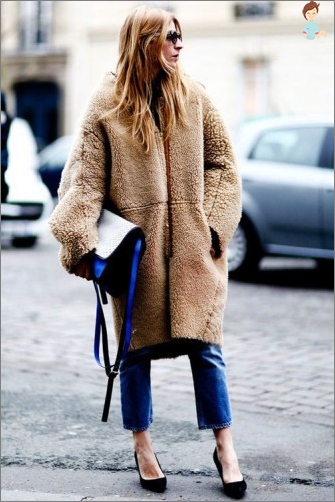 First of all, it should be noted that this type of coat differs from other novelties of fashion podiums with its lowered armhole and sloping shoulders. Another feature of this model is the narrowing from the shoulders to the bottom.
Despite the fact that with this narrowed bottom, girls with broad shoulders should look in not very nice, if you choose the right size, the feminine silhouette is provided to you.
In a coat with a similar cut, there is one moreA significant plus: if the street is cold, you can easily put on some warm sweater. At the same time, you do not have the feeling that the outer clothing is now bursting at the seams.
The very concept of coat-cocoon appeared not yesterday and nota year ago. The first fashion designer who came up with such a model was Cristobal Balenciaga. In 1970, he first showed the world his creation, and six months later he created a collection of "Large"Of things, the size of which seemed to be a little more than the models needed.
And in the eighties of the twentieth century similarModels began to be created for men. Due to the use of such a style for both sexes, the very form of clothing became slightly more strict, and excessive bulkiness of accessories was replaced by strict collars and even pockets on both sides.
How to wear a coat that resembles a cocoon
Here the most important thing is not to lose with the size. After all, despite the fact that in this case, the thing should look two or three sizes larger, it should not be so in fact. So pick up your size very carefully, because if you make a mistake, you will look either very squat, or as an older sister who borrowed clothes from a younger one.
Now, as to what to wear a coat withcocoon. In this case, a very simple rule works: if you have a large top, then the bottom should be tight. It is for this reason that such outerwear looks chic with narrow skirts, leggings or tights.
Although modern girls loveExperiment, so if you meet on the street a combination of maxi skirts and a similar coat, then do not be surprised. Moreover, this combination makes the image bohemian. So if you want to stand out from the crowd, then such incredible combinations can help you in this. By the way, you can experiment with wide straight trousers.
But do not forget the principle, which is worthAdhere to the selection of clothing: never wear what you do not like. Better fifteen times to twist around the mirror in the store than to throw the purchased item to the farthest corner of the cabinet, regretting the money spent.
As for shoes, then you need to rely ongrowth. High girls can afford in this case a low platform or a generally flat sole. But here, if you can not take yourself to high with a stretch, then you should choose high heels.
This need is explained very simply: No matter how perfectly you pick up a coat, a wide free silhouette will still steal your figure a few centimeters. So, visually you will look lower than in reality.
So, we have figured out that according to fashion2015, a coat that resembles a cocoon, will be quite popular. And we assure you that this trend will continue in 2016. But, what to do if none of the options offered in stores does not cause you to want to buy it. In this case, you can try sewing a similar version of outerwear with your own hands.
How to choose a pattern for a cocoon coat and sew it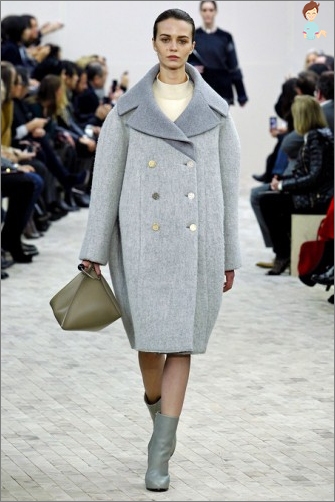 First of all, remember that the size in the processTailoring is the main thing, so it is not necessary to take ready-made patterns and sew on them it is not known what. If you do not know how to adapt the ready-made version to your size, then you should contact a specialist who, in a day or two, without taking a lot of money from you, will remake the finished pattern from the magazine, taking into account the features of your figure.
And so, at the moment when the finished pattern you haveAlready in hand, the question arises, what kind of fabric should be taken. To sew a cocoon coat? Here, such materials as boston, drape and other similar fabrics are ideal.
The main thing is that the material is not too thick,Otherwise the product will crack. In addition, too dense tissue can cause visual appearance of extra centimeters, which does not ennoble your figure.
Pay special attention to the buckle. In most patterns, it will be straight, but if you can sew well, you can put it a little diagonally. In addition, as a fastener you can use both buttons and zippers.
One more thing: This season, contrasts are quite popular. For example, you can make all the coats of black fabric, but the edges are treated with a red thread. If in addition to this, use any red accessory (buttons or zipper), then the image will be absolutely stunning.
Also, make sure that the cut is notSkewed, otherwise your coat will have completely unnecessary wrinkles, which can spoil the whole idea. In 2015, the cocoon coat can also be with a hidden buckle.
And although the very concept of this model of outerwear does not provide for a small belt, but if you can boast of a beautiful figure, you can slightly tighten the waist.
Sew a cocoon coat for the full: features and fashion secrets
No matter how we would say that this style suits both thin and full, some doubts you probably have left. And not for nothing!
As it turned out, when sewing such a coat for plump, you need to take into account a few nuances:
When cutting a coat of a cocoon, it must be taken into account that whenThe presence of extra centimeters is to show some elegant part of the body. For example, you can make short sleeves, showing the whole world your narrow aristocratic wrist;
Try to avoid horizontal seams or streaks on the hip or abdomen line. So you will only make your style more burdensome;
Also pay attention to the color. After all, we all know that the black color slim, as opposed to white.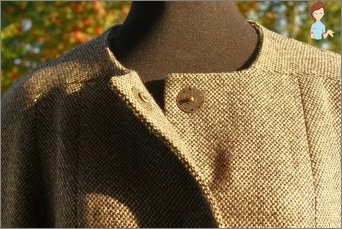 Remember that this style, in itself, is quite original. Therefore, do not embroider almost all the fabric with rhinestones and beautiful buttons.
In this case, the severity, diluted by any one accessory, for example, a bag or scarf, is preferable.
And one more thing: if you decide to make a wide collar, then you can sew on it a piece of beautiful fluffy fur.
Attention! It is not necessary to sew contrasting fur, the ideal solution in this case will be fur in tone to the fabric. So you give your coat a richer look, while saving money on other jewelry.
As you can see, you create your own cocoon coatcan! The main thing is to believe in yourself and always consult a professional. And then you can fascinate others with your appearance. And do not forget that the best clothes are the one in which you are comfortable. Good luck!