How to make a beautiful cake of diapers
Cake of diapers - one of the most original gifts to the newborn baby and his parents. It is easy if you understand the technique of its execution
Long-awaited moment for the parents - theirmiracle came to light. You are invited to celebrate the birth or christening of a baby, and you reflect on how to make a gift? A great option - a cake of diapers, it is very delight of parents! In addition to being a gift original, beautiful, it also will be useful.
Preparation of materials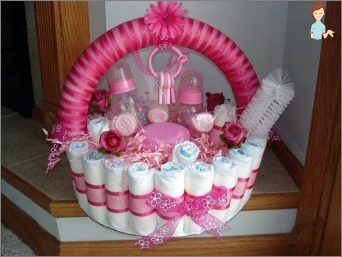 The main element for the creation of original crafts baby diapers. What they need, depending on the desired size of the gift.
For very small items in one tier will need 30 pieces of diapers, to create two tiers usually take the package of 78 pieces. And how many diapers you need for the big cake of diapers?
Everything is simple - the more layers in the product, theMore components. On three levels will take approximately 80-100 pcs. If the number of diapers in the package exceeds the norm, it is not terrible, unnecessary elements can be hidden inside a gift.
Parents should ask, what kind of companydiapers they prefer, and how much the child weighs, the size of this product depends. If the child is a newborn, it is better to buy a pack of objects are bigger in size, so that parents have begun to use them when the baby filled 2-3 months.
The fact is that when opening the packaging plant sterile product is broken, and as immune system in neonates quite weak, any microbes can be dangerous for them.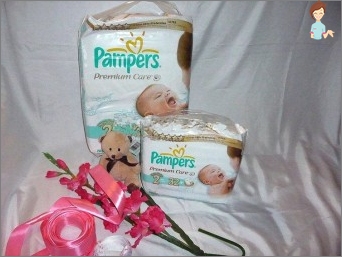 To seal the cake, you will need rezinochkistationery or clothespins, tape, pins, wire, wooden sticks 2-3 for two or more tiers. For the filling and decoration products come from various children's items: nipples, toys, soap, cream, booties, and other, ribbons, bows, flowers and all that fancy enough.
Be sure to pack a gift, so you do not let it become dirty and in general any contact with the environment. But the packaging should be transparent to all examined in detail the cake.
Important! Before you begin, you need to thoroughly wash your hands and the work surface.
So what you will need:
diapers;
materials for bonding the cake;
decorative ornaments for baby accessories;
Stand and packaging.
Well, all the necessary little things prepared, and you can focus on how to properly collect the cake of diapers.
methods of assembly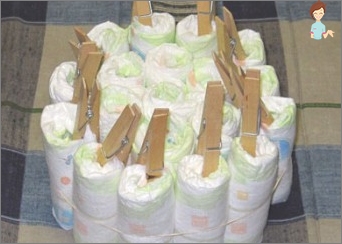 Bulk and stacked products look unusual.
However, they are costly to the base material, decorations and additional accessories.
From the middle pack of diapers you can build a modest cake, decorate it nicely, and get a great result.
Regardless of the size of the cake, packing is carried out in two ways. Everyone chooses for himself the one that fell in love.
A first method of manufacturing:
Put diapers from the packaging (52-56 pcs.). Twist them separately from the open end, to fix each of plain rubber or clothespin. To form the first tier of 7 elements - 1 and 6 in the center of the circle, fix them with a few rubber bands, so they are not broken up. If used clothespins, they must be removed;
For the middle tier will need 15 twisteddiapers, in the center of which will be located a cardboard tube from a toilet paper or baby bottle. If nothing like that, just put in the center of a diaper. Connect the middle layer of rubber bands;
For the lower tier is necessary to take 30 diapers,In the center is the diaper 3. Instead, the core can be equipped with care products, such as creams, shampoos, or curled baby clothes: a suit, undershirts. Scrapie all rubber bands;
The lower tier of place on the stand, insert3 stick it at an equal distance from each other, closer to the central part. support length should be about 30 cm, to be enough to consolidate all three layers, but they looked out on top;
Push on the remaining 2 sticks cake tiers.
The second manufacturing method:
If you do not have time to roll each item, and you do not know how to make a diaper cake quickly, consider another option.
This gift is easy to make even from a large package of diapers, take 104 pcs:
Put half a pack of diapers (52 pcs.) On a side surface in a spiral, one after another. In the center of the spiral to insert a cardboard tube from paper towels. Make sure that the elements were evenly fix a thin ribbon. This is the lower tier;
On top put the middle layer of the cake in the center of which will be in the upper part of the cardboard tube. For this tier diaper 34 taken, and fixed with a thin ribbon;
The upper tier is made from the remnants of diapers (18 pcs.), In the same way as the previous two, but the center is not necessary to lay anything;
Connect tiers two sticks;
To attach a wide thin ribbon using pins or glue. Just need to make sure that the tape does not stick to itself diapers.
Design and Packaging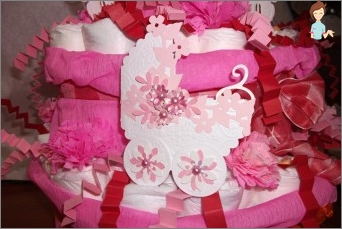 Making the final product - the most enjoyable stage of the whole process works, you can relax and let your imagination run wild. But make sure that all the elements harmoniously looked.
Very nice look wide satin ribbon,the center of which are glued over the narrow ribbon of another color or lace fabric. This scenery covers the most diapers, and the impression that a real cake.
Gift can decorate not only the scenery, but alsothe very foundation. For this cake does not pick up diapers plain white and colored. Nowadays there are any colors, we need only think about how to create a beautiful composition.
Toys, tubes of cosmetics andother accessories you need to pull out of the packaging, wrap the ribbons and pins to attach the finished design. Boxes and instructions from the child objects give parents separately. The tip is usually decorated with funny soft toys, booties or flowers. Ornamental flowers also can be placed around the product by inserting the stems between diapers.
Of course, we need to stand. To do it gourmet, it is necessary to cut out a circle of cardboard with a diameter that is the same as the diameter of the lower tier, sticking to it crepe paper. At the edge of the stand to attach the ribbon or braid with a stapler. To package a gift, it should be wrapped in a transparent film, which will only fasten the top ribbon.
For boy:
Cake of diapers for boys will be finelook in blue, brown and green tones. A large number of the scenery here is not quite appropriate, it is better to decorate modestly track tapes and staffed with a number of useful things: rattles, booties, cap, cream;
For boys it is now important to selectcertain subjects. If this is football, you can put on top of the cake toy ball, and positioned below booties, shoes, tie a scarf instead of a wide band. If this is allowed, let plush dog hugs the upper tier product, located close to a children's hat with ears and soap with painted bears on the wrapper.
For girl:
Most chassis color for girls - pink, butnot necessarily to use it. Try red, purple, beige, silver, peach, pastel green or blue. It is best to combine several colors: purple with pink, red and white, peach with blue and purple;
Beads, crystals, flowers, candy, bows - allit perfectly decorate the cake of diapers for girls. Topics better to choose appropriate: trendy outfits, hearts, flower-filled garden, teddy bears. You can decorate the cake in a dollhouse or a princess dress.
Creatively decorated with his hands the thing will be remembered for a long time young parents, and will look much brighter than a simple package of diapers.
One of the main advantages of this crafts - needlework necessarily be to create it, the cake of diapers can do each.