How to make beautiful figures from the mastic
Mastic is preparing to decorate cakes, which makes them unusual and beautiful, so you should learn to do at home by figures from the mastic
Mastic is a soft mass which hassome similarities with plasticine. Only this mass can even eat, but also easy to mold, because it is quite easy to manipulate. Precisely because of this can be extraordinarily beautiful and decorate a cake and make beautiful figurines made of putty. Children saw a cake decoration, usually come in delight and eaten with great pleasure, and adults also can not reject such a fun and beautiful enjoyment.
How to cook
Mastic is not too difficult to do, it needs to prepare the following ingredients:
marshmallow in an amount of 100 g;
lemon juice or water in an amount of 1 tablespoon;
colourants for food to give the desired color;
powdered sugar - 1.5 cups.
To make the paste should be the first thingsort marshmallow, as they are all in a heap. It must be so: white and pink separately separately. Further, it should be in a bowl with the first ingredient pour water or lemon juice. We mix and send quite a few - 15 seconds in the microwave. During this time, the mass heats up, it will increase in volume and becomes soft.
The next step should be diluted food coloringin warm water. Then, mix it all with a mixture which is taken out of the microwave. Then sift the icing sugar into a mass of color and gently interfere. On the table to pour a bit of powdered sugar, put the resulting dough. Knead it is necessary, until it becomes such as clay.
Then, the dough should be carefully wrapped in plasticfilm and put in the refrigerator for about half an hour. After that, sprinkle with starch and gently rolled cake desired thickness. If you suddenly get a bad figure, then the material should be warmed in a microwave oven.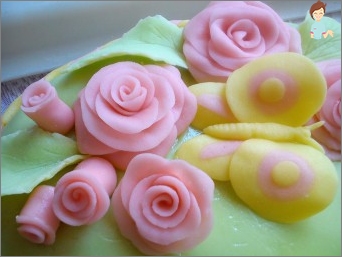 Basically, this paste is used to decorate the children's cake, it was interesting to kiddies and their lure, but is also used for wedding cakes, desserts for various celebrations.
Desserts for kids are different in that the kids can come up with different interesting figures from the mastic for children's cake.
But on the wedding items you need to doonly flowers and petals, figurine with a wedding theme. But to make the figures quite simply, only need to show your imagination and make it happen, because there is welcome creativity and unusual design.
Recipes for cooking quite different and allThey have their differences and peculiarities. So before you choose something specific, it is necessary to re-read all the recipes provided, but then opt for one.
How long can you keep the figures and the dough?
What if remained mastic - made it too much. Therefore, a logical question arises - how much is stored, such figures of mastic?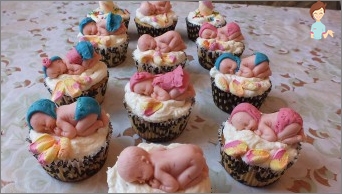 The answer to this question is simple and lies on the surface - these figures are stored in the refrigerator for a long time, just need to put them in a container that they did not get the moisture and sunlight.
If you do not have time and need to figurecertain date, it is possible to make the figures a few days before the holiday. Perform pre and put them in a set of castors each, which is closed, and send in the refrigerator. And if after all there is not much material to work with, then this paste can be wrapped in a plastic bag and stick it in the freezer, where it may lie as much as necessary.
About a wedding cake
Mastic prepared cake should havebeautiful and delicate colors, especially if it is wedding cakes. Generally, the process of modeling confectioners quite different, they can seek the help of a variety of special tools, so that the result was astounding.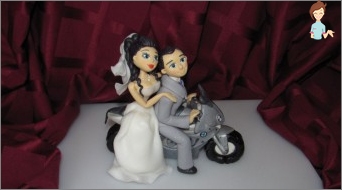 Wedding figurines of the bride and groom from the mastic will look great on top of the cake. Make it not so difficult, as long as the hands obeyed, and there was a sense of proportion.
Otherwise it will not work and will have to redo everything or ask for help from friends, which a lot of sense in the basics of modeling, rather than you.
Therefore it is better to triumph is better not to take risks, and to resort to the help of professionals.
How long do the figures of mastic?
How long it may take manufacturingfigurines? This is a lengthy process, especially for those who do not understands the theory and practice of modeling. However, a systematic approach can be easily prilovchilis do certain figures rather quickly.
In the early stages of your training is bestdeal with one type of adornment cakes. To prove himself, you can choose the most interesting for you. Note - this should not be very difficult, but beautiful. After all, cake decoration plays an important role - not only decorative, but also indicates your professionalism.
What better recipe?
And what you need to try to start mastic recipes for sculpting figures? They are all quite different, but searching the most popular, you can stumble upon recipes using gelatine.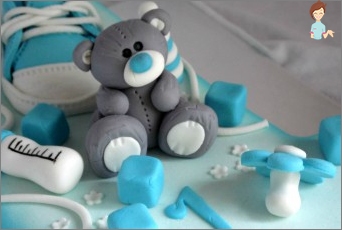 This recipe has a lot of positive feedback, and the woman who shared this secret, says that the material is easy to work and easy to paint in different colors.
There is also a breast recipes and chocolatezephyr mastic, and that's not all. To make any certain type of mastic, it is necessary to follow the instructions that came with the prescription and then this "chip"Will be a wonderful decoration of your cake.
Most Popular Recipes
dairy spreads cooked very simply, it needsprepare the components - milk powder, cream powder and sugar - all in the same quantities. Gently mix all and gradually start adding condensed milk, stirring until until the weight does not get flexible. It is also in the process of stirring the mixture is added 2 tablespoons of lemon juice and one tablespoon of brandy. Just do not be afraid, do not spoil the brandy, but only give a taste. Enjoying all the time consistency (remember, it has to be like clay);
Chocolate paste It has incredible taste and beautiful color. Many women prefer chocolate, because it is simply magnificent. Mastic can be prepared as a white and a black chocolate. To do this, take 100 grams of chocolate to your taste, but it has to be milk - this is an important condition, and melt in a water bath. Then you need to remove from the heat and add 2 tablespoons of honey. All thoroughly mixed. Massa is ready, then it should be put into the package so that it is completely cooled down, and then can be used for decoration;
zephyr mastic very similar to (and also cooking), whereused marshmallow. But it is very difficult to find a suitable marshmallows, which does not spoil the quality of the material. This is the only nuance about which to worry, but also should pay attention to the fact that the marshmallow is better to take a little more, let it stay, than not enough at the right time;
Preparation of gelatin paste It takes a little longer than the othervariants. 2 tablespoons gelatin to dissolve in water. Then it is necessary to put on a slow fire and cook until a homogeneous mass (but not to give the mixture to boil!). Wait for some time that the mixture has cooled down, and then it add 1 tablespoon of lemon juice, a teaspoon of vegetable oil. Then gradually pour powdered sugar (40-50 st. Spoons) and mix approximately 15 minutes. Once you have a well-stirred mass, it becomes similar to soft clay, which is ready for use.
That can be prepared in such a way for his family a wonderful, tasty, and most importantly, a beautiful cake, which they certainly surprise you with its unusual decoration.
Over time, you can opt out of cakes to order, and the figures do at home, if you are interested. Good luck in your endeavors, do not doubt in their abilities!