Beading - interesting and exciting creative activity
Beading is an unusual kind of creativity, with which you can create original products. For their creation needlewomen apply several techniques of weaving with beads
Beadwork is among the mostFascinating folk arts, which has a centuries-old history of existence. From beads weave all kinds of jewelry, accessories, they decorate clothes and embroider pictures.
This decorative element is present not onlyOn the clothes of modern women of fashion, but also on the products of famous couturiers. If you want to weave or embroider beads can learn every girl or woman, for this you just need to master the basic techniques of this art.
The history of beadwork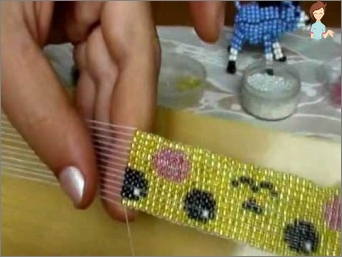 Beading appeared a long time ago, its historyHas nearly 6 thousand years. For the first time, this art arose in ancient Egypt, and the material used in the process of such creative activity was called "Beads", In Arabic, this term means"Fake pearls".
Initially weaving with beads was enoughA difficult task: it was necessary to pull a thread out of the glass and wrap it with a copper rod. After this, the rod was removed, and each bead needed to be processed manually.
At that time, the beads were simple, colorless andOpaque, and only with time, when the techniques of making material for creativity were improved, people were able to make the beads translucent, transparent and colored.
The history of beadwork is also associated with the AncientRome, where the beads were made by blowing glass from a metal tube. From the Roman Empire, this fascinating occupation spread to the territory of Italy, Spain, Greece, France, Germany and Venice.
It was Venice that began in the 13th century.The capital of making beads for beadwork, because here at that time was well developed glass craftsmanship. Soon the competition of Venice was Czech, then known as Bohemia, where they produced glass of the highest quality and purity.
Thanks to this achievement of glasswork in the Czech Republic, glass Bohemian beads and glass beads were produced from glass and crystal.
The technology of manufacturing the material was protectedSo thoroughly that until 1704 there was not a single book in which the secrets of this skill were described. The book, which only now saw the whole world, is now stored in the Museum of Great Britain.
At the beginning of the XIX century machines designed for the production of material were invented, but, unfortunately, this innovation not only reduced the cost of beads, but this also affected their quality.
In Ancient Russia glassmaking was also highly valued,German and Venetian beads, but the Slavs themselves began to actively engage in this activity after the XVI century. During the reign of Peter the Great, famous glassmakers from other countries were invited to Russia.
In addition, young people traveled to Italy to learn the rules for creating material for creativity and the fundamentals of beadwork.
In Ust-Ruditsa in 1753 with the participation of M.S. Lomonosov was the first factory to produce colored glass and beads. A few years later, the factory began to actively produce beads, glass beads, glass for mosaic.
Since that time, the number ofAssortment of various beaded articles, such decorative elements were decorated not only with wardrobe items, but also with icons and upholstery for furniture. There were paintings, panels, various ornaments, accessories - handbags, bookmarks, umbrella covers, various household items.
How to start weaving with beads?
Deciding to engage in such creativity asBeadwork, you must be patient, patient and willing to learn. Required for work you need to purchase the necessary materials and choose schemes for weaving. Experienced needlewomen are recommended to start out from the simplest schemes, since this occupation is not as easy as many may seem.
It is better for beginners to choose the most simple technique -Knotted netting. Usually it is used for weaving beads or bracelets, but is that after each strung bead or bead tied knot.
This prevents the beads from tangling, because this problem often occurs in beginner needlewomen. In addition, the nodding technique gives the product flexibility and prevents the beads from knocking on each other.
The most popular way of beaded needleworkIs the descent. It is used in the process of creating a variety of products - jewelry, household items, accessories, with decorative clothing. For nizania best choose small beads or large beads, because it is necessary to string such material on thick flax or cotton threads.
To learn how to weave, you can seeTraining videos provided by experienced masters. Many of them prefer not hand work, but weaving on special machines. Using such a machine for beading, you can speed up the process of creating products, however, manual weaving brings much more pleasure from creative activity.
Basic techniques of beading
Learn the basics of this type of creativity is not soIt is difficult, because there are all kinds of techniques, where beadwork for beginners is presented, accompanied by photos and videos. At present, needlework has developed a number of techniques, techniques and methods of beading.
Often experienced craftsmen make their own individual elements in the process of manufacturing beaded articles in the applied technique. Such plaiting techniques are often used:
Mosaic technique;
Needle weaving;
French technique;
"Wire loop";
"Wire harness";
"Temporary fastening of wire".
Many craftsmen when creating ornaments andAccessories use a mosaic technique of weaving, which still has many varieties. For example, with an odd or even number of beads, a double and triple technique, a circular or cylindrical braiding.
This technique makes it possible to obtain a perfectly flatBeaded surface, which can be used as a basis for the creation of almost any product. The finished thing resembles a wall of small bricks. When choosing this mosaic technique weaving can be used chopped and round beads, bugles.
Needle netting involves the use ofThreads, the ends of which are inserted into two needles. Then the ends of the thread are reduced so that in the end they pass through the beads and come out in the opposite direction to each other.
Instead of thread or line - the traditional elements needed when creating amazing beads of art from beads, wire can also be used. With such techniques as "Wire loop" or "Wire harness", You will need wire for beading.
This method is used primarily to create original compositions that are so popular with interior design. This method also allows you to create beautiful toys for children.
Wire is also used when choosing a FrenchTechnique of beading when the material is threaded on it in a circle. In order not to lose beads, at one end of the wire make a loop, and at the other end thread the right amount of material, which is indicated in the diagram.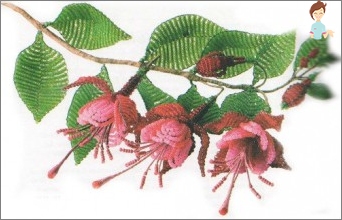 French technology is still known as arcWeaving, because to create the details of the wire must be bent in the right direction. Typically, it is used to create flowers and leaves that are constituent components of flower compositions, such elements look bulky and delicate.
French beadwork is one of theThe most difficult ways of weaving with wire. It is important that the beads and beads are located tightly to each other, they should not move along the wire, because the product will be sloppy and ugly.
Women who can and do crochetOr knitting needles, like knitting with beads. In knitted products such decorative elements become a part of the canvas, giving clothes of originality and festivity.
Beads can also be embroidered, stringing it on a string. In embroidery, it is perfectly combined with other materials - beads, rhinestones, sequins, braid and colored threads.
Doing this kind of needlework, you can spend your time and create original products for yourself or your loved ones!