Create beauty from placer colored glass beads
Craft Bead crafts can an adult and a child. This exciting activity will allow to enjoy not only the final result, but also from the work process
Beads are small decorative beads with a hole. They can be made of plastic, wood or glass. To date, the most commonly used glass beads.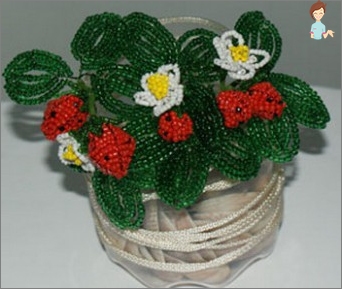 There are many different techniques of weaving thatAllow you to create a variety of crafts from beads with your own hands. To engage in this creativity, you must necessarily have such qualities as attention and perseverance.
As a result of work in a few hours canThere will be different key rings, rings, bracelets, flowers and other items that can become an excellent decoration. For beginners beadwork can be at first glance quite a difficult task, but having become acquainted with this kind of creativity, you can easily create your first masterpiece.
There are many different schemes for weaving of beads, they detail each step that needs to be performed to achieve the desired result.
Some of the history of beads
The history of beads is very ancient. Archaeologists managed to find a variety of crafts made of beads on many continents, found it on the territory of our country. Our ancestors even 2-2,5 thousand years ago wore various beaded jewelry.
Material at that time was a ballDifferent shapes and colors. Legends say that masters of mosaic from Byzantium, who came to the country after the adoption of Christianity, brought us mastery of beading.
In our time, beaded articles are becomingMore popular. This material attracts many people who with great pleasure create their own hands with various masterpieces, using special schemes.
Varieties of beaded articles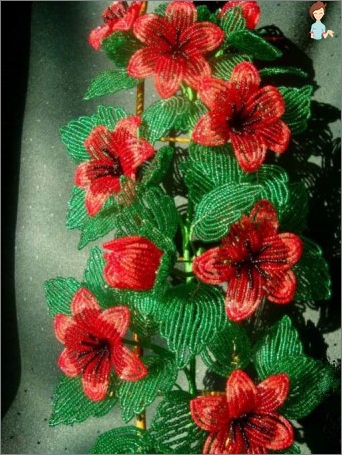 From beads you can make everything your heart desires. This universal material gives great opportunities to creative masters and their skilful hands.
Most often made from beads are such products:
Flowers and trees - lilac, wisteria, orchid, rose and any other plant you like can be recreated in any scale. Crafts are used as decorative interior decorations;
Beaded jewelry - various necklaces, necklaces,Earrings, bracelets and more. It looks very attractive and spectacular, like real works of art, you do not have to worry about them during everyday activities - they are strong enough and will not break up from the first touch;
Souvenirs - using beads, you can make any souvenir: a snowflake, an asterisk, a bird, a little animal and many other figures that can be presented as an original gift for friends or acquaintances;
Toys from beads are very unusual and interesting, they attract both children and adults. For the manufacture of such crafts, you need a bead and a wire.
While doing beadwork, it is necessaryUse only quality beads. In the opposite case, the products after a while may become dull and completely lose their bright original appearance. Having decided to try to make a beaded product yourself, you can use master classes or schemes, which describe in detail each step.
Recommendations for work with beads
When working with colored beads of glass beads, be sure to adhere to the following rules:
The work surface is covered with a non-slip monophonic cloth. So you will not lose the fallen beads.
For ease of use, pour the material into shallow containers or on a cloth.
Keep the beads in low jars, dividing by colors.
When you start creating a product, be sure that you have enough material to make it. Close shades can be mixed if desired.
Use a strong thread to prevent the product from tearing during the creation process. It is better to fold the unbreakable thread twice.
To avoid tangling in complex schemes during the weaving, it is better to cross out the ranks.
Do not use defective material, even if it seems to you that the defect is not visible at all. In some models you can get a very ugly result.
Beads string using a needle. Wire can also be used for this purpose.
If the beads are falling from the thread, fix them with a piece of eraser.
In the model you like, it is not necessary to use the beads indicated by its author. Try to experiment, so you can get a much better product than the original one.
Crafts from beads for beginners are better done on ready-made schemes. So, counting beads, you are not mistaken and correctly execute all specified receptions.
Embroidery with beads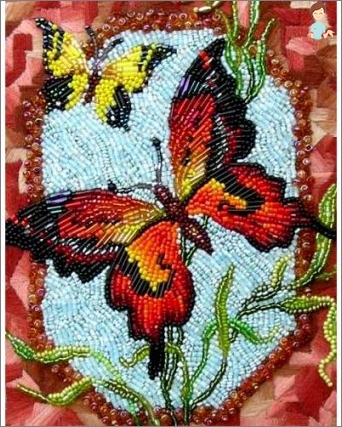 Embroidery with beads is very similar with cross stitch. Only the picture looks volume, its lines are curved, correct, the product beautifully shimmers. Embroider, using beads, you can any subjects: flowers, floral ornaments, nature, children's pictures, still lifes, icons and much more.
In this case, the beads are threaded onto the thread and laid out, following the pattern. With such embroidery, you can use a variety of beads, as well as beads of different sizes and shapes.
Choose beads are necessary depending on the type of tissue: when using light fabrics, beads are needed small, and for denser beads larger and heavier beads and glass beads can be used.
Very often such an embroidery is performed not only with the help of a thread, but also with a thin wire. Do not be afraid to experiment, use different schemes and techniques and you can embroider a real masterpiece.
Beaded crafts - this is wonderful and amazingA world in which you can come up with something original and new. No matter what you produce, this process will bring only pleasure. Creative successes to you!